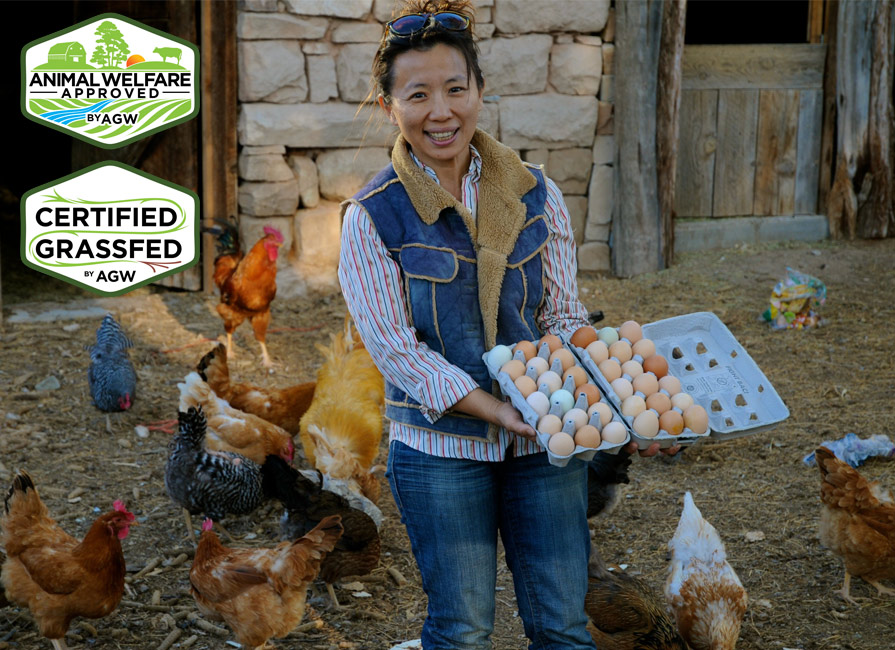 An Ancient World – Meet The Farmer
Ming and Garry Adams run Canyon of the Ancients Guest Ranch near Cortez in Colarado. The 2,000-acre property is situated near the McElmo Canyon and guest accommodations are open for rental throughout the year.
How did you get into ranching?
By accident! I am a city girl who grew up in Taipei, Taiwan. Garry grew up on half an acre near Golden, CO and his uncles had farms in Colorado and Wyoming where he spent time at a young age. He loved spending time on his family's farms growing up and we say it's in his genes!
How did you hear about AGW?
I wanted to differentiate ourselves from other livestock producers and so felt it was something we should pursue. We were also drawn to all of the technical resources and help that the AGW standards provided in managing our livestock.
Describe a typical day in your life …
In the morning, we do animal-related chores. During irrigation season, we have hired hands to help. Since we are an operating guest ranch and agritourism is the core of our business, we have new guests checking in daily. We give tours to the guests to help them connect with the land, animals and environment. In the afternoon we prepare for new visitors. I also tend the garden. After the sun goes down, it's paperwork time.
Who are your customers?
Our customers are our guests, since we sell direct from the ranch. But we also supply our products to area restaurants and natural foods stores who want food that is good for their bodies, animals and the environment.
Why does sustainable farming matter?
It matters because we don't want to damage the soil by utilizing chemicals or harmful herbicides and pesticides. We want the healthiest and most nourishing, nutrient-dense food possible.
What are your business plans for the future?
We want to continue what we are doing. We had to reduce our flock of Navajo Churro sheep a few years ago due to drought, so we want to bring numbers back up again. If we can get more help on the ranch side it would allow us to focus more on guest education and promoting what we do.
Can the market for produce be improved?
AGW has really helped to promote awareness, but there is still a need for more education and marketing about sustainably produced food.
The biggest threat to the sustainable farming?
Efforts to create synthetic meat when many farmers and ranchers already raise healthy animals in ways that help the environment. We should focus on promoting regenerative practices instead of finding other ways to hurt farmers.
The most important lesson life has taught you?
Farming and ranching brings unexpected and unanticipated challenges. You have to work the best you can and believe that what you are doing is right.
At A Glance
Farm: Canyon of the Ancients Guest Ranch
Certification date: June 2012
Size: 4,000 acres (2,000; with grazing permit on another 2,000)
Soil type: north of the property is primarily blue clay; south is a mixture of sand, loam, red clay
Altitude: 5,200 feet
Annual rainfall: less than 12 inches
Enterprises: Certified Grassfed by AGW beef cattle and Navajo Churro sheep; Certified Animal Welfare Approved by AGW laying hens. Selling beef, lamb and eggs direct to ranch visitors and to area restaurants and natural foods stores
Originally published in the Fall 2021 issue of AGW's Sustainable Farming magazine.