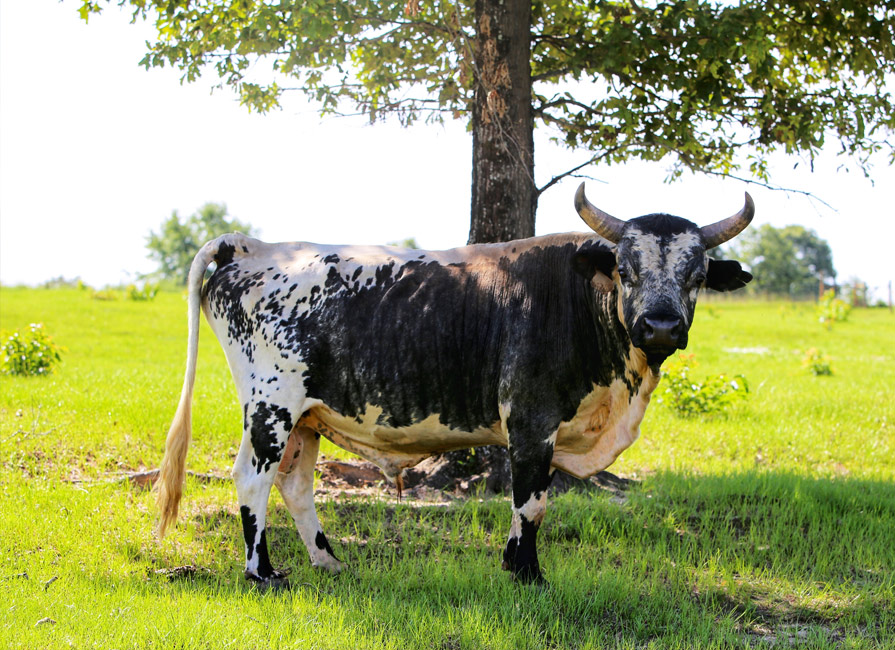 For the last 16 years, the Wells family has been on a mission to preserve the historic and endangered Pineywoods cattle breed by making their herd commercially viable through marketing a specialty processed beef product.
Pineywoods preservation
While exploring suitable breeds for their 1,300-acre farm in Marion County, Georgia, the family discovered the Pineywoods cattle breed through the Livestock Conservancy.
"The breed has a history important to our region, making them an ideal fit," says Jay Wells. They were able to locate a few Pineywoods cattle in Mississippi and Georgia. The Georgia cattle were of the Holt strain, one of the last of the Georgia strains of the Pineywoods cattle in existence.
"When we purchased the Holts, there was one bull and eight momma cows left—period," said Wells. "We started on a mission to preserve them and make them commercially viable."
Pineywoods are an endangered cattle breed, descending from animals first brought to the Atlantic and Gulf Coasts of Florida, Georgia, Mississippi and Alabama in the early 1500s by the Spanish. They are one of the oldest cattle breeds in the U.S and are recognized for their ability to thrive on marginal brush and vegetation. The breed roamed and grazed the open woods for centuries, working as draft cattle in the timber industry, providing hides for leather goods, as well as offering a source of food and dairy. As time went on, the breed was largely replaced by the European cattle in the 1800s as more commercial breeds became a favored food source.
Part of what the Wells family does is about preservation. But in order to preserve the breed, they must enlarge their herd using a limited pool of genetics. "We have a very tight genetic package, so we are moving slowly to make sure that we improve the breed without inbreeding," explains Wells. "We are trying to take a breed that has been developed over centuries by genetic selection, a landrace breed, and use our environment today to bring them back into their former glory. It just takes time."
Their end game? Figuring out how to get more commercial success while preserving the breed. But with a breed that is naturally smaller and without the fat content of other cattle breeds, how could they make the Pineywoods work commercially and sell the beef in a form that can reach as many people as possible?
Product development and processing
The answer ultimately lay in the concept of a beef stick. Beef sticks provided a way to use the majority of the meat from the animal, packaged and marketed through a shelf stable, easily shippable product to people across the country.
Bryan Wells came up with the idea as he was tinkering with Pineywoods beef in the kitchen. He realized that the leaner beef made a nice jerky. Using this discovery, he looked for ways to use all of the quality meat in a similar fashion. Bryan made beef sticks that his brother, AJ, then took to college and shared with friends. "People wanted to try more and started getting in touch with us at the farm about buying it," says Wells. "People were liking what we were doing, so we really dug into finding a way to make it work." The Wells began holding back animals to build up enough of a supply for a first batch of commercial beef sticks. After searching for processors in the region that would produce a beef stick with Pineywoods beef, Bryan's research led him to a processor in the Midwest. "We relied on their recipes," says Wells, "and we chose the two flavors that we thought would appeal to the widest range of people."
There were important considerations in choosing the beef stick varieties. Each flavor requires investment in the label design and USDA approval process, which is both costly and time consuming. As the processor needed a certain quantity of beef per run, the family had to consider the number of cattle they would have ready at each processing date—and how much beef for each flavor. "Our relationship with our processor is a crucial one," explains Wells.
"They have worked with us on initial small loads, but we are now increasing our quantity each production round to help keep processing costs down. Pineywoods are smaller cattle and produce about 200lbs. of meat, so instead of looking at 4-8 animals per run, we need to supply 15-20 animals per run to make the next step economically viable. This influences our production —and whether or not it will happen year-round or during one concentrated time of the year."
Wells found a company who not only helped design all labels, packaging and logos, but assisted with the USDA label approval process—and was instrumental in bringing the beef sticks into existence in the way they had envisioned.
Processing considerations
Does your

slaughter

plant offer processing for a specialty product like beef sticks? Or would you need to transport beef from your slaughter plant to another processor?
Does the processor fit your needs regarding production size, desired product and cost? Do they have and use their own recipes?
Do they offer in-house label design and approval services?
Do they have the printing and packaging capabilities to set you up to be retail ready?
Marketing efforts
While Georgia Native Cattle Company is still establishing their core markets, they have experienced significant success based on their own research and marketing outreach efforts and expert advice. Beef sticks are sold online and through a growing number of wholesale outlets in their area whose customers are aligned with their markets (interested in travel, hunting, on-the-go snacks, specialty food outlets, health). Working with AGW's marketing team and others, the farm has reached local and national press, participated in video interviews, shipped sampling kits to bloggers, influencers and key retail outlets, and worked hard to grow their social media and online presence. Although the COVID-19 pandemic has severely limited their ability to explore more favored marketing options, such as attending large county and state fairs, expos, historic parks and museums, the Wells plan to revisit these in 2021 and beyond.
"One of the most important lessons learned from a marketing standpoint is to get an expert involved," says Wells. "Marketing is where we currently have the most to learn, but I trust our product and also trust that things are a work in progress. We learn as we go and we are doing something that nobody has done. We believe the breed has a much bigger future than where we are today, but the genetics won't be there if we let them go extinct. We are trying to save genetics for the future."
Author: Callie Casteel is Farmer and Market Outreach Coordinator with A Greener World
Originally published in the Fall 2021 issue of AGW's Sustainable Farming magazine.