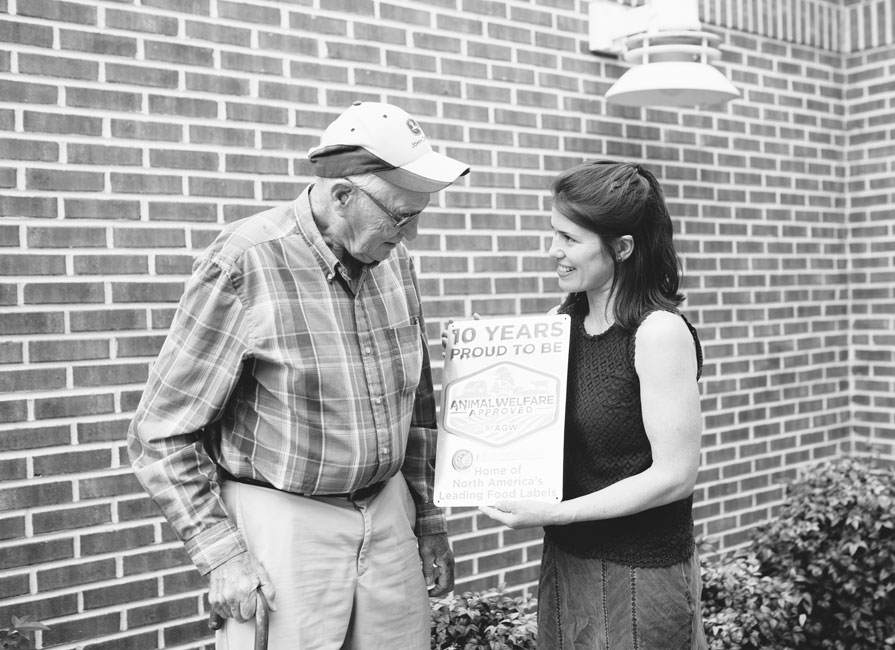 Introducing A Greener World's New Executive Director, Emily Moose
Despite our grief over the sudden passing of founding Executive Director Andrew Gunther, we are excited to announce that Emily Moose has been named our new Executive Director, following Andrew's previously established succession plan and with the unanimous support of the AGW Board of Directors.
Emily has been at A Greener World for over thirteen years, where she helped to establish Certified Animal Welfare Approved (AWA) by AGW as the leading label for sustainable livestock production, as recognized by Consumer Reports, and oversaw the integration of the established AWA label into the new global nonprofit A Greener World. She directed the global market launch of every certification since AWA and has a long history in guiding AGW's growth and development as a core member of the senior management team. Before holding the title of Director of Communications and Outreach for seven years, Emily was AGW's Lead Farmer and Market Outreach Coordinator, where she led the four-region Outreach Team that supported independent farmers and consumers across North America.
With over 25 years working in food, agriculture and communications, Emily has extensive experience at all points in the supply chain from farm to market and is deeply rooted with her family in an agricultural community in rural North Carolina. She is a graduate of the University of North Carolina-Asheville and the prestigious Agricultural Leadership Development Program at North Carolina State University. She is also a member of the inaugural cohort of the Castanea Fellowship, a highly competitive program for established leaders who work to shift structures towards the creation of a more equitable, sustainable, and healthy food system.
Emily now steps up to lead a family of distinguished certifications, including the new Certified Regenerative by AGW program, which is currently in pilot phase and will announce its first fully certified farms and products in 2021. Additional areas of programmatic focus in 2021 include supporting farms in adapting to changing markets, ensuring transparency in labeling, increasing market growth of AGW-certified products and continued engagement of AGW's vast network of supporters.
Dr. Amy Neff, Chair of A Greener World's Board of Directors, says,
"Having been a part of A Greener World for over a decade, Emily Moose has deep relationships with our certified farmers, our funders, our grassroots donors, and our consumers. Her institutional knowledge and experience in the world of sustainable food and farming makes her well-equipped to lead AGW as we expand our certification programs in 2021 and beyond. While we are all grieving the loss of Andrew, we are grateful for his vision and the thoughtful preparation which has made this transition seamless. Despite the challenges of the pandemic and Andrew's sudden passing, we are confident that AGW has a bright future with Emily as Executive Director."