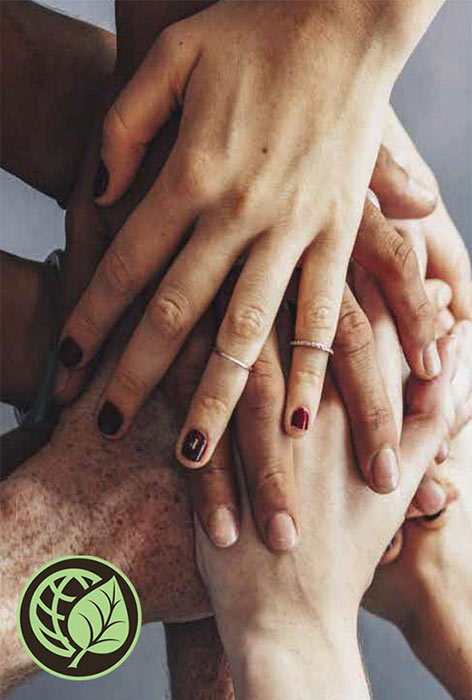 Get it Together, Stronger Together
Cooperatives and producer groups offer today's sustainable farmers and ranchers the opportunity to work together to provide the consistency and quantity often required by larger buyers or contracts. Group marketing also suits farmers and ranchers who are not interested in marketing themselves or selling directly to the consumer.
The beginning
Colleen Biggs and her husband, Dylan, come from a long line of pioneering Canadian ranchers. But in the mid-1990s, the family faced a crossroads: "The bottom had fallen out of the cattle market and we couldn't make ends meet," Colleen explains. "We had two options: quit ranching or add value to our production." Colleen and Dylan took a leap: TK Ranch became one of the first farming families in Canada to direct market grassfed beef to their local community.
"We were way ahead of the trend," Colleen says. "No one understood the importance of grassfed beef until we started selling to chefs and getting into high-end restaurants." After years of hard work, demand increased to the point where they decided to approach neighboring ranches to discuss opportunities to supply beef—and they haven't looked back. Today, they have six Certified Animal Welfare Approved by AGW, Certified Grassfed by AGW producers supplying additional beef cattle under the TK Ranch brand.
Sarah Hoffmann spent 10 years as a medical doctor before establishing Green Dirt Farm, a successful sheep dairy and creamery in Missouri. Green Dirt Farm offered Sarah the chance to turn a passion for cheese into a successful business venture. She identified that over 95 percent of sheep dairy products consumed in the U.S. were imported: "I stumbled upon a real market niche, plus I really like sheep," she says. "It was a win-win!" Sarah had no trouble selling the cheese she produced. "We had great sales just from word of mouth," she explains. However, she soon realized the farm couldn't become economically sustainable at current levels of production: "We didn't have the farm infrastructure to grow, so we needed another source of milk to meet demand." Sarah works with five Certified Animal Welfare Approved by AGW dairy sheep producers who supply milk to produce Green Dirt Farm's award-winning cheeses.
Jeremiah Jones always wanted to farm; while his relatives got out of farming, he began taking out loans to start his own farm. In 2007, Jeremiah and several local producers started a cooperative, the North Carolina Natural Hog Growers Association (NCNHGA), to meet growing demand for high-welfare pork. When asked why he was voted as the point person, Jones recalls: "I was the youngest. Plus, I had a cell phone!"
From the outset, one thing was non-negotiable: "We decided every farm had to be Certified Animal Welfare Approved by AGW to join the co-op," Jeremiah explains. "The third-party audit is like our vetting system and, at this point, we turn people on to certification right away." Last summer, the NCNHGA voted to add another certification to their requirements: Certified Non-GMO by AGW. "We grow quite a bit of our hog feed, so becoming Certified Non-GMO by AGW made sense and will help keep us ahead of the market," Jeremiah adds.
Working many years in sheep dairying, Jacqueline Smith observed that excess lambs were often sold at commodity prices into the feedlot system. She wanted to find a way to keep lambs in high-welfare systems and, in May 2015, Central Grazing Company was born. "From working on and with farms, I learned how to build relationships, network and grow opportunities with retailers and customers," says Jacqueline. "Going through those experiences helped me when I decided to start my own business." Like the NCNHGA, Central Grazing Company requires AGW certification for its members. In turn, Jacqueline rewards producer partners through revenue-sharing programs. "We control the entire supply chain, from processing to distribution, which helps keep our margins as high as possible," Jaqueline explains.
Certification benefits All four farmers agree that AGW certification helps set themselves apart in the marketplace: "We use our AGW certifications as the primary differentiating factor to set our brand apart," Colleen says. "It is very important to our business. Most other humane certifications aren't worth the paper they're written on."
After establishing Green Dirt Farm, Sarah chose to become certified in 2008 as a way to add validation and credibility to her business. But 10 years later, she says her certification is more important than ever: "We have a substantial amount of cheese to sell, so a lot more work goes into marketing our products. Our AGW certification is what makes our cheese different from others."
AGW certification also plays a vital role when marketing NCNHGA pork to prospective customers. "I always tell prospective customers if you're buying from a farmer and they're not third-party certified, then you just have to trust in their practices—and that's not something I would recommend," Jeremiah explains. "Our AGW certification let's people know what our farmers are doing and how they're raising their pigs."
Additional thoughts
Sharing the workload among members—and making the most of available skill sets—can offer many advantages. "Co-ops have a difficult time being successful when all the work lands on one person's shoulders, so my advice is to try and share roles among members," Jeremiah says.
"Recently, we've had new farmers join who have different backgrounds, including marketing or PR work. That's been super helpful to fill in the gaps and benefits everyone." Colleen agrees: "If you can find people that have the same goals and synergies, and find ways to outsource some of the work, that increases the likelihood of business success."
With increasing demand for high-welfare, sustainable food, producer groups and co-operatives offer farmers and ranchers a unique opportunity to work together and pool production capacity—and hopefully establish fairer trading practices and prices. "Scaling up doesn't have to mean sacrificing animal welfare or the environment," Jaqueline adds. "Certified Animal Welfare Approved by AGW farms need to come together to get into larger markets. It is the only way we can achieve economies of scale and get the value-added revenue back to farmers."
New opportunities are emerging to supply high-welfare, sustainable products to large retail traders. However, these buyers generally require a scale and continuity of supply that individual farm businesses will struggle to meet on their own. Cooperative or group marketing approaches can allow farmers to work together to coordinate supply of high-welfare, sustainably produced products to these larger buyers—with the negotiating power needed to secure fairer and more sustainable prices.
A cooperative approach
The North Carolina Natural Hog Growers Association (NCNHGA) is officially set up as a cooperative, where key decisions are made by a majority vote. Farmer members take on some responsibility for running the group, while the president coordinates marketing and sales.
Before applying to join the NCNHGA, farmers must be Certified Animal Welfare Approved by AGW and Certified Non-GMO by AGW. "Every application we receive is reviewed and voted on by the board," NCNHGA president Jeremiah Jones explains. "The written application has questions like farm size, why they want to join the co-op, what benefits they see in being a member—different vetting questions we've learned over the years. Not everyone will fit the group, so it's important to figure that out early on."
NCNHGA farmers sign a basic marketing agreement, which specifies price and weight ranges and other responsibilities, such as meeting attendance, volunteering time and so on. "This agreement is important for multiple reasons, but it's something to fall back on if we ever have to enforce rules," Jeremiah adds.
Producer groups
Producer or marketing groups operate in a different manner. These privately-owned companies frequently develop where an individual business needs to supply a growing market, and animals or products are purchased from participating farmers at an agreed price. Colleen and Dylan Biggs of TK Ranch in Hanna, Alberta, pre-purchase cattle from a number of trusted certified farmers and ranchers, process the carcasses and market the beef cuts alongside beef from their own herd under the brand.
"We started direct marketing almost 25 years ago to add value to our production and were one of the first farm families to sell grassfed beef in Canada," Colleen says. "As demand increased, we began working with a few small families to supply beef." TK Ranch suppliers must be Certified Grassfed by AGW and meet certain genetic criteria, which is primarily Angus based. "The farmers must also exhibit livestock handling skills that demonstrate their commitment to animal welfare and environmental management," Collen adds.
The Biggs plan beef production about three years in advance. Before they work with a family, the Biggs inspect the cattle herd and discuss animal specifications and other requirements in detail. "We still have a strong code of conduct in Alberta that allows us to trust them at their word. So we do not have written contracts. Our producers are paid when they deliver their animals. We've occasionally had animals arrive that did not meet our specs and mutually agreed to discount price accordingly."
Responsibilities
Jeremiah is responsible for scheduling NCNHGA farmer and buyer deliveries, maintaining buyers' relationships, communications and general management, as well as admin and billing. "We try to plan production a year out or more, but it's hard to get buyers to commit to numbers more than a year from now. But we don't want to be raising more pigs than what we've got market for."
Co-op members are responsible for keeping to production schedules. While members are paid per pound, there are penalties if pigs go too heavy or too light. "Farmers can get docked or have to pay a fine," Jeremiah explains. "If you don't fill out the monthly production projection sheet, there's a fine for that, too. Three complaints from buyers and the board will investigate and membership could be terminated." The co-op is investing time and energy to educate members on estimating weights and improving projections for younger pigs. "We're trialing a software program where farmers input the number of pigs born and date, and it figures how many days it takes to finish, based on feed ratios. It's early days but it looks promising."
Decision making
For the Biggs, the marketing group structure enables more streamlined decision making. "The big difference between us and a cooperative is we are responsible for the entire value chain," Colleen explains. "You can only form a cooperative with people who are like-minded and have money to invest."
"We pay suppliers a premium above the market high and they have no other responsibilities. As the producers have no financial skin in the game, except ownership of their cattle, the Biggs dictate the terms. "Overall, managing producers is not difficult—especially when their responsibilities are limited," Colleen adds.
Financial risks
But it means the Biggs are solely responsible for any related marketing costs and all financial risks: "The families we work with are wonderful people and we appreciate their hard work and commitment. However, we are responsible for the entire program and receive no additional help or involvement from our producers beyond buying their livestock. The onus is entirely on us to make this business work and it's far from easy."
And there are real risks: "The recession in Alberta has sent our economy into a tailspin since 2015. Unfortunately, those of us marketing high-end products are struggling because so many people have lost their jobs, and some direct marketers have seen a 40% decline in sales. We are holding our own, but only just."
Marketing benefits
Joining a co-op or producer group can offer real benefits to farmers. Marketing is the big one: in both set-ups, farmers can focus on day-to-day farming and not worry about marketing the end product. There can be other benefits, too. "We try to help with whatever issues are brought to the group," says Jeremiah. "So, we'll bring in an expert speaker to the monthly meetings or try to figure it out among ourselves. There's a lot of collective knowledge among the group." NCNHGA members have also worked together to buy breeding stock, farrowing huts and bulk grain.
If you are thinking of setting up a cooperative or marketing company then a sound knowledge of your market, good communication skills and the ability to work effectively with all types of people is essential. "And you'd better like Tylenol!" Jeremiah adds.