How to Save the World with Your Fork
A friend of the program recently offered some constructive criticism along the lines of: "I love A Greener World's mission, but sometimes you make statements that are so big, so grand, that people don't see how it can possibly be true."
As an organization steeped in agriculture and sustainability, it's easy to forget to put the trees in context of the forest, but forgive us for our excitement and passion! We truly believe that the work that we do alongside the AGW-certified high-welfare, sustainable farmers across the country (and soon the world)—put us on the path to making this planet a much better place. We would even say that YOU can save the world, with just the power of your fork! But we know these are big-picture, complex statements and it's important for us to take a moment and break it down, so that you can see AGW's work in context—and maybe even consider joining us on the journey.
Why Third-Party Certification?
As you probably know from firsthand experience, consumers are regularly bombarded by companies selling products claiming to be "sustainable" or "regenerative" or otherwise environmentally responsible, without any verification to back it up. All too often these claims convince us to buy the same old unsustainable foods we're trying to avoid, and at the end of the day, we're merely paying for the illusion of sustainability. But what if there were a way to KNOW our food purchases have a positive impact? This is where third-party certification comes in.
Each of A Greener World's farm certification programs—Certified Animal Welfare Approved by AGW, Certified Grassfed by AGW, Certified Organic by AGW and Certified Non-GMO by AGW—has meaningful standards that are audited annually. We visit every farm personally so consumers can have confidence in our labels, and farmers can get credit for their hard work. This may sound like a humble strategy but it's one of our best hopes for making the changes we so desperately need in our food system.
A Greener World in Context
The United Nations Food and Agriculture Organization recently said agroecological systems are vital in feeding an increasingly populous, resource-strained planet. We know industrial agriculture takes a costly toll on our health, the environment, biodiversity, animal welfare, rural economies and farming families. So by focusing on preserving the environment with sustainable farming, like the agroecological farming standards required by A Greener World, we can change agriculture's negative interactions with plants, animals, humans and the environment to positive impacts which benefit us all. Pasture-based systems are vital to any truly functional food system, and they have benefits that extend far beyond the farm. We put together the chart below to help show the difference: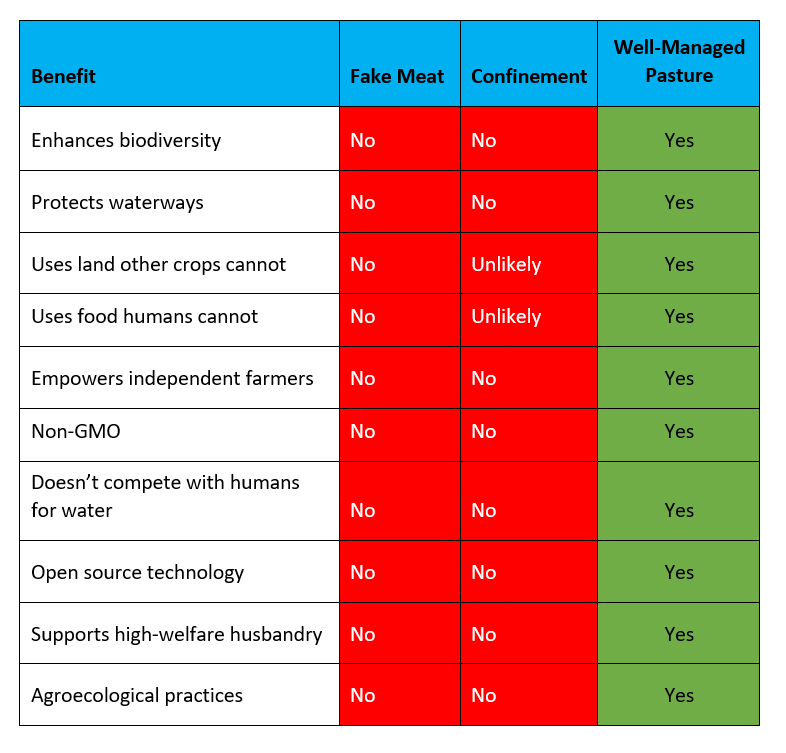 The Future is Pasture-Based
We're not the silver bullet, but we are an essential part of the solution. Feeding ourselves—i.e., agriculture—is the single biggest impact we humans have on the planet's ecology. Right now, much of that impact of agriculture is extractive, resource-intensive and happening at a high cost to the environment. For humans to be able to live within our means on this planet, we must transition to agricultural systems that function as part of an ecosystem.
Thriving sustainable food systems are based on a solid foundation of verified sustainability and true transparency. The simplest way to achieve this is third-party certification with practical, solutions-based standards that deliver sustainability and meet consumer expectations.
So although our grand statements might seem like they are lofty goals, we have to keep in mind that in times like these, we have to think big. Thinking about the whole system is what will bring forward impactful solutions that create real change. By choosing to purchase products from AGW-certified farms or deciding not to reward meaningless labels, you're making a positive choice to bring transparency—and save the world—one meal at a time.