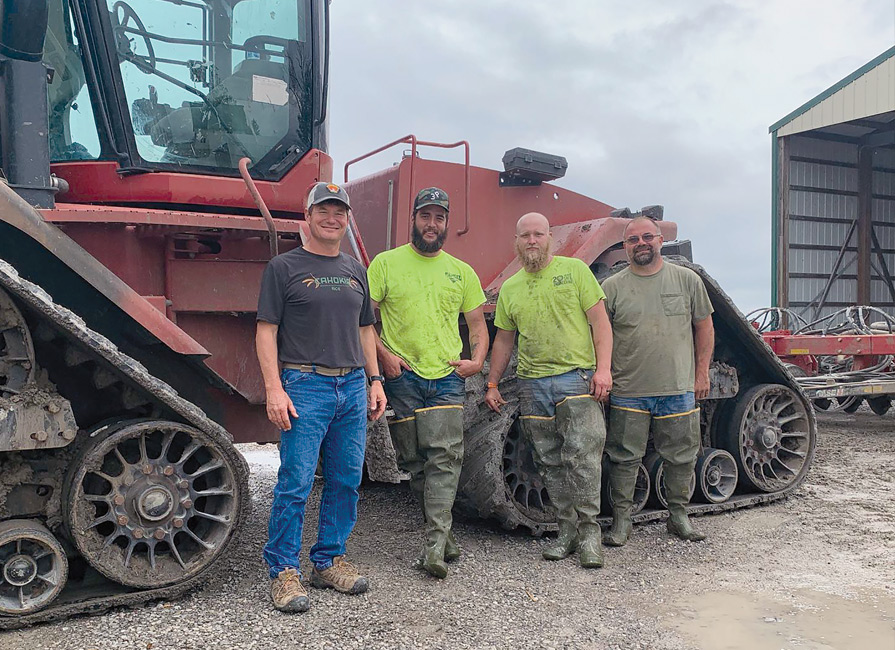 Meet the Farmer – Cahokia Rice
Blake Gerard (above above, with some of the farm's crew) is a fourth-generation farmer in Alexander County, IL, growing rice and soybeans. The family focuses on producing a low-glycemic rice, sold and marketed under the Cahokia Rice brand.
How did you get into farming?
I'm the fourth generation farming here at Gerard Farms and have farmed right next to the Mississippi River since I was 20 years old. During the first nine years, I experienced four major flooding events where I produced little—if any—crop. At that point, I decided I must find a crop that can grow in the water—or find another occupation! I am now in my 24th year growing rice and currently grow 1,500 acres of long grain rice, plus 1,500 acres of soybeans. We recently launched a brand, Cahokia Rice, a variety that is high in protein and has a low-glycemic score, and we're working on building this into our primary business.
Describe a typical day
I go cycling first thing in the morning, before the office for paperwork and emails. I'll speak to employees about the day's work and then jump in the truck to begin checking and tending to rice water, scouting crops, employee duties, and answering questions as needed. Special projects make up most weeks, like making grade corrections on rice fields that are fallow. We use land grading equipment to make fields perfectly flat or zero grade, which allows very efficient use of water. I try to be home by 6–7pm for family fun to wrap up the day.
Sustainable farming: why does it matter?
If I'm not implementing sustainable practices, the farm is effectively going backwards. It's my goal to improve this farm each day and leave it better for the next generation.
Who are your customers?
Online and retail grocery, along with a growing list of food service clients who are concerned about food quality and the environment.
Why choose Certified Non-GMO by AGW?
People want to know more about what they're eating, where it originates, and that it is safe.
Our Certified Non-GMO by AGW rice assures our customers that these concerns are satisfied.
What are your business plans for the future?
To continue to increase sales of Cahokia Rice, providing a healthier rice to the American consumer.
What is the biggest threat to the sustainable farming movement?
I don't see sustainable farming as a 'movement.' We've used these practices for at least four generations here at Gerard Farm—they're not going away.
What do you love most about what you do?
Working outdoors, interacting with nature.
What keeps you awake at night?
The dog.
AT A GLANCE
Farm: Gerard Farms Certification date: June 2021
Size: 3,000 acres Soil type:
Darwin clay Altitude: 342 feet Annual rainfall: 48 inches Enterprises: Certified Non-GMO by AGW long-grain rice (and soybeans)
Originally published in the Fall 2022 issue of AGW's Sustainable Farming magazine.