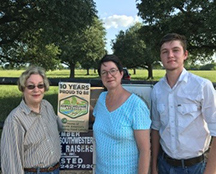 Meet The Farmer: Lazy Ways
Margot Heard raises Certified Animal Welfare Approved by AGW cattle at Lazy A Ranch in Austin County, Texas. She manages British White and Akaushi cattle on two properties totaling approximately 500 acres, selling high-quality grassfed beef through an online store. Educational activities sit at the very heart of the ranch.
How did you get into farming?
My father was a farmer and designed the first feedlot in Texas in the 1950s. As a child my favorite place was the ranch. After living and working in Houston for many years, my husband and I wanted a place in the country for our family. We eventually bought the Lazy A Ranch in 2008 and started with the 22 Santa Gertrudis cows on the ranch and their Star Five calves. I knew grassfed beef was better for health and began to research it. I found information about Certified Animal Welfare Approved on the internet and knew it was the right fit.
Describe a typical day
I get up early and read my emails, check my investment sites and maybe watch business news. After breakfast I check the activities of the day and our chickens, cattle and livestock guardian dogs. We have a ranch manager who manages the cattle. If we need to work cattle we do that in the morning.
During the day I get calls from meat customers or Saint Nicholas School in Houston, where I am headmistress and co-founder. After lunch I catch up on news and work on paperwork. In the evening we have a final check on the cattle and do more chores. After that we sit by the fire or sit outside by the pool to talk, depending on the season. Then we have supper, relax or take care of any unfinished business.
Who are your customers?
People who are looking to buy high-quality, high-welfare sustainable meat on the internet.
Sustainable farming principles: why do they matter?
They provide transparency in food production and access to buyers. The land must be managed in a holistic manner to restore and maintain it. Practices should be profitable, environmentally sound and provide service to communities.
What's the benefit of being certified by AGW?
It provides verification of what we claim. Anyone can use the terms 'grassfed' or 'natural' and not be authentic.
What are your plans for the future?
We want to add leased or purchased acreage to increase our meat business volume. We've struggled to find dependable markets—except our website sales. This year we began working with Barn2Door which is designed to help farmers sell online.
What keeps you awake at night?
Ideas I am working on. Keeping up with the paperwork for all my projects can be frustrating!
If I were President I would …
Break the meat packer monopoly and encourage diversity along the supply chain for meat. We do
not have a fair market for the producer.
AT A GLANCE
Farm: Lazy A Ranch
Certification/date: 2009
Size: 500 acres
Soil type: Mostly dark clay soil with some sandy soil
Altitude: 100 ft
Annual rainfall: 40 inches
Enterprises: 300 head of British White and Akaushi cattle, selling AGW-certified beef online.