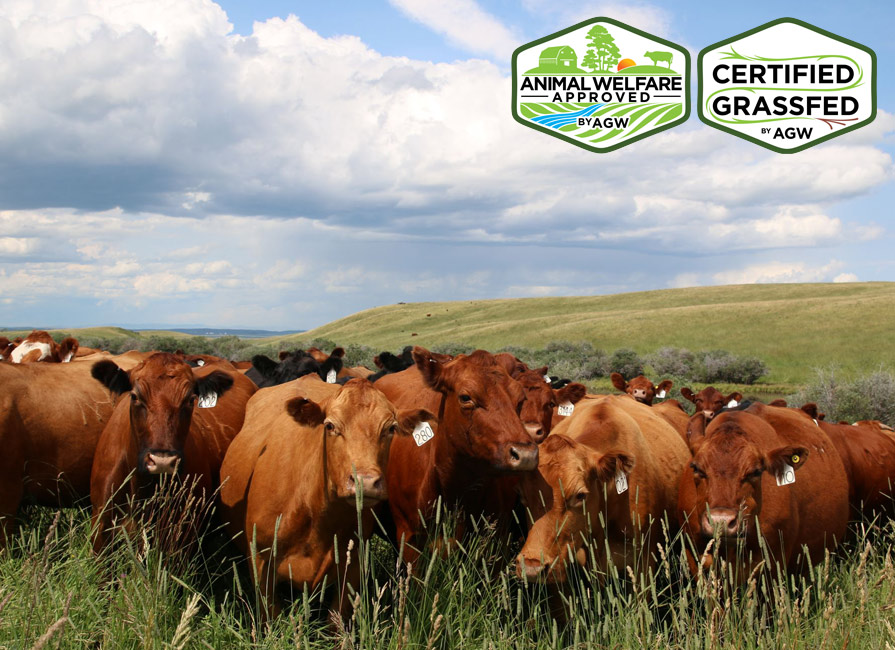 Scott Palmer Ranching, Ltd. – Pincher Creek, AB
Scott Palmer and his daughter, Julia Palmer, raise Certified Animal Welfare Approved by A Greener World (AGW), Certified Grassfed by AGW beef cattle on their ranch in Pincher Creek, Alberta.
Scott is a fourth-generation rancher. He and his wife, Sybil, manage operations on two ranches—Palmer Ranch and 96 Ranch—in southern Alberta and Saskatchewan, respectively. They live at Palmer Ranch, purchased in 1968, the ranch is located near Waterton National Park on the southwest corner of the province. The land consists of a mix of native grasslands and tame pasture. Palmer Ranch was purchased by Morris Palmer in 1968; it is now owned by two of his sons—Scott and Tom Palmer—and managed by Uriel Delgado Montano, Reuben Wurz and Henrik Nilsson Gren.
Spread across vast rolling hills of native grass, 96 Ranch is located in the breathtaking valley of the South Saskatchewan River. The ranch is managed by Jack Regier, his wife, Lil, and son, Jordie. Management at both operations is committed to preserving the original prairie landscape. The herd of Angus cross cattle graze on pasture or range year-round.
The ranches aim to be a model of environmentally responsible cattle ranching, driven by a passion and concern for animal welfare, biodiversity and wildlife conservation. Both properties are Certified Animal Welfare Approved by AGW and Certified Grassfed by AGW. "We felt that certification with A Greener World would add a level of credibility to our operation and value in our end product," explains Julia.
The Palmers' commitment to animal welfare and environmental stewardship is verified by their certifications—Certified Grassfed by AGW is the only certification and logo in the U.S. and Canada that guarantees food products come from animals fed a 100 percent grass and forage diet, raised outdoors on pasture or range for their entire lives, and managed according to the Certified Animal Welfare Approved by AGW leading welfare and environmental standards on an independent farm.
The Palmers applied for the Certified Animal Welfare Approved by AGW and Certified Grassfed by AGW labels so they could sell grassfed beef cattle to their friends at another certified Canadian ranch.
For more information about Scott Palmer Ranching, Ltd., contact Julia Palmer at 403-626-3787 and scottpalmerranchingltd@gmail.com. Follow the ranch on Facebook and Instagram.