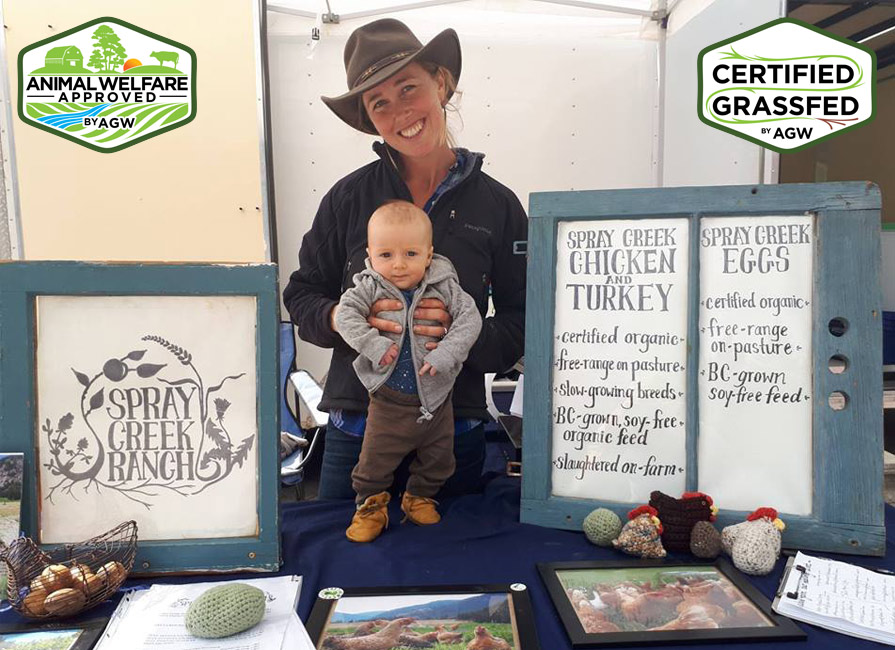 Spray Creek Ranch – Lillooet, BC
Spray Creek Ranch is managed by Tristan and Aubyn Banwell, along with their son, Twain. Tristan was raised rurally for most of his childhood, with a large homestead garden, poultry and horses to keep him busy with chores. Aubyn, on the other hand, grew up in California's bustling Bay Area, far from her grandmother's roots as a farm girl. Her childhood acquaintances might be surprised that their vegetarian hippy friend is now a Canadian rancher!
"In 2009, we began homesteading, to become more self-sufficient and grow some food," explains Aubyn. "We saw that raising our own livestock was beneficial for our health, the health of the land and soon, we knew this was what we wanted to do for a living. We connected with a couple who was looking to purchase a small ranch in BC. Eventually they became our partners, and we have shared ownership of the business. We moved to Spray Creek Ranch in early 2014 and got right to work."
Spray Creek Ranch is a 260-acre (100 hectare) farm in the rain shadow of British Columbia's Coast Mountains in the Northern St'at'imc Territory. "This is an area of incredible natural diversity, with lush red cedar and cottonwood growing only a few hundred meters from shriveled prickly pear cactus and sagebrush," shares Aubyn. "The farm is bordered by the mighty Fraser River on the east, and on the west, we are flanked by a dramatic and rugged cliff and endless forested mountains."
The farm is currently raising Certified Animal Welfare Approved by A Greener World (AGW) pigs, meat chickens and laying hens, as well as Certified Grassfed by AGW cattle and sheep. "We raise 2,000 slow-growing meat chickens on pasture each summer," says Aubyn. "Their large, open-sided shelters are moved every two weeks and they get a fresh paddock every month. Our laying flock of 400 hens live in a mobile henhouse that we move to fresh pasture weekly. The fertility our poultry leave behind is evident in the next season's pasture growth. We also raise around 50 pigs per year, and they are rotated around the farm to help us clean up windfall orchard fruit and renovate pastures."
The farm also raises Certified Grassfed by AGW beef cattle and sheep outdoors on pasture. "Cattle and sheep are our primary tools for regeneration on the farm and they work hard for us every day," explains Aubyn. "Using portable electric fencing, we move them to fresh pasture at least once a day, encouraging healthy plant growth and carbon sequestration while disallowing over-grazing, nutrient pollution and compaction that comes from conventional grazing systems."
"We chose to pursue Certified Animal Welfare Approved by AGW and Certified Grassfed by AGW certifications because AGW has created the strongest and most meaningful livestock standards available," explains Aubyn. "These robust standards go well beyond all other animal welfare certifications to guarantee livestock are raised on pasture and treated well from birth through slaughter. AGW standards set the bar for high-welfare and sustainable livestock production, and truly reflects the thought and care we put into the management of our livestock."
Tristan and Aubyn occasionally offer workshops to help other farmers and homesteaders build their skills and improve the land under their stewardship. Additionally, the farmers operate a growing on-farm abattoir and meat shop. They are moving toward providing slaughter and cut and wrap services to other farms in their region.
Certified Animal Welfare Approved by AGW pork, chicken and eggs, and Certified Grassfed by AGW beef and lamb from Spray Creek Ranch are available at regional farmers' markets, local restaurants and directly from the farm by appointment. For more information about Spray Creek Ranch, visit spraycreek.ca and contact Tristan and Aubyn Banwell at farmer@spraycreek.ca or 250-256-1620. Follow the farm on Facebook, Twitter and Instagram.