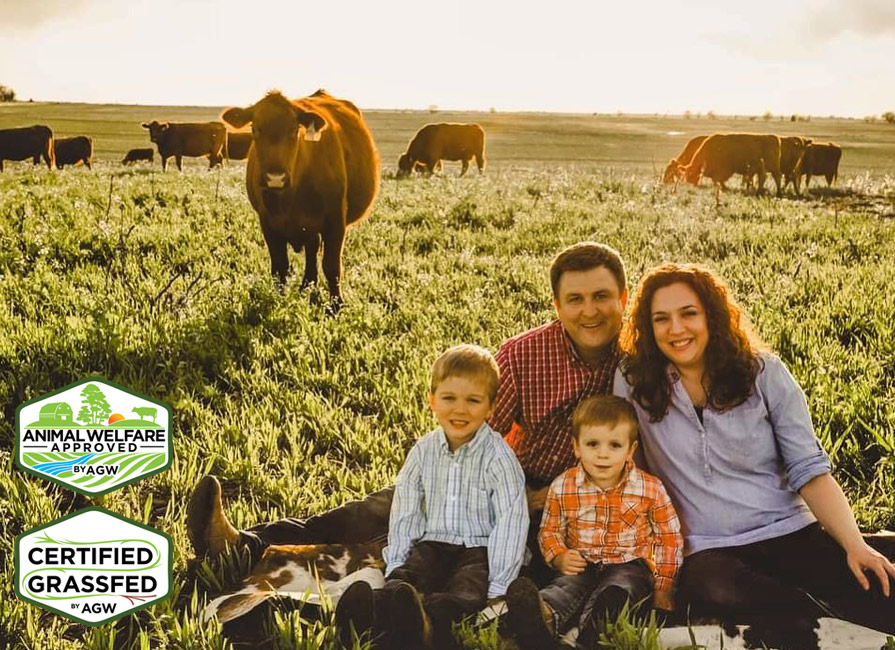 Bachman Family Farms – Deer Creek, OK
David and Amy Bachman, along with their two boys Edmond and Issac, raise Certified Animal Welfare Approved by A Greener World (AGW), Certified Grassfed by AGW beef cattle Bachman Family Farms in Deer Creek, Oklahoma. The ground that the Bachmans farm today is the same land that has been in their family for over seven generations. The core principles of hard work and stewardship that guided the family for a century continue to guide the Bachmans as they plant and harvest crops and raise AGW-certified beef cattle for direct sale to customers across the country.
The herd of beef cattle at Bachman Family Farms graze the wide-open plains of Oklahoma. The cattle are rotationally managed, grazing one section of pasture before being moved to fresh fields. This type of management allows grass to recover before cows return to graze again; it also keeps the soil properly fertilized and minimizes the build-up of internal parasites, thereby avoiding reliance on chemical treatments.
In addition to being Certified Animal Welfare Approved by AGW, the cattle herd at Bachman Family Farms is Certified Grassfed by AGW, the first—and only—food label in the U.S. and Canada that guarantees food products come from animals fed a 100% grass and forage diet, and raised entirely outdoors on pasture or range.
David and Amy chose to pursue certification when they began offering their grassfed beef direct to customers because of the trusted verification the AGW program provides. "Buying Certified Animal Welfare Approved by AGW, Certified Grassfed by AGW beef from our farm gives our customers the highest level of trust. Customers can have peace of mind knowing that our cattle are raised on our farm their entire lives and are managed according to the highest welfare and environmental standards in the industry. The AGW program aligns with our values of animal management and stewardship, and we are proud of our certifications," says David.
Certified Animal Welfare Approved by AGW, Certified Grassfed by AGW beef from Bachman Family Farms is available for order online with shipping to states in the continental United States. For more information about Bachman Family Farms, visit www.bachmanfamilyfarms.com, follow the farm on Facebook and Instagram and get in touch with David and Amy Bachman through the contact page on the farm's website and (620) 845-4223.