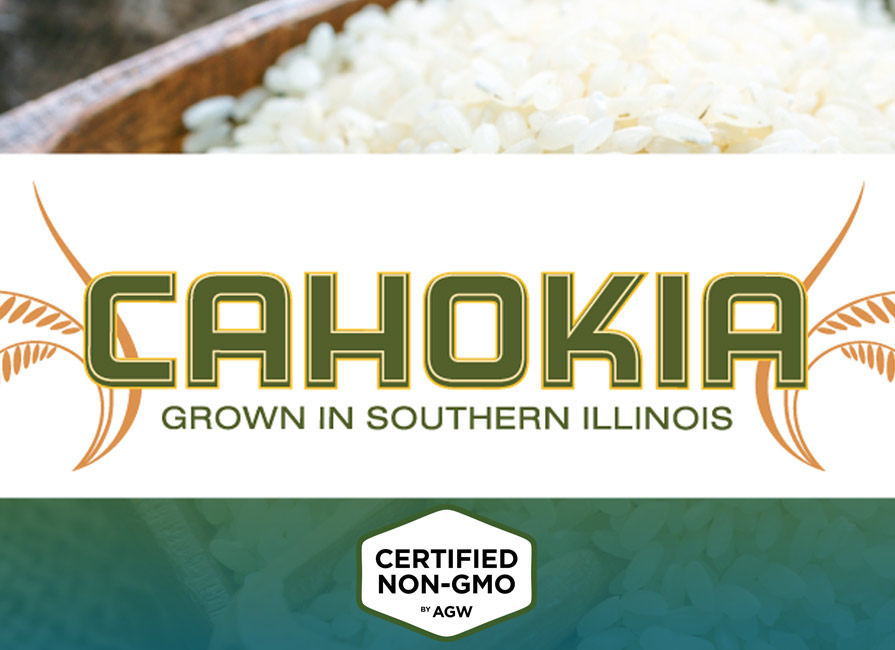 Cahokia Rice – McClure, IL
Cahokia Rice is an Illinois based rice producer that grows and sells Certified Non-GMO by A Greener World (AGW) rice products. Cahokia Rice uses only Certified Non-GMO by AGW rice for their line of products.
Owner of Cahokia Rice, Blake Gerard started growing rice in the early 90s, seeking to revitalize his family's multi-generational farming operation.  Today, a recognized pioneer in the rice industry, Blake's passion for farming paired with his intimate understanding of the rice market allows him a unique perspective on producing the highest quality rice without sacrificing the unique characteristics that set family-owned and operated farms like his apart. He is constantly looking to improve his methods and to better his Cahokia Rice products.
Julie Woodruff, Manager of Business and Operations at Cahokia Rice, says "We mill and package our rice crop in small batches to maximize taste and nutrition, harvesting the grains when they contain peak protein content. We guarantee that each package of Cahokia Rice meets these standards of quality that we hold ourselves to and A Greener World verifies that we meet their Non-GMO standards."
Cahokia Rice pursued Certified Non-GMO by AGW certification because they felt it was important to share their non-GMO status with their customers, as a part of their story of sustainability. "At Cahokia Rice, we're trying to make things better through rice farming, and work with the land to feed people like our ancestors did before us," says Julie. "The result is a premium Certified Non-GMO by AGW farm-to-table rice that is both nutritious and delicious."
In addition to certification being important for their customers, Cahokia Rice was impressed with the attention A Greener World gave throughout the certification process and the company supports the work that AGW is doing. "In researching other non-GMO programs, we decided that AGW was the best fit for us and throughout the certification process the AGW team has been so wonderful to work with," says Julie.
Certified Non-GMO brown and white rice from Cahokia Rice is sold in 2 lb. and 25 lb. bags and can be found at a number of retailers throughout Illinois including Dierbergs Grocery, Schnucks and Harvest Market in Champaign and Springfield, as well as online through their website cahokiarice.com. For more information follow the company on Facebook, Twitter and Instagram, or email sales@cahokiarice.com.