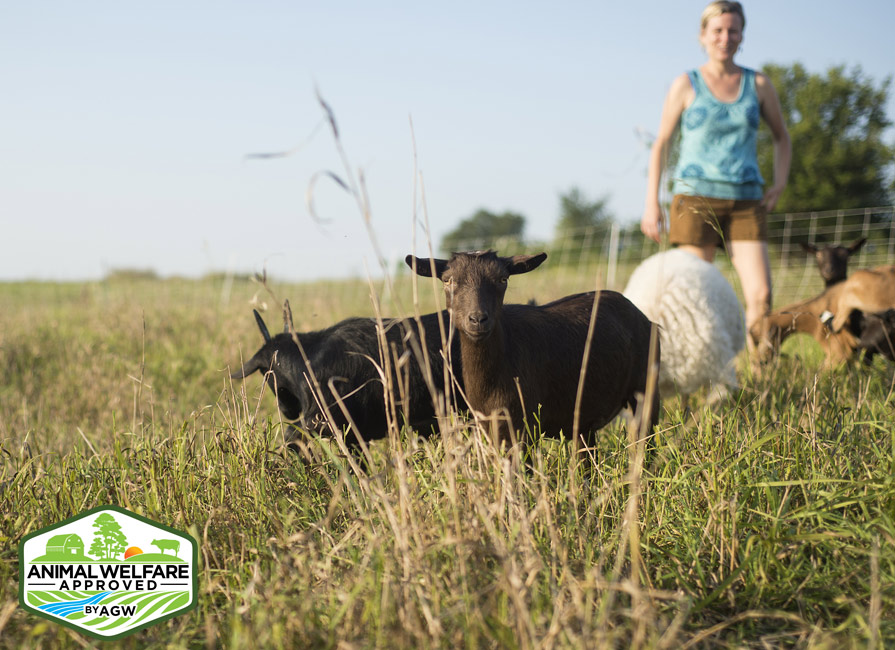 Gretta's Goats at Short Leg Farm—Pecatonica, IL
Gretta Winkelbauer and Eric Strong raise Certified Animal Welfare Approved by A Greener World (AGW) dairy goats outdoors on pasture at Short Leg Farm in Pecatonica, Illinois.
Growing up on a small farm in Michigan, Gretta developed a deep appreciation for animals, farming and healthy food; however, she did not have the resources or expertise to make a living from farming. But when Gretta was accepted into the Prairie Crossing Farm Business Development Center (PCFBDC) in Grayslake, IL, in 2011 as one of their incubator farmers, it was the opportunity Gretta and Eric needed to start their farm business. "My dream was to combine my love for animals with my desire to produce healthy food in a sustainable way," says Gretta.
Gretta and Eric decided to bring this dream to life by producing farmstead cheese from their own herd of dairy goats, and began working towards that goal by making hand-crafted goat's milk soaps. They selected Nigerian Dairy Dwarf goats for their manageable size and the high butterfat content of their milk—ideal for both soap and cheeses. The PCFBDC program enabled Gretta and Eric to learn about goat husbandry and rotational grazing management, as well as to meet and learn from like-minded farmers and grow the farm business.
To pay the bills, Gretta hand-milked the goats twice daily, combining the milk with locally grown herbs, organic vegetables and essential oils to make soap, which she sold at local farmers' markets and artisan shops in Chicago and Milwaukee under the name Gretta's Goats. The business grew steadily, with the small herd of goats increasing from just three goats to 35 goats to keep pace with demand. Gretta's Goats soaps were featured in the fall edition of Edible Chicago magazine, Crate and Barrel's Late Spring 2014 catalog and on Oprah.com as a perfect present.
As the herd size increased, so did the need to purchase a bigger farm. In July 2013, Gretta and Eric purchased a 25-acre farm in Pecatonica, IL. The land had been conventionally farmed with a traditional rotation of soybeans and corn for many years, so the couple began to transition the land from traditional row crops to a sustainable intensive grazing operation. "Our farming practices help to heal the soil, increase organic matter, improve soil structure and decrease soil losses caused by erosion," Gretta explains. "We also use bedding material and animal waste collected from our barns and winter paddocks on our fields to provide additional nutrition for the soil. We house our goats in portable shelters that are contained with solar powered electric netting, and established a forestry conservation plan with the state of Illinois that is in line with our additional long-term goals of improving the forage base and increasing wildlife habitat while protecting the surrounding natural resources."
Pasture-based management is key to both sustainability and animal welfare on Short Leg Farm. Goats never spend more than five days in a specific pasture, which has improved health and decreased the need for chemical wormers. The use of managed intensive grazing has also lowered feed costs. "The health and wellbeing of all of our animals comes first on our farm," says Gretta. "We believe in leaving baby goats with their mothers until at least 12 weeks of age so they develop the strongest immunity possible and learn how to be goats from watching and interacting with their mothers. We try to be present at every birth in case we need to intervene to assist the mother. We keep our farm small so we can know each and every goat and provide attention to each animal daily."
In addition to plentiful grazing area, Short Leg Farm had the infrastructure to continue to grow the business, including acreage for self-sustaining hay production, sufficient power and water supply, and adequate buildings for housing animals, storing hay and making cheese. In August of 2016 Gretta and Eric completed a farmstead creamery and mobile milking parlor and were able to add Certified Animal Welfare Approved by AGW seasonal farmstead cheeses to their farm's product line.
"Graduating from the Prairie Crossing Farm Business Development Center incubator program and purchasing our own land fulfilled a lifelong dream of owning a farm on which we can work with animals and farm sustainably," says Gretta. "We are excited to be a part of a like-minded community of farmers and to be able to share our passion for sustainable farming with our customers through our Certified Animal Welfare Approved by AGW certification."
Gretta's Goats Certified Animal Welfare Approved by AGW goat's milk soaps are available throughout Chicago, including select Whole Foods locations, Green Grocer, Dill Pickle Food Co-op, Local Foods, Roger's Park Provisions, as well as select stores in Indiana, Michigan, Wisconsin, Nebraska and Washington. Gretta's Goats Certified Animal Welfare Approved by AGW goat's milk cheeses and are available seasonally direct from the farm by appointment and are also available in addition to Gretta's Goats goat's milk soaps at the outdoor Logan Square and Glenwood Sunday Markets. Gretta and Eric offer farm tours of the creamery, soap workshop, and their pastures by appointment. To learn more about Gretta's Goats at Short Leg Farm, and for a full list of where products are sold, visit their website or follow the farm on Facebook, Twitter and Instagram.