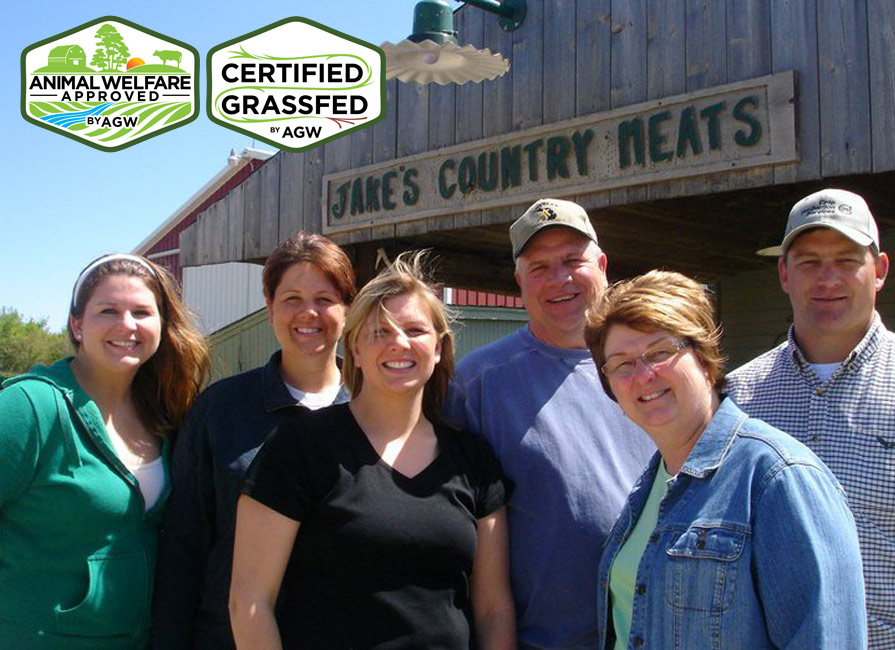 Jake's Country Meats – Cassopolis, MI
Nate and Lou Ann Robinson, their children—Jacob, Jamie, Lindsay and Renee—and their families raise Certified Animal Welfare Approved by A Greener World (AGW) hogs and beef cattle outdoors on pasture at Jake's Country Meats in Cassopolis, Michigan. Nate is a sixth-generation farmer and, together, Nate and Lou Ann have been raising hogs outdoors for over 40 years.
"It's a real family farm, so everyone is involved in some way or other—even if they don't want to be!" laughs Lou Ann. The Robinsons raise a mix of Duroc/Berkshire and Large White hogs; breeds that are well suited to pasture-based management and produce high-quality, flavorful pork. Careful management and environmentally sound practices have allowed the Robinsons to maintain their pastures with rich grass, while a Forest Stewardship Plan has helped them manage their woods, providing a foundation of sustainability that the family hopes to carry forward for future generations.
The newest addition to the farm is the herd of Certified Grassfed by AGW Scottish Highland Cattle, a breed which does well on pasture and is ideally suited for the Michigan climate. This is the only certification and logo in the U.S. and Canada that guarantees food products come from animals fed a 100 percent grass and forage diet, raised outdoors on pasture or range for their entire lives, and managed according to Certified Animal Welfare Approved by AGW's leading welfare and environmental standards on an independent family farm.
"Our mission is to supply people with high-quality foods and educate the public about the process and nutrition, developing a connection to bridge the gap between food production and consumption," says Lou Ann. "Being Certified Animal Welfare Approved is an affirmation of our farming practices and is a great marketing tool—customers understand the farm standards and feel more confident when the product has the Certified Animal Welfare Approved label on it."
Certified Animal Welfare Approved by AGW pork and Certified Grassfed by AGW beef from Jake's Country Meats is available at summer and winter farmers' markets, winter drop locations, as well as at restaurants, stores, co-ops, distributors, delivery systems and buyer's groups throughout the Midwest. The Robinson family enjoys hosting farm tours and encourages customers to visit the farm. To keep up with what's happening at Jake's Country Meats, visit jakescountrymeats.com. Follow them on Facebook and Instagram.