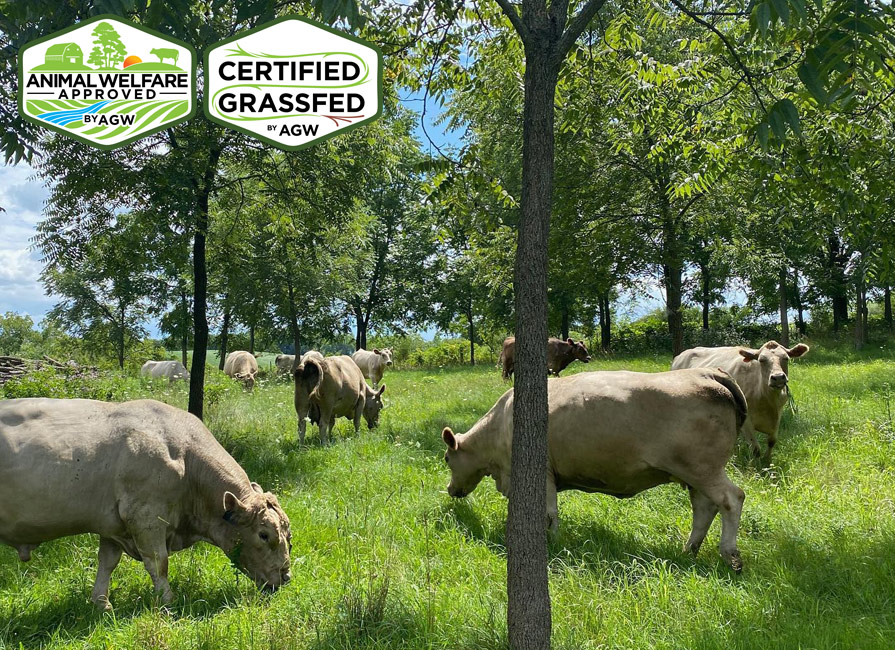 Seven Seeds Farm – Spring Green, WI
Greg and Lea Stroncek raise Certified Animal Welfare Approved by A Greener World (AGW), Certified Grassfed by AGW beef cattle and Certified Animal Welfare Approved by AGW laying hens outdoors on pasture at Seven Seeds Farm in Spring Green, Wisconsin.
Located in the Driftless Area of Wisconsin, Seven Seeds Farm has been a working family farm for seven generations. Greg and Lea raise around 125 head of Murray Grey cattle, a breed known for its suitability for grass finishing and superior quality beef. The Stronceks also planted significant areas of former cropland with alfalfa and a variety of grasses for grazing and hay production.
Seven Seeds Farm operates on a "closed-herd" system, meaning Greg and Lea avoid buying cattle and feed from other farms. By home-rearing all of their cattle, the Stronceks reduce the risk of introducing diseases from other farms and ensure the herd evolves over time to better suit the farm's environment. In addition to their cattle herd, the Stronecks raise their flock of laying hens outdoors on pasture. Research shows that pasture-based management is not only better for animal welfare, but results in tasty and nutritious eggs with more beta carotene and higher levels of beneficial conjugated linoleic acid (CLA) and omega-3 fatty acids when compared to conventional eggs.
Sustainability is at the center of Greg and Lea's work at Seven Seeds Farm. "With the carbon footprint being so big with industrial farming practices today, we are trying to do the best we can with what we have," Lea explains. "Our goal is to restore the ecosystem on the land we have stewardship over. This includes biological farming, replacing water ways, and ensuring we have good buffer zones between our land and neighboring farms. By planting trees and encouraging wild plant growth in these areas, buffer zones help to reduce the environmental impact of run-off from neighboring conventional fields." The Stronceks also put up hundreds of birdhouses to encourage birds to return to their land and help with natural fly control. Biting flies can pester cattle and spread disease. So far, the farm has become home to many robins, bluebirds, killdeer, hummingbirds, swallows and more.
When asked why they chose to join the AWA program, Lea explains that many consumers were taking a greater interest in how their food is produced. "As a consumer, it is wise to know how your food was raised for many reasons," she says. "Treating animals with respect is the least we can do for the food that they provide for us. In addition, food safety is a growing concern and will stay in the news headlines until society comes to terms with mass production practices. Eating meat is a sacred privilege and farmers should be held accountable for the treatment the animals that are entrusted to them. Our AWA label is a means to prove this to the public."
Certified Animal Welfare Approved by AGW, Certified Grassfed by AGW beef and Certified Animal Welfare Approved by AGW eggs from Seven Seeds Farm are available at pickup locations in Middleton and Spring Green Wisconsin, as well as direct from the on-farm store. For more information on ordering and pricing, visit sevenseedsorganicfarm.com. Follow them on Facebook and Instagram.