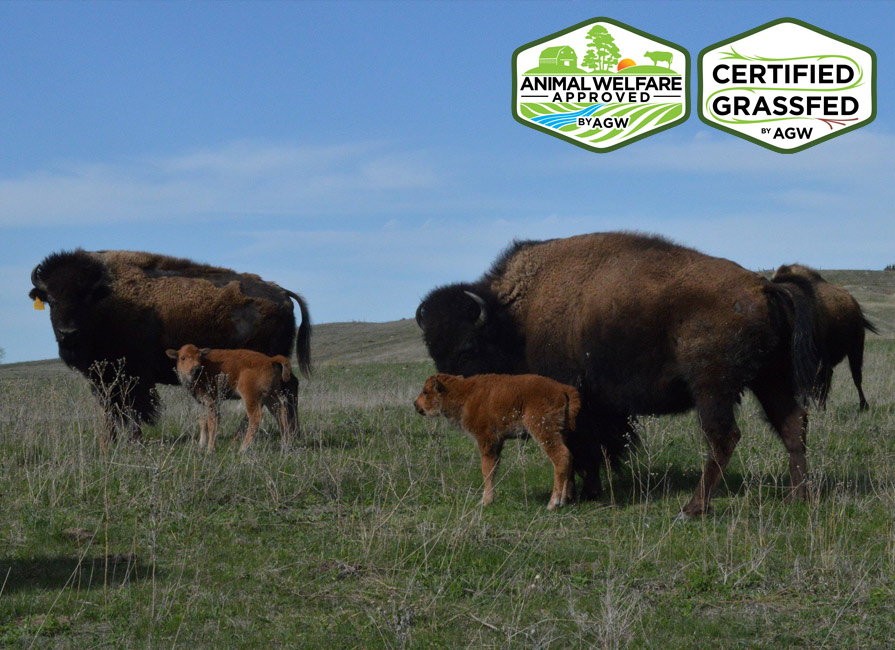 Straight Arrow Bison Ranch—Broken Bow, NE
Marty and Karen Bredthauer raise Certified Animal Welfare Approved by A Greener World (AGW), Certified Grassfed by AGW bison at Straight Arrow Bison Ranch in Broken Bow, Nebraska.
Marty grew up on a farm, and he and Karen have been farming full or part time for the last 40 years. The Bredthauers suffered through the farm crisis of the early 1980s, enduring high interest rates, falling commodity prices and storms that took their toll on livestock. In 1992, they moved to their present location, ready to make a new start.
A family vacation in 1993 to Fort Robinson, NE, piqued their interest in bison. The Bredthauers took a tour of the herd and talked to the people who took care of them who were glad to recommend some resources to help them learn more about the animals. Over the next few months their house began to accumulate a variety of books on the subject, and these were read not only by Marty and Karen, but also by their sons Troy, who was 13 at the time, and Lance, who was 10. Marty and Karen decided to try a taste test to see if they would really be comfortable direct marketing their bison–and they loved it! The taste and nutritional quality seemed like a win-win, and they slowly expanded their business over the past 20 years.
In 2014, the couple decided to pursue Certified Animal Welfare Approved by AGW certification to help raise awareness of their high-welfare management practices. "Certified Animal Welfare Approved by AGW certification is another way we set our product apart from CAFO and grain-based commodity meats," Marty explains. In 2017, the Bredthauers added Certified Grassfed by AGW to verify the ranch's 100 percent grassfed protocol, becoming the second bison ranching business in North America to receive this highly acclaimed certification.
The Bredthauers manage a herd of around 100 animals, including cows, bulls, young calves, yearlings and two-year-olds on 320 rolling acres of pasture in central Nebraska. Bison are a natural fit for the ranch and have a long history thriving on pasture in the area. The most important aspect of the Bredthauer's animal husbandry practices is their 'hands off' approach. "Our bison live in family groups and we let the cow determine when the calf should be weaned," says Karen. "We have a closed herd, so we do not need antibiotics, hormones or growth stimulants. We use apple cider vinegar to maintain health and control worms and flies."
Over time, the Bredthauer's customer base has grown from curious samplers to loyal repeat customers who appreciate the quality and health benefits of their pasture-raised bison meat. "The business has not been all sunshine. There have been droughts, market swings, learning curves and lots of hard work," says Marty. "But we see our business as a way of using the resources God has given us and multiplying them for the good of the land, the environment and for the health of other people. The best part is that this is a way of life that we can enjoy as a family and continue to share with others."
Certified Animal Welfare Approved by AGW, Certified Grassfed by AGW bison meat, bison bone broth and freeze-dried dog treats from Straight Arrow Bison Ranch are available direct from the ranch, as well as through the ranch's online store and various retail locations in Nebraska. The Bredthauers also make regular Saturday trips in central Nebraska in their Log Cabin Mobile Store (see online for locations/dates). For more information, visit straightarrowbison.com, email mail@straightarrowbison.com, call 308-872-3066 and follow them on Facebook.