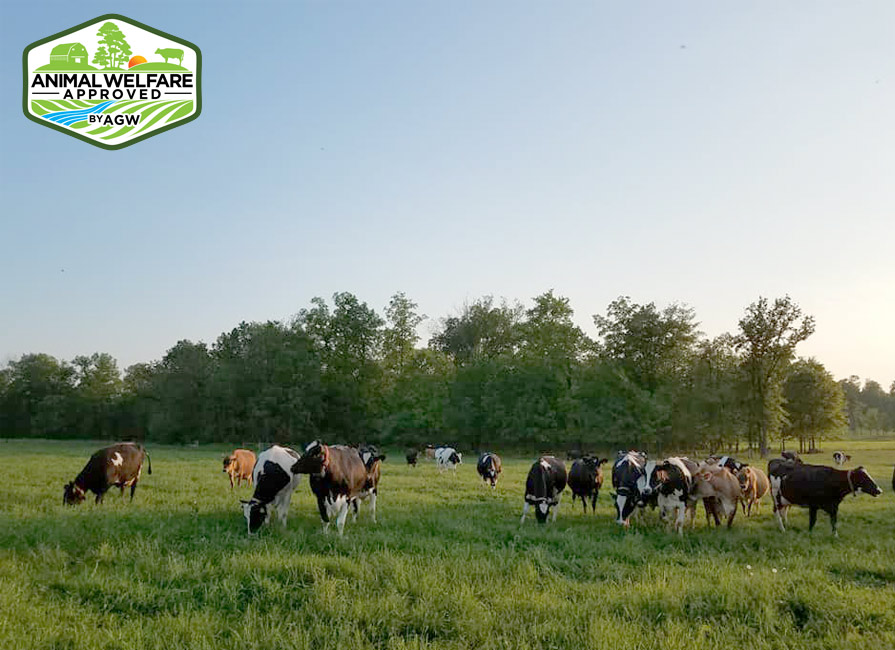 Apple Valley Creamery – East Berlin, PA
Donald Everett, Larry Stoner, and their families raise Certified Animal Welfare Approved by AGW dairy cattle at Apple Valley Creamery in East Berlin, Pennsylvania. Located in Adams County, an area well known for its apple orchards, the 83-acre farm was originally established in 1928 and owned solely by the Stoner family. Over the last few decades, Larry has witnessed countless other nearby small dairies convert to ever-larger industrial operations. In a noble determination to stay true to his roots, Larry has maintained the sense of local, accountable agriculture by which his family's dairy farm was originally founded, while maintaining a profitable business. Farming against the tide, Larry and his family chose to sell wholesome, farm-fresh milk directly to local customers, rather than into the commodity market. However, this endeavor proved too large a task for his family to manage alone, so in 2005, the Stoner family decided to join forces with the Everett Family to found Apple Valley Creamery. After a year and a half of construction, the families opened a farm store in October 2006 to sell their milk directly to the public. In December, 2006, the farm expanded its operation by offering a home delivery service.
Together, the Stoners and the Everetts raise 80 dairy cattle, a mix of Hostein, Jersey, and Dutch Belted breeds, along with 60 heifers of the Holstein, Jersey, and Brown Swiss varieties. The farmers selectively breed their own cows to produce a very high quality of milk and cream, a process which they claim is an important component of Apple Valley Creamery's viability.
The cows are rotationally managed across 55 acres of pasture, allowing the animals to graze one section of pasture at a time, before they are moved on to fresh grazing. This process lets the grass recover before the cows return to graze again; it also keeps the soil properly fertilized and minimizes the build-up of internal parasites and avoids reliance on chemical treatments. Larry and Donald note that this practice is "becoming a rarity for dairy farmers." The farmers cite this rotational method of grazing their pastures as both a cost- and time-saving approach. The natural way the cows spread their manure helps protect the environment by preventing nutrient run-off, which arises when too much manure is spread on to an area of pasture and the plants are simply unable to utilize it all – a particular risk around intensive livestock farms. "Raising the cows on pasture also contributes to an increase in cow longevity and significantly reduces the occurrence of poor health and mobility issues within the herd," Larry and Donald explain.
The pasture-based tenets of the Certified Animal Welfare Approved by AGW standards make the program a perfect match for Apple Valley Creamery's operation – and their customers' expectations. Donald and Larry explain they applied for Certified Animal Welfare Approved by AGW "to give our customers the confidence that comes from having our farming practices independently certified."
Looking to the future, the farmers and their families expect to continue their viable family farming operation, ensuring the business can be passed on to future generations. Apple Valley Creamery's range of high-quality dairy products is available directly from their farm store and through their local home delivery service in south-central Pennsylvania. They also sell to Caputo Brothers Creamery in Spring Grove, which produces cheese with their milk. For more information, visit www.applevalleycreamery.com, email the farmers at gotmilk@applevalleycreamery.com, or call (717) 528-4520. Follow them on Facebook and Instagram.