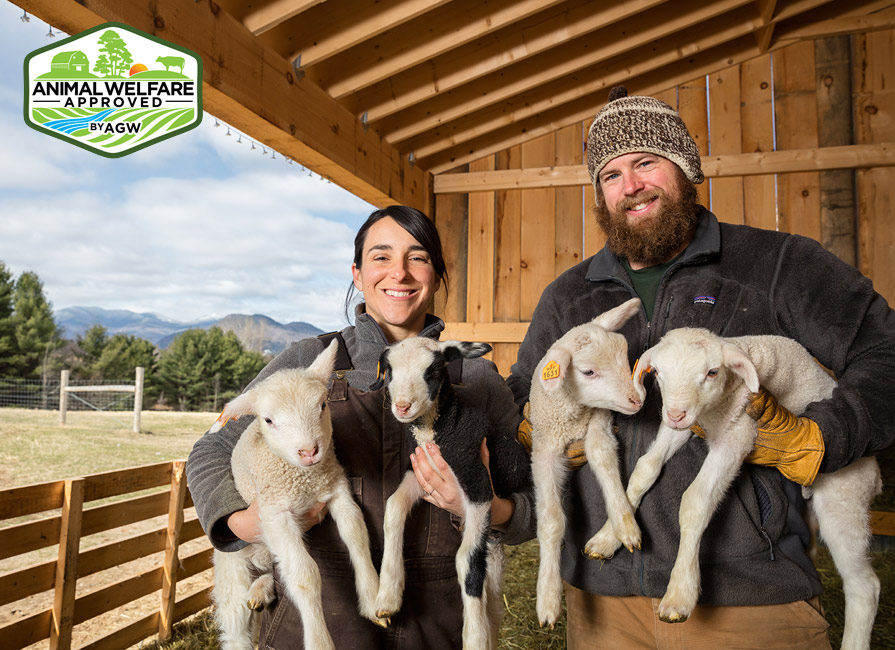 Blue Pepper Farm – Jay, NY
Shannon Eaton discovered her love for raising sheep as a farm apprentice in Royalton, Vermont, back in 2009. After moving to Jay, New York, Shannon introduced herself to the farmer at a Certified Animal Welfare Approved by AGW goat dairy, and over the course of four years, worked her way up to goatherd manager. She learned a lot about best management practices for raising happy and healthy ruminants.
Today, Shannon raises her own flock of Certified Animal Welfare Approved by AGW sheep at Blue Pepper Farm in Jay, NY, with her husband, Tyler, and their two young sons, Wyatt and Shepherd. Tyler and Shannon bought their 46-acre farm in 2011. Their property lies on the edge of the Adirondack high peaks, where farmland meets the mountains. The small flock of East Friesian dairy sheep is frequently moved to new grass growth throughout the season, ensuring they have access to the most nutritious pasture and avoiding overgrazing, preventing the build-up of potential diseases and internal parasites, and maximizing the animals' natural health and immunity. "We are extremely careful about how long the pasture rests before being grazed again to ensure that our sheep and our pastures stay healthy," Shannon explains. "Everything we need grows right in our fields, and then the animals help to put those nutrients right back into the fields."
The Eatons chose to raise East Friesian breed of sheep for several reasons: "In addition to sheep milk and sheep milk yogurt, raising East Friesian sheep enables us to sell sheepskins and yarn as well," Shannon explains.
The Eatons decided to pursue Certified Animal Welfare Approved by AGW certification for their sheep from the outset: "When we started farming, we knew we wanted to raise our sheep according to the highest animal welfare standards," says Shannon. "Our ultimate goal is to produce the most delicious yogurt and lamb you've ever tasted and we believe the only way to achieve this is to respect the interconnectedness of our soil, our pastures, and the health and happiness of our flock."
Looking to the future, the Eatons plan to continue manage their sheep farm sustainably, with hopes to grow their flock to 50 breeding ewes and even develop a range of sheep dairy products.
Blue Pepper Farm Certified Animal Welfare Approved by AGW products are available directly from the farm. Certified Animal Welfare Approved by AGW sheep's milk yogurt from Blue Pepper Farm is distributed by Regional Access to retailers throughout New York and is available in plain and maple flavors in 15 oz and 4.4 oz jars (check out AGW's vendor directory for more details). For more information about Blue Pepper Farm visit http://www.bpfarm.org or email bluepepperfarm@gmail.com. Follow Blue Pepper Farm on Facebook for farm news and details about upcoming events, as well as on Instagram.