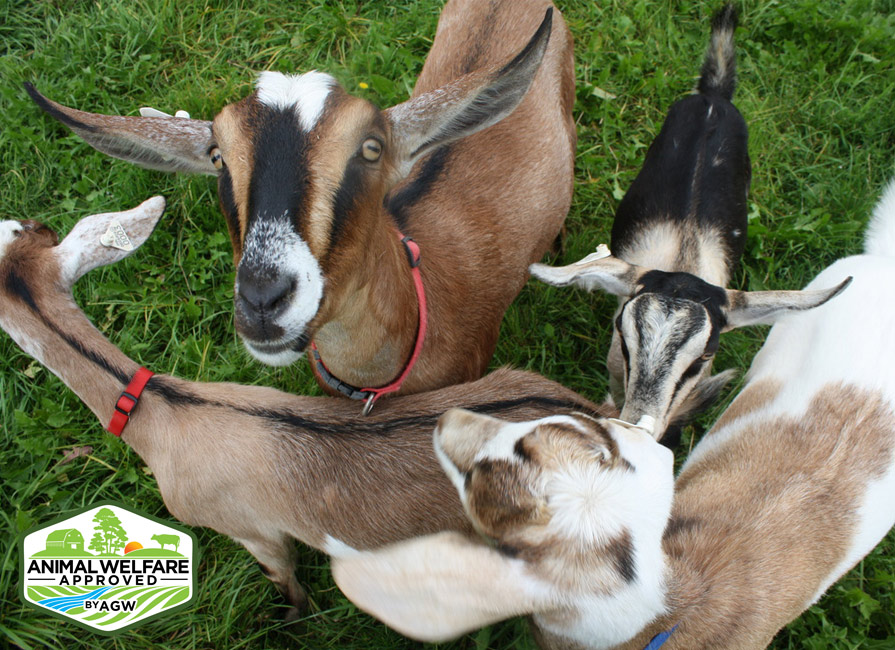 Copper Tail Farm – Waldoboro, ME
Jon and Christelle McKee met in Oregon, where Christelle had a small homestead with a garden and chickens. The couple decided to spend a year as farmhands on a cattle and goat farm. They fell in love with farming—and with goats in particular!—and knew they wanted to start a farm of their own. They decided to move back to the East Coast and chose Maine, largely due to the state's strong support for small farmers. In the summer of 2013 they moved cross country to lease a farm sight unseen, and a year later they purchased their own farm in Maine's Midcoast region and became a licensed dairy.
Copper Tail Farm is comprised of 23 acres, most of which is still browse—much to the goats' delight! The land was not considered a farm before the couple moved in, and Jon spent countless hours fencing and renovating the barn (which was used as a garage) for the goats, adding flooring, pens and a hayloft.
Jon and Christelle currently manage around 30 goats for milk, producing a range of high-quality Certified Animal Welfare Approved by AGW goat's milk products, including cajeta (goat milk caramel sauce), fudge, caramel candies, yogurts and soaps. "We raise mostly Nubians and Nigerian Dwarf breed goats. The two breeds work best for the products we wish to produce," Christelle explains. "Nigerian milk has the highest butterfat of all dairy goat milk, and we use their milk primarily for our yogurt to help make it thicker. The Nubian milk is also high in butterfat, and their milk is used to make our cajeta. Goats are a good fit for our farm and for us, as we love their mischievous and unique personalities!"
Christelle and Jon take goat husbandry very seriously, and goat health and happiness are a priority at the farm. "We believe spending time with the animals and cleanliness are two important aspects of our practices. Goats have a tendency to hide their illnesses until they are quite sick," Christelle says. "We spend time each day observing our animals and looking for anything that may be off. This way we can catch any potential problems early and address them." Good hygiene in the housing is also extremely important, she adds: "Goats are also very prone to parasites, so we clean their barn two or three times a week to ensure they are always in a clean environment. They love rolling around on the fresh shavings on barn cleaning day!"
Copper Tail Farm pursued Certified Animal Welfare Approved by AGW certification because they wanted a third-party verification that would encourage discussion about their farming practices with their customers. "We spend a lot of time and money ensuring our goats are as healthy and happy as can be. Unfortunately, many consumers are not aware such practices are not the norm in all dairies," Christelle says. "Having the AWA certification starts a dialogue with our customers. It gives us an opportunity to describe our practices and explain why we do things the way we do—and why we are different."
Copper Tail Farm's Certified Animal Welfare Approved by AGW goat's milk cajeta, fudge, caramel candies, yogurts and soaps are available direct from the farm by appointment, as well as at a number of local farmers' markets and retailers. For more information, visit coppertailfarm.com, email christelle@coppertailfarm.com or call 541-729-5769. Follow Copper Tail Farm on Facebook and Instagram.