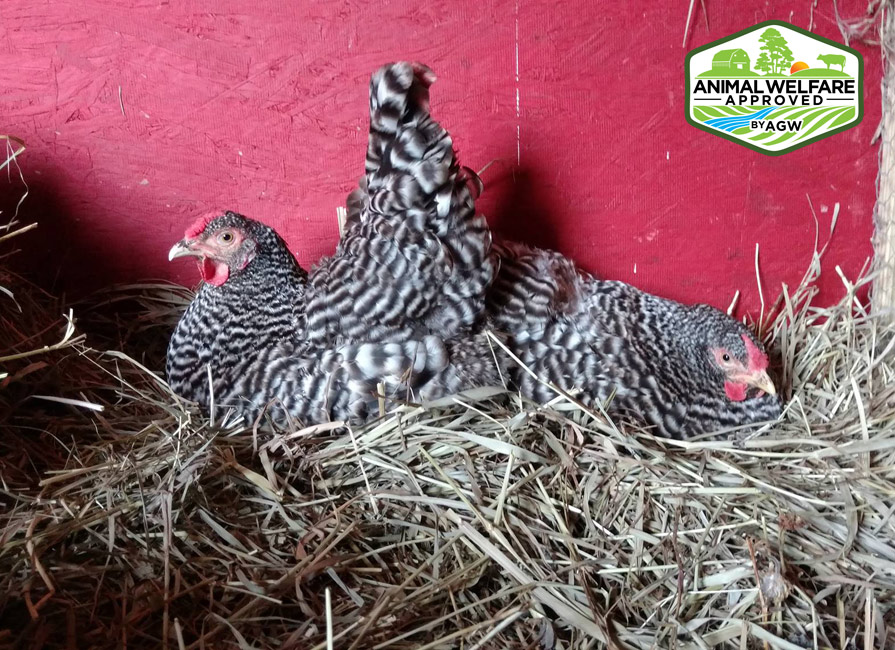 Fleece & Feather – Ashville, OH
Rachel and Chris Harding raise Certified Animal Welfare Approved by A Greener World (AGW) sheep, dairy goats, meat chickens and laying hens at Fleece & Feather Farm in Ashville, Ohio. The two share a passion for sustainable agriculture and small-scale farming. Rachel spends most of her time tending the animals and processing wool into yarn. Chris spends most of his time tinkering and maintaining the farm equipment and making sure the farm runs smoothly.
For the Hardings, the common goal of the farm is to operate as self-sufficiently, sustainably, and environmentally friendly as possible. "Each animal plays a role in maintaining the land, controlling pests, and providing a good or service for the farm," says Rachel.
The flock of sheep at Fleece & Feather is comprised of registered Shetland sheep, one of the smallest breeds in the world, and is registered with the North American Shetland Sheepbreeders Association as well as we are members of the Shetland Sheep Society and Fine Fleece Shetland Sheep Association. Shetland sheep are prized for their fine wool and array of colors, offering a variety for fiber artists. The sheep are sheared once a year and produce 2 to 4 pounds of wool. Raw fleeces, roving, yarn, and garments are available for custom order from the farm.
The Harding's flock of laying hens consists of Dominique chickens. Rachel is the Secretary of the Dominique Club of America, where she actively raises and shows rare breed Dominique chickens, known to be the oldest American breed.
The farm was excited to achieve Certified Animal Welfare Approved by AGW status for their sheep, dairy goats, meat chickens and laying hens. "Our recent endeavor to become certified through A Greener World as an Animal Welfare Approved farm was very important to us. By obtaining this certificate, it states that our practices are in the best interest of the animal and guarantees that our animals are raised sustainably and on pasture their entire lives."
Certified Animal Welfare Approved by AGW goat dairy, meat chickens, eggs, wool and fiber products can be purchased direct from the farm. Visit fleecenfeather.com for more information or email fleece.feather@gmail.com, and follow Fleece & Feather Farm on Facebook and Instagram.