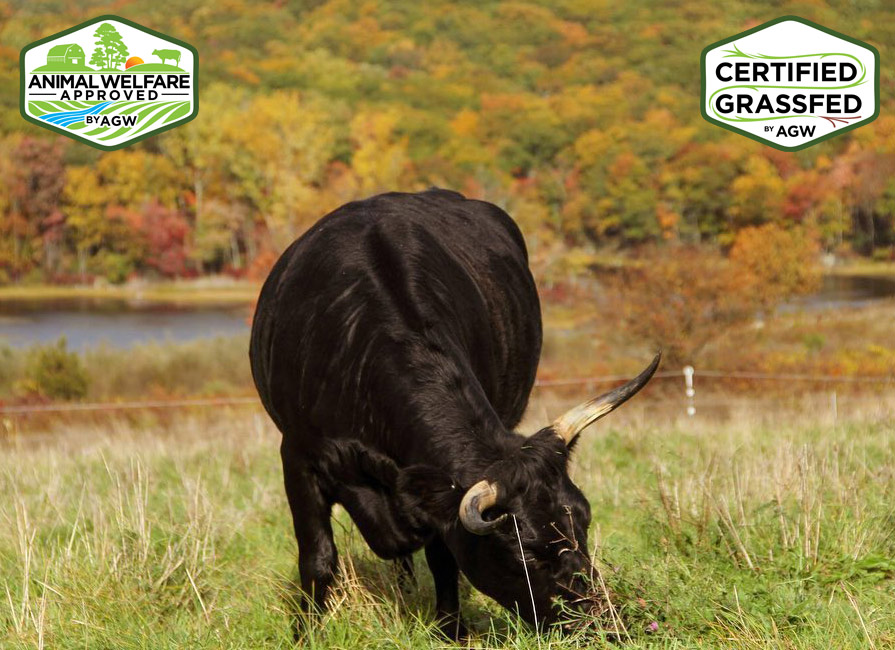 Glynwood Center Farm – Cold Spring, NY
Glynwood Center Farm is situated within Fahnestock State Park in the Hudson Highlands, a few miles east of Cold Spring, New York. The 225-acre farm was originally purchased back in 1929 by the Perkins family. As a result of the Perkins family's monumental efforts to conserve rural landscapes in the New York area, Glynwood Center Farm forms part of well over 100,000 acres of land across New York and New Jersey that is currently protected from future development.
Livestock manager at Glynwood Center Farm, James Walton, raises Certified Animal Welfare Approved by A Greener World (AGW) beef cattle, pigs, goats and sheep on Glynwood's historic pastures in the Hudson River Valley. The cattle at Glynwood Center Farm are also Certified Grassfed by AGW, the only certification and logo in the U.S. and Canada that guarantees that food products originate from animals fed a 100 percent grass and forage fed, raised outdoors on pastures or the range for their entire lives, and managed according to the highest welfare and environmental standards on an independent family farm.
The conservationist underpinnings of the farm indicate–and inform–how the farmers manage the land and livestock at Glynwood Center Farm. But this isn't a hobby farm: By implementing a carefully conceived and managed mixed-use operation strategy, Glynwood Farm maintains that "farming done in harmony with the natural environment can be both economically viable and environmentally sustainable." Well-managed rotational grazing of the livestock, combined with strategies to naturally enhance pasture fertility through timely applications of composted farmyard manure, ensure the pastures are constantly maintained at the highest possible nutritional value for the livestock. These approaches have not only enabled the farmers to put more animals on the land, but they have resulted in healthier, more robust animals and significantly reduced feed and input costs.
Glynwood Center Farm also plays a key educational role in modeling environmentally sustainable practices and long-term demonstration projects to other farmers across the country, as well as offering opportunities for apprentice farmers to become the next generation of practitioners of sustainable agriculture in the Northeast region.
Glynwood Center Farm's Certified Animal Welfare Approved by AGW, Certified Grassfed by AGW beef and Certified Animal Welfare Approved by AGW pork, goat and lamb products are available for sale through their CSA program, as well as their onsite farm store. For more information, visit glynwood.org or call 845-265-3338. Follow them on Facebook, Twitter, Instagram and Linkedin.