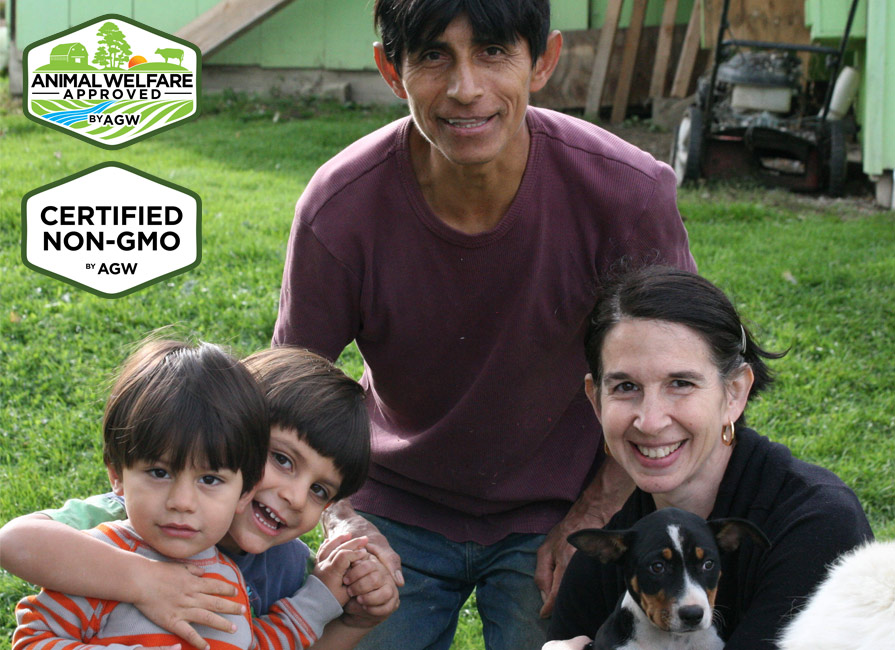 Painted Goat Farm – Garrattsville, NY
Ilyssa Berg and Javier Flores raise Certified Animal Welfare Approved by AGW goats on Painted Goat Farm in Garrattsville, NY. Their herd of roughly 80 goats – Nubians, Alpines, and a few LaManchas – graze over 100 acres of rolling hills and brush in upstate New York and produce the milk from which Ilyssa and Javier create high quality goat milk cheese, yogurt, and confections.
Painted Goat Farm's cheese and other products are produced on site in the cheese house and aging cave (12 feet below ground level), which Ilyssa and Javier designed and built themselves. In every batch of fresh or aged goat cheese, one can taste the milk, herbs, and individual care that went into each step of their production process. Ilyssa understands the link between the welfare and care of animals and the end product. "What you feed the animals really influences the taste of the cheese," she explains. Raising pasture-raised, happy goats has led to delicious cheeses that rank high among the favorites of many local customers and discerning retailers.
On sustainable farming, Ilyssa and Javier say, "It doesn't just improve the health of the farm and animals, but makes great cheese." The goats are taken on long walks through the woods or rotated through paddocks in grass pastures, which enables them to exercise their natural behavior. "Goats are not like cows," Javier explains. "They like to walk while they eat and zigzag through a field."
Painted Goat Farm's Certified Animal Welfare Approved by AGW goat's milk products are available every Monday at the Union Square Greenmarket in NYC. To learn more about Painted Goat Farm, and additional locations where you can find their Certified Animal Welfare Approved by AGW goat's milk cheeses, visit www.paintedgoat.com. Follow them on Facebook, Twitter and Instagram.