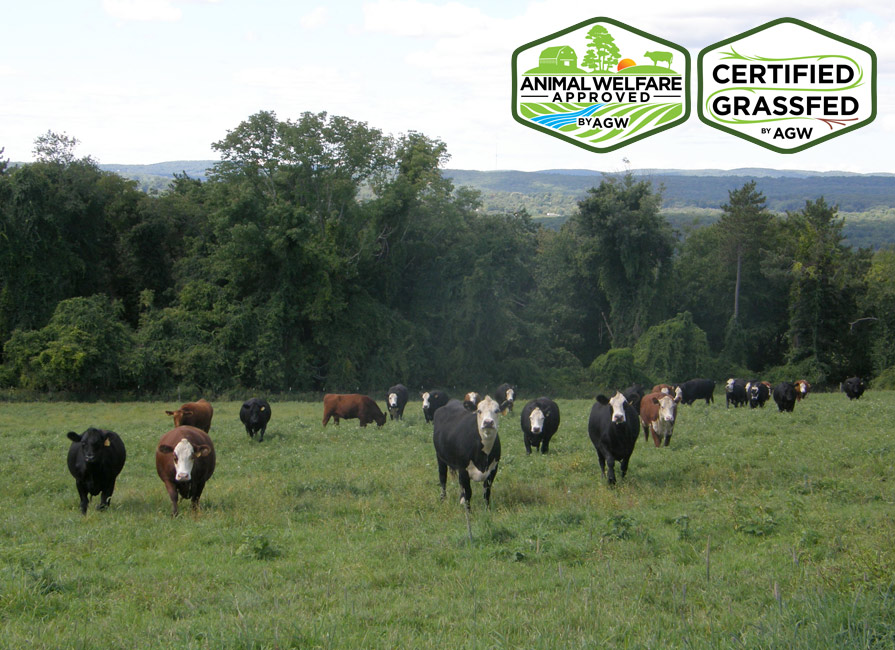 Stuart Family Farm – Bridgewater, CT
Stuart Family Farm is a fourth-generation farm, specializing in the production and marketing of grassfed and grass-finished beef cattle. Located in Bridgewater, the family's long farming history dates back to 1929. Today, Bill and Deb Stuart raise around 250 Red Angus cattle according to Certified Grassfed by AGW standards.
Stuart Family Farm has been Certified Animal Welfare Approved by A Greener World (AGW) since 2008, after the search for a farm certification that would share their same core values for the high-welfare, sustainable management of their beef cattle. In 2016, they became the first farm in Connecticut to be Certified Grassfed by AGW for beef cattle. This is the only certification and logo in the U.S. and Canada that guarantees food products come from animals fed a 100 percent grass and forage diet, raised outdoors on pasture or range for their entire lives, and managed according to Certified Animal Welfare Approved by AGW's leading welfare and environmental standards on an independent family farm.
Bill and Deb Stuart supply their Certified Grassfed by AGW beef to several well-known retail outlets and local restaurants, including The Iron Rail, Green Granary, and The Upper Crust, all located in New Milford, CT, as well as, Chamomille Natural Foods in Danbury, CT. They also sell their beef directly to the public at their retail farm store, which is open on weekends throughout the year.
The Stuarts decided to apply to the Certified Grassfed by AGW program because they wanted to let consumers know the family has true respect for the animals they raise: "Being Certified Grassfed by AGW has really resonated with our customer base and has brought us many new customers," says Bill. "The majority of our clients express to us that their biggest concern when purchasing meat is if the animal was humanely raised and how well the animal was treated on the slaughter end. It is one thing to tell them ourselves, but to have this trusted certification to back it up is huge."
Certified Grassfed by AGW beef is available directly from Stuart Family Farm store year-round on Saturdays 10 a.m. to 4 p.m. or Sundays 12 p.m. to 4 p.m. or visit the AWA online directory for more purchasing options. To learn more about Stuart Family Farm, visit www.stuartfamilyfarm.com or call 860-210-0595. Follow them on Facebook and Instagram.