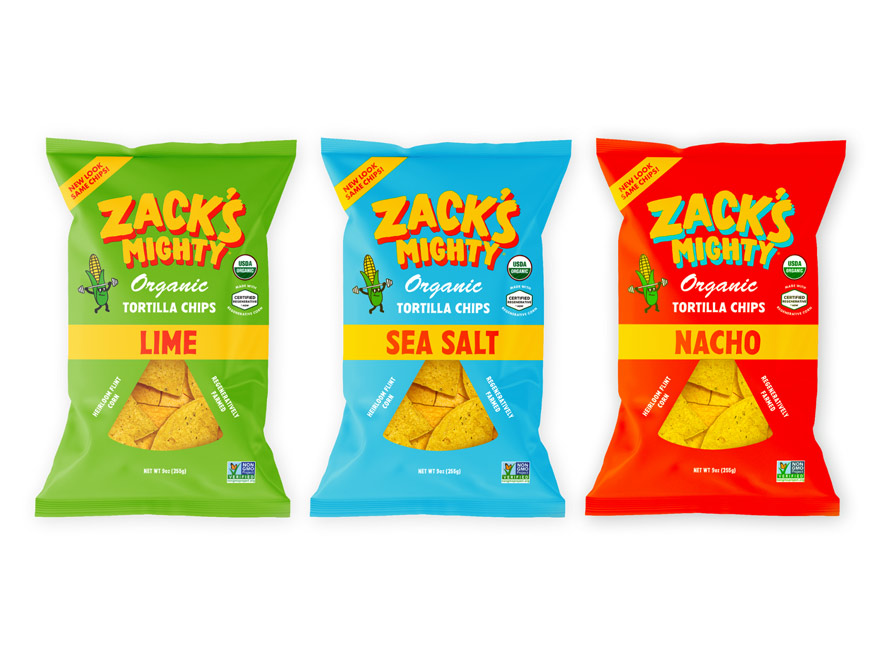 Zack's Mighty Tortilla Chips – New York, NY
Headquartered in Brooklyn, NY, Zack's Mighty produces celebrated tortilla chips that are the first-ever to be made with corn Certified Regenerative by A Greener World (AGW). Zack's Mighty uses Certified Regenerative by AGW heirloom flint corn to make their line of tortilla chip products. On a mission to create delicious tortilla chips that don't break in guacamole, the Zack's Mighty unique Certified Regenerative by AGW corn supply chain and authentic tortilla-first process delivers what they believe are the best tortilla chips on the market.
Driven to produce a truly exceptional and delicious tortilla chip, Zack Gazzaniga, owner of Zack's Mighty, traveled to Italy in 2019 to acquire enough Otto File flint corn (a very flavorful variety of flint corn now mostly grown in Italy for polenta), to start planting his own crops. Now, the Zack's Mighty farmer network is one of the largest producers of flint corn in the U.S. Zack's Mighty partner farms use Certified Regenerative by AGW practices to grow the corn – improving soil health through crop rotations and sequestering carbon through cover cropping, while improving biodiversity and ensuring positive impacts on the surrounding ecosystem.
Zack's Mighty is thrilled to have cultivated a supply chain that uses organic ingredients and corn grown with Certified Regenerative by AGW practices, ensuring its customers can be proud to align their values and purchasing. Certified Regenerative by AGW provides a whole-farm assurance of regeneration and sustainability, measuring benefits for soil, water, air, biodiversity, infrastructure, animal welfare and social responsibility.
Zack's Mighty pursued Certified Regenerative by AGW certification because the regenerative farming practices that are used to grow corn by Zack's Mighty partner farms are an important part of what makes their tortilla chips truly unique. "Our mission to make the best tortilla chip on the market starts with our ingredients and how they are produced. We worked closely with our trusted partner farms to achieve Certified Regenerative by AGW status for the corn used in our tortilla chips. We want to assure our customers that we value transparency and source only high-quality ingredients to create delicious products that are truly good for the planet."
Customers can find Zack's Mighty Tortilla Chips nationwide in Whole Foods Market, Sprouts, Wegmans, and more, with a searchable store locator at ZacksMighty.com. For more information about Zack's Mighty follow the company on Facebook and Instagram, or email hello@zacksmighty.com.