AGW's Food Labels Exposed App – Coming Soon!
Food companies use a bewildering range of terms and claims to encourage us to buy their products. But what do they really mean – and are they even true? Sadly, many positive-sounding food labels hide the same old industrial farming systems. Did you know that terms like "Natural" or "Free Range" or "Antibiotic-Free" have absolutely nothing to do with real animal welfare or environmental sustainability?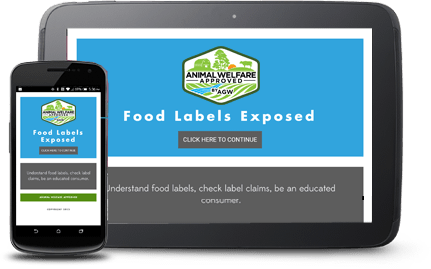 A Greener World is launching an updated Food Labels Exposed app soon—sign up for our email list to be the first to know when it's available, or make a donation to support this project.  And if you happen across any food claims or labels which are not currently covered by the app, please let us know either through the app or send an email to info@agreenerworld.org.
What People Are Saying About Our App
A recent Bloomberg News article notes AGW's Food Labels Exposed app as one of the most helpful food apps for shopping, cooking and eating better: "Understanding the multitude of labels on animal products shouldn't require an explanatory app—but having one sure makes it easier."
Read the article and learn more >>