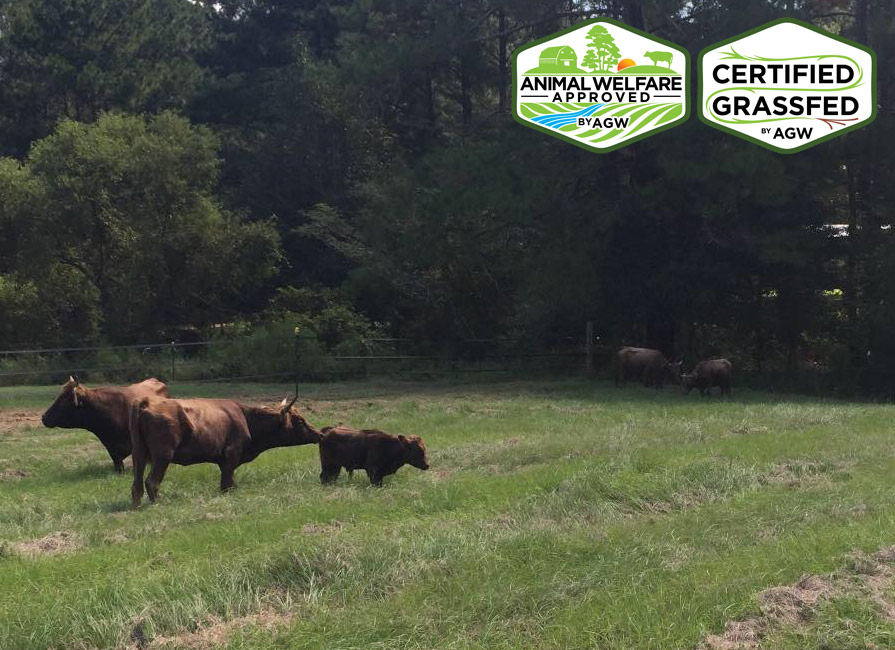 Apafia Farm – Thomasville, GA
Marvin and Holly Golden have lived on a family farm for all of their married life and consider their current farm "A Place Apart From It All," which is the acrostic behind Apafia Farm's name. Marvin, who retired from the City of Thomasville as a Network Operations Director and now works part-time from home as a Project Management Consultant, was raised on a farm and has been involved with agriculture and animal husbandry for over 50 years. Holly, a Registered Respiratory Therapist, joined Marvin 36 years ago, and today they manage a herd of Certified Animal Welfare Approved by AGW, Certified Grassfed by AGW beef cattle at Apafia Farm in Thomasville, Georgia.
The Goldens manage a herd of Irish Dexter cattle at Apafia Farm. "We really enjoy taking care of our herd of Irish Dexters," says Marvin. "They are a small breed, with very docile temperaments that are well suited to be raised totally on grass." Pasture-based management practices are foundational to production at Apafia Farm. The cows are rotationally managed, grazing one section of pasture before being moved to fresh fields. This type of management allows grass to recover before cows return to graze again; it also keeps the soil properly fertilized and minimizes the build-up of internal parasites, thereby avoiding reliance on chemical treatments.
In addition to being Certified Animal Welfare Approved by AGW, the cattle herd at Apafia Farm is Certified Grassfed by AGW, the first—and only—food label in the U.S. and Canada that guarantees food products come from animals fed a 100% grass and forage diet, and raised entirely outdoors on pasture or range. "We strive to provide a low-stress, safe environment for our cows including lots of lush grass, clean water and lots of pasture to graze," says Marvin. "We want our cows to enjoy being cows. We interact with them daily, which is an important part of our management practices."
The Goldens sought certification because of the trusted verification that AGW certification provides. "We wanted to have a certification that carried some weight," says Holly. "AGW provides that by carefully screening everything involved in raising our animals and visiting the farm to see the operation up close and in depth."
Certified Animal Welfare Approved by AGW, Certified Grassfed by AGW beef from Apafia Farm is available for reservation and purchase by the halves. Once purchased, the beef requires local pickup at the processor in Monticello, Florida. For more information, please visit apafiafarm.com, follow the farm on Facebook and get in touch with the Goldens at (229) 228-1682 through the contact page on their website.