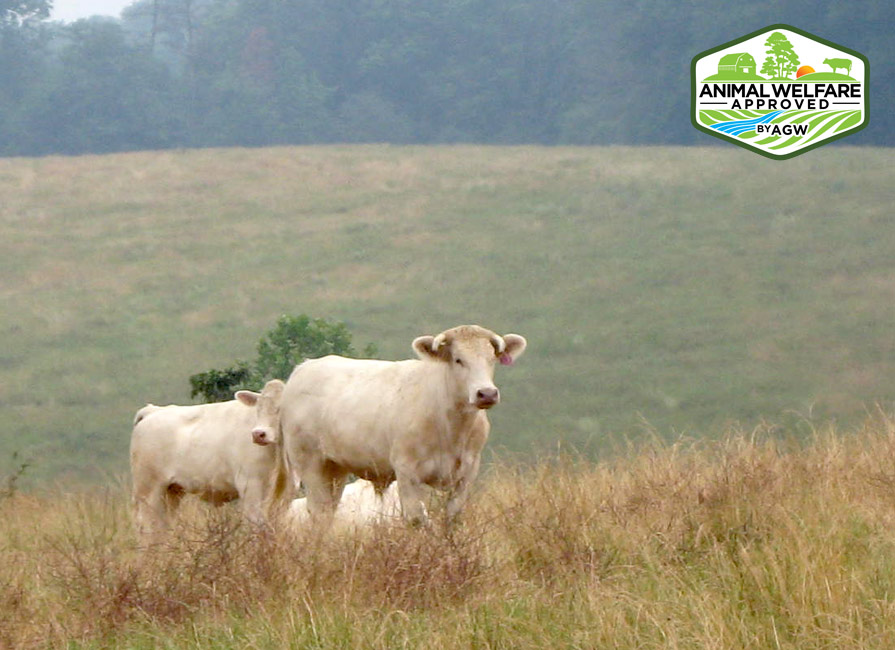 Baldwin Family Farms – Yanceyville, NC
Growing up in Durham County, North Carolina, V. Mac Baldwin's lifelong interest in farming began when he purchased his first calf at just 10-years-old. According to V.Mac, raising this calf gave him a passion for cattle that he has never lost. His boyhood dream was to own and work on a farm. In time, that dream has come to fruition: V. Mac and his wife, Peggy, raise Certified Animal Welfare Approved by A Greener World (AGW) beef cattle at Baldwin Family Farms in Yanceyville, where they have been farming for nearly 40 years.
Mac and Peggy purchased their first Charolais heifers in 1969, and have been building their herd–and developing the herd genetics–ever since. The Baldwins originally started as cattle breeders, but began raising beef "quite by accident" when they decided to market surplus stock themselves. The feedback they received was so positive they decided to start a business selling their beef. Over the years, the Baldwins have honed their skills, both as breeders and beef producers, and Baldwin Family Farms now supplies many area retail outlets with high-quality Certified Animal Welfare Approved by AGW beef.
Mac is a believer that "good grass makes good beef." Over the years, he has developed an intensively-managed, year-round grazing system using a specially selected mixture of diverse perennial and winter and summer annual forage plants to ensure his cattle have continual access to high-quality, nutritious and chemical-free grasses throughout all seasons. The cattle are rotationally managed, grazing one section of pasture before being moved to fresh fields. This type of management allows grass to recover before the cattle return to graze again; it also keeps the soil naturally fertilized and minimizes the build-up of internal parasites, thereby avoiding reliance on chemical treatments.
The Baldwins chose to pursue AGW certification for their beef cattle because they noticed a growing interest in farm animal welfare among their customers. "You will not believe how many emails and phone calls we get regarding how the animals are treated," says V. Mac. The Certified Animal Welfare Approved by AGW seal is an assurance to consumers that the Baldwin's cattle are raised outdoors on pasture and treated according to the highest welfare standards.
Over the years, V.Mac has won many awards in recognition of his pasture-based farm management techniques. In 2008, he was selected as the North Carolina winner of the Swisher Sweets/Sunbelt Expo Southeastern Farmer of the Year Award. He has also been appointed President of the North Carolina Forage and Grassland Council, an association with more than 500 members across the state. As a veteran farmer, V. Mac offers this advice to beginners: "Go to school, rent a farm, but keep your day job. If you farm long enough and well enough, you can't afford to keep your day job anymore."
Certified Animal Welfare Approved by AGW beef from Baldwin Family Farms is available directly from the farm, by visiting the on-farm store or by ordering from the farm's website, as well as from retail outlets in North Carolina and Virginia. Check the AGW directory for details. For more information about Baldwin Family Farms, visit www.baldwingrassfedbeef.com or contact V. Mac and Peggy Baldwin at 336-344-2333. Follow them on Facebook, Twitter and Instagram.