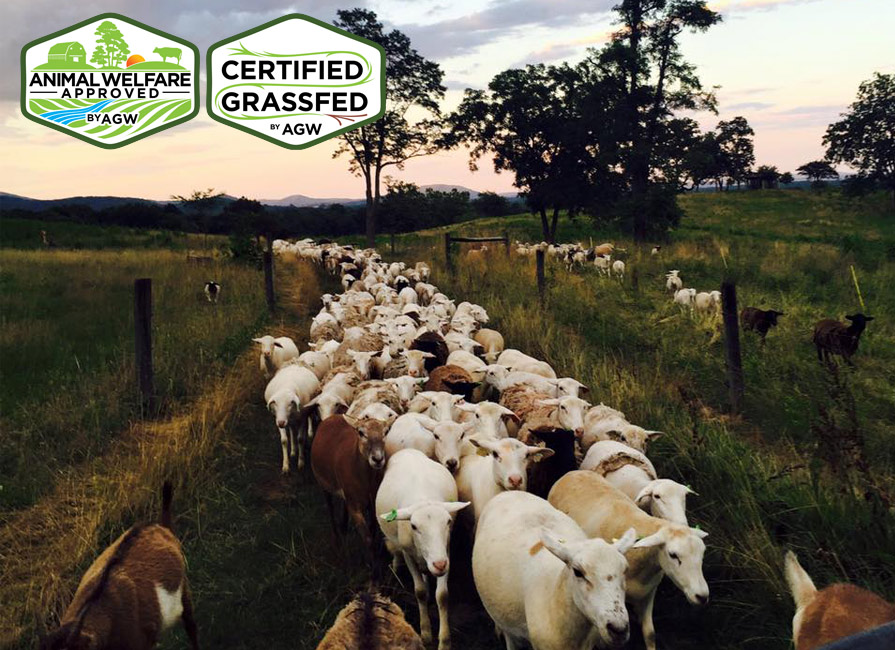 Bean Hollow Grassfed – Flint Hill, VA
Mike Sands, along with spouse, Betsy Dietel, and son, Will Sands, raises Certified Animal Welfare Approved by A Greener World (AGW) and Certified Grassfed by AGW sheep at Bean Hollow Grassfed in Flint Hill, Virginia. He has spent much of his life working in agriculture: "I've been working in farming and farmer training both nationally and internationally most of my career," he says. "My focus has been on farming systems versus single commodities or products."
Located at the foot of the Blue Ridge Mountains and the Shenandoah National Park, Bean Hollow Grassfed consists of 200 acres—100 of which are grass and pastureland. "The land is rolling topography that should be in permanent crops, grass and trees," Mike explains. He manages a flock of Certified Grassfed by AGW hair sheep outdoors on pasture. The sheep are rotationally managed, grazing one section of pasture before being moved to fresh fields. This type of management allows grass to recover before sheep return to graze again; it also keeps the soil properly fertilized and minimizes the build-up of internal parasites, thereby avoiding reliance on chemical treatments. Hair sheep are unusual, because they have a coat of hair rather than wool and do not require shearing, reducing management time.
For Mike, pasture rotation is the most important aspect of his animal husbandry practices: "We run hair sheep and cattle together. Grazing the sheep and cattle together provides the best opportunity for management of our pastures. Getting the pasture rotation right is the trickiest part of our management, because we are balancing nutritional quality of the grass, productivity and health of the pastures, and internal parasite management."
In 2016, Bean Hollow Grassfed became the first farm in the state of Virginia to be Certified Grassfed by AGW for their sheep. This is the only certification and food label in the U.S. and Canada that guarantees food products come from animals fed a 100 percent grass and forage diet, raised entirely outdoors on pasture or range, and managed according to the highest welfare and environmental standards on an independent family farm. Mike chose to pursue the Certified Animal Welfare Approved by AGW and Certified Grassfed by AGW certifications because they provide third party and independent verification of his sustainable and high-welfare production systems. "We feel it is important to demonstrate that consuming meat and sustainable livestock management are appropriate components of living responsibly on this planet," Mike says. "Sustainable pasture management allows us to produce a revenue source from our land while enhancing the ecological health of both our farm and our watershed. And it gets me outside every day!"
Certified Animal Welfare Approved by AGW and Certified Grassfed by AGW lamb from Bean Hollow Grassfed is available from the on farm store in Flint Hill, VA. Check the AGW directory for details. For more information about the farm, visit beanhollowgrassfed.com along with the farm's Facebook and Instagram pages and contact Mike at mikesands1@mac.com and 847-812-1618.