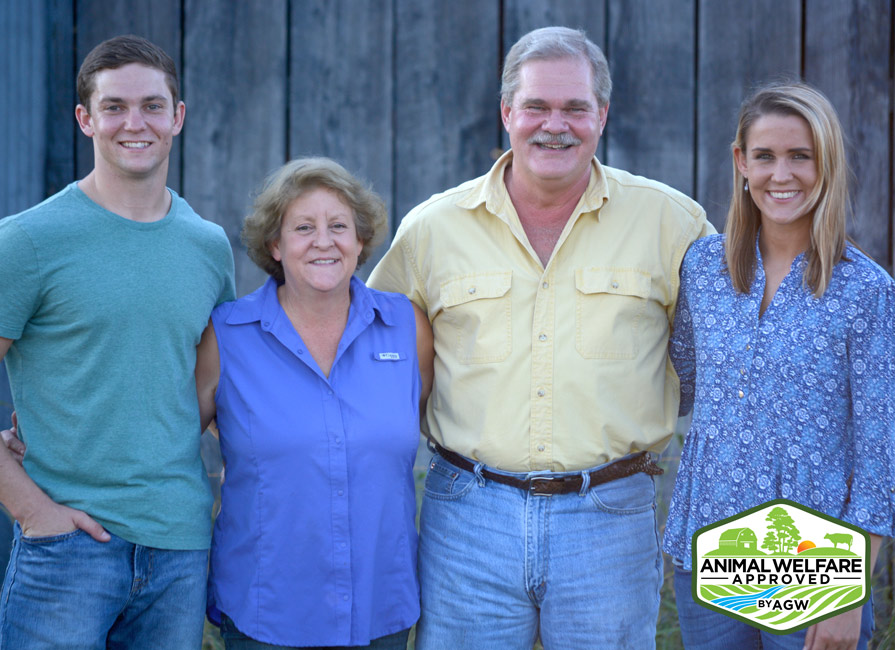 Dutch Creek Farm – Pleasureville, KY
Doug and Susan Schlosnagle, along with their daughter, Chelsey, and son, Jared, raise Certified Animal Welfare Approved by A Greener World (AGW) beef cattle at Dutch Creek Farm in Pleasureville, Kentucky. Doug and Susan have spent their entire lives as cattle breeders, and Chelsey and Jared are sixth generation family farmers. Chelsey graduated from the University of Kentucky's College of Agriculture with a degree in Sustainable Agriculture, while Jared graduated from Eastern Kentucky University with a degree in Agribusiness Management (and an emphasis in entrepreneurship). Both Chelsey and Jared are now farming full time with Doug and Susan, who have farmed at Dutch Creek Farm since 1981. The Schlosnagle family is committed to high-welfare, sustainable farm management practices that benefit the health of animals, humans and the environment.
The Schlosnagles manage Certified Animal Welfare Approved by AGW Angus beef cattle outdoors on pasture at Dutch Creek Farm. The cattle are rotationally managed, grazing one section of pasture before being moved to fresh fields. This type of management allows grass to recover before cows return to graze again; it also keeps the soil properly fertilized and minimizes the build-up of internal parasites and other pests, thereby avoiding reliance on chemical treatments. "Our pasture-raised steers are rotated on a variety of forages, including perennial grasses, clovers, winter annuals, summer annuals, and brassicas. The rotation of pastures reduces fly and worm populations and keeps the animals gaining weight on fresh grass," Doug and Susan explain. "This method of farming also builds the organic matter in the soil, increasing microbial activity and thereby increasing the fertility of our soils. We can actually see our fence posts getting shorter because the cattle are building topsoil!"
Certified Animal Welfare Approved by AGW beef from Dutch Creek Farm, sold under the Jared's Certified Grassfed Angus brand, is available through the farm's online store (for local pick-up), as well as at area farmers' markets and retail outlets. Check the AGW directory for details. For more information about Dutch Creek Farm, visit www.dutchcreekfarms.com or the farm's Facebook page. Contact the Schlosnagles at info@dutchcreekfarms.com and 502-321-2727.