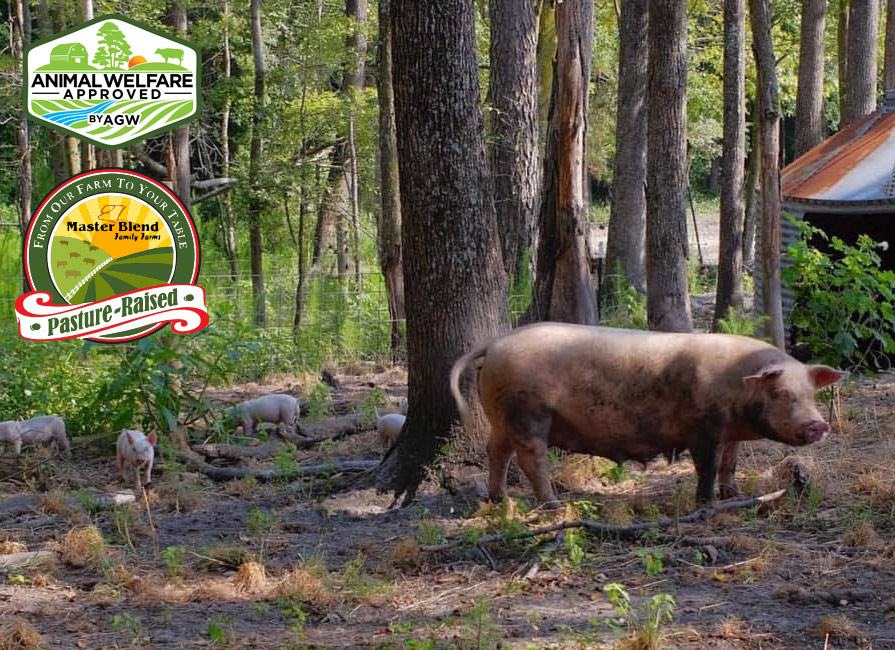 Master Blend Family Farms – Kenansville, NC
Ronald Simmons, founder and president of Master Blend Family Farms, manages 30 acres of land near Kenansville, North Carolina, where he raises Certified Animal Welfare Approved by A Greener World (AGW) pigs with the help of his wife, Rita, his daughters, Amaya and Raven, and in-laws, James and Helen McGowan.
Master Blend Family Farms specializes in pasture raised pork and proudly distributes superior pork products to retail outlets across the Eastern United States—most notably premium restaurants, high end eateries and professional sports stadiums like State Farms Arena, home of the Atlanta Hawks. Master Blend Family Farms operates on a variety of 3 company owned farms, has a mobile food truck that offers meals on location, a farm store that sells pork and other North Carolina made products directly to consumers, and has been used as a filming location for major Hollywood film projects.
"We currently have approximately 135 pigs, which we manage outdoors in roughly 22 acres of woodland," says Ronald. "Dad had been raising hogs for over 30 years before I took an interest in raising them back in 2012. Our breeding stock consists of registered Berkshires, Yorkshires, Chester Whites and Durocs, which allows us to create various combinations for quality meat production."
Ronald explains that the most important aspects of animal husbandry practices on the farm include good pasture rotation, the provision of fresh water and shade from woodland. "We always offer a number of drinkers in each pen to ensure a continued fresh water supply," Ronald says. "The area where we manage our pigs has a natural forest canopy, providing ample natural shade and a variety of forest vegetation for them to enjoy rooting around in. We are strong believers in the idea that pasture-based management is better for the ecosystem and, ultimately, healthier for the consumer."
Joining AGW was an important decision for the family: "With the rise of unregulated and meaningless label claims, we became Certified Animal Welfare Approved by AGW to stand out from the crowd," Ronald explains. "It tells our customers that we really are farming the way we say we are. Our long-term goal is to be one of the leading pork producers with the highest standards for animal welfare and environmental management."
Ronald and the team at Master Blend Family Farms is passionate about giving back to their community. He supports local children in a variety of ways, such as hosting farm visits by groups from FFA and 4-H. When not on the farm, Ron teaches business seminars for the North Carolina Small Business Center Network and James Sprunt Community College on both the farming industry and business essential skills, as well as serving as a keynote speaker at events across the United States.
Ronald has also received multiple awards over the years for his dedication to his farm and community. Ronald and Master Blend Family Farms were recognized as the 2016 James Sprunt Community College New Biz Small Business Challenge winner. In January of 2017, Master Blend Family Farms was presented the Dr. Martin Luther King Entrepreneur of the Year Award by the Duplin County Progressive Leadership Organization. This award is based on the conduct displayed in the community through acts of volunteer works and discipline shown throughout the course of business involvement. Ronald was awarded NC's 2018 Small Farmer of the Year by NC A&T University in recognition of his contribution to North Carolina agriculture. Most recently, Ronald was named a fellow in the Kingsford Charcoal National Preserve the Pit campaign. He is also an active member of NC Goodness Grows, Duplin County's Cooperative Extension Advisory Committee and the NC Pork Council.
Ron is completing a Bachelor of Science in Business Management from the University of Mount Olive, and in his spare time enjoys reading, writing, and spending time with his family. Ron lives by his personal mantra, "365. No Days Off. All Gas No Breaks" and believes that anything is achievable when you combine focus and determination.
Master Blend Family Farms has an on-site store where customers can find their Certified Animal Welfare Approved by AGW pork products, as well as many items from other local farmers, including vegetables, honey supplied by the local beekeepers and much more. Stay up to date on the farm through their Facebook, Twitter, Instagram, LinkedIn, YouTube and Yelp accounts. For more information about Master Blend Family Farms, visit masterblendfarms.com.