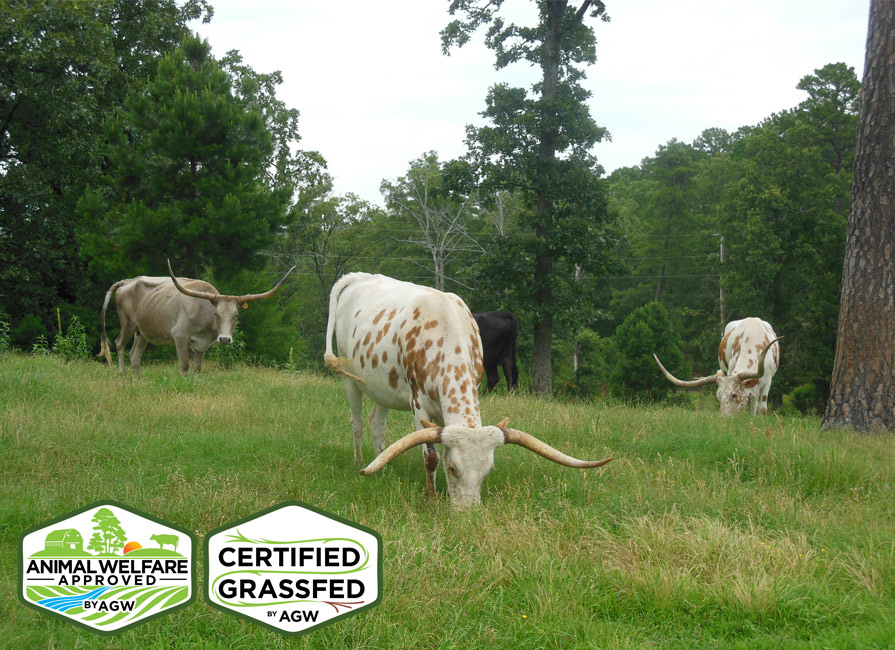 Sue Moore moved to Arkansas as a child in 1974 and joined the 4H program, which introduced her to farming and cattle. She has fond memories of showing cattle and winning blue ribbons at state and local fairs. Throughout her life, Sue has carried her interest and passion for animal husbandry with her: Today, Sue and her husband, Tom, raise Certified Animal Welfare Approved by AGW and Certified Grassfed by AGW beef cattle at M&M Farms in Rudy, Arkansas.
In 2015, M&M Farms became the first farm in the state of Arkansas to be Certified Grassfed by AGW for their beef cattle. This is the only certification and food label in the U.S. and Canada that guarantees food products come from animals fed a 100 percent grass and forage diet, raised entirely outdoors on pasture or range and managed according to the highest welfare and environmental standards on an independent family farm.
Situated in western Arkansas, M&M Farms consists of 35 acres of pasture and 20 acres of woodlands, filled with native trees such as cedar, oak and hickory. "The land is terraced and sits at the top of a hill with a wonderful view to the south across the Arkansas River," says Sue. Tom and Sue have learned from their neighbors that the land was originally used to grow tomatoes, strawberries, potatoes and other truck crops, but they have also found that it is well-suited for managing their herd Texas Longhorn and Limflex cross beef cattle. "Our land fits well with just letting the cows live as they live," explains Sue.
Tom and Sue use registered Texas Longhorns as foundation cows, and they brought a registered Limflex bull into their herd to build qualities from both breeds. They appreciate the lean frame, the ease of calving, and the delicious meat produced by the Texas Longhorn. When combined with the bulkier frame of the Limflex breed, the result is a animal that produces exceptionally high-quality beef. Both the Longhorn and Limflex perform well in pasture-based systems and also tolerate the hot, dry Arkansas summers. "We did our research and tried to make good decisions about the breeds that are best suited to our land and our type of farm management," Sue explains. "We feel we have a good mix for our farm."
Regular and attentive care for their cattle are important aspects of animal husbandry for Tom and Sue. "We're able to be there on a daily basis to check on our animals. We go out and count the cows. We check for calves. We watch to see how the momma cows are coming along. We like to walk through the pasture with them, make sure there are no predators, and check the fences," says Sue. "We think that the health of the cattle and the quality of the product for the consumers are connected to our daily hands-on management of the cattle. It just makes sense. It's a natural management system good for all concerned."
Tom and Sue chose to pursue AGW certification because, as Sue explains, "AGW promotes the same thing we want to promote. We felt that their criteria was the same as ours." Additionally, Tom and Sue are believers that there is always more to learn, and AGW certification gives them access to a range of technical advice tools that they can put to use at their farm. Sue notes an increasing demand for high-quality and high-welfare product in the marketplace, and they want M&M Farms to be at the forefront of delivering this to customers. "We want someone to reap the benefits of having healthy cows," says Sue. "We are looking to pass on a healthy food source to our friends and family in our community here. We want to create a healthy, viable farm for the next generation and share pasture-based management techniques so that others can learn what we learned from the AGW program."
Over the years, Tom and Sue have had support from friends and family, particularly from friend and neighbor, Buck Henry Brown, and Sue's brother, Ted Weisenbach. Ted has a degree in ag business and has raised cattle with their father for over 20 years. Additionally, Tom and Sue are members of Registered Texas Longhorn Breeders Association of America, International Texas Longhorn Association, Local Harvest, and the Arkansas Grown program.
Certified Grassfed by AGW beef from M&M Farms is available at The Paint Store in Van Buren, Arkansas. Check the AGW directory for details. For more information about M&M Farms or to schedule a farm visit, visit www.mmfarms.farm and the farm's Facebook page or contact Sue Moore at mmfarmgrassfed@gmail.com and 479-474-4505.