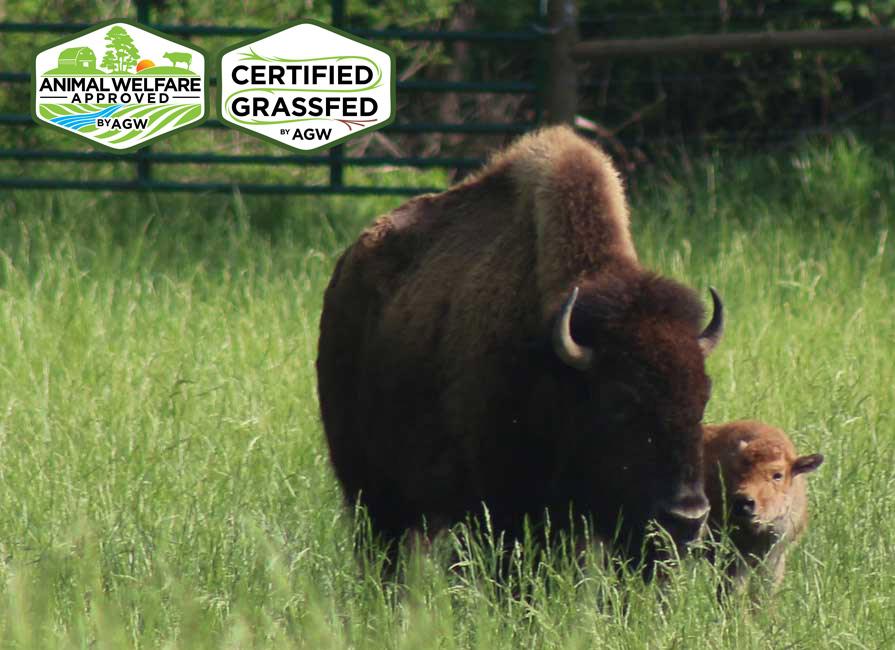 Ozark Valley Bison Farm – Fox, AR
In 2003, Rod and Cindy Chiodini fulfilled a lifelong dream by purchasing a farm in the Ozark Mountains in Northcentral Arkansas. The 200-acre farm, which had been used as dedicated farmland since the 1800s, had been deserted for over three decades. Rod slowly reclaimed the land through the removal of trees, brush and pasture from earlier hay fields, as well as miles of deteriorated and rusted barbed wire throughout the farm.
By 2016, the land was prepared for the introduction of bison, and Rod and Cindy, with great care, began selecting the farm's initial breeding animals. "All of our initial breeding animals were selected for their genetic background/heritage as well as confirmation of overall health to establish a solid genetic backbone of Plains Bison breeding stock," says Rod. Today, Rod and Cindy manage a herd of Certified Animal Welfare Approved by A Greener World (AGW) and Certified Grassfed by AGW bison at Ozark Valley Bison Farm, LLC in Fox, Arkansas.
Rod and Cindy maintain a herd of genetically pure North American Plains Bison, one of the few genetically pure bison herds in North America. The bison are managed outdoors, grazing the pastures where they are able to demonstrate their natural behaviors. "Our animals are raised holistically, taking advantage of the symbiotic relationships between the bison herd and the grasslands that support them while also considering the mental and social factors of the individual animals and the entire herd," says Cindy. In addition to being Certified Animal Welfare Approved by AGW, the bison herd at Ozark Valley Bison Farm is Certified Grassfed by AGW, the first—and only—food label in the U.S. and Canada that guarantees food products come from animals fed a 100% grass and forage diet and raised entirely outdoors on pasture or range. "Our vision and goal is to raise quality purebred grassfed North American Plains Bison from well-established bloodlines that consistently produce large, healthy and vigorous animals that have a calm and gentle temperament," says Rod. "Achieving these goals will ensure the integrity of the Plains Bison breed and the production of healthy and great tasting bison meat products."
Certified Animal Welfare Approved by AGW, Certified Grassfed by AGW bison from Ozark Valley Bison Farm is available directly from the farm and at area outlets, including the restaurant at the Ozark Folk Center State Park. Check the AGW directory for details. For more information about Ozark Valley Bison Farm, visit www.ozarkbisons.com along with the farm's Facebook page and contact Rod or Cindy Chiodini at info@ozarkbisons.com and 870-615-9827 or 870-746-5261.