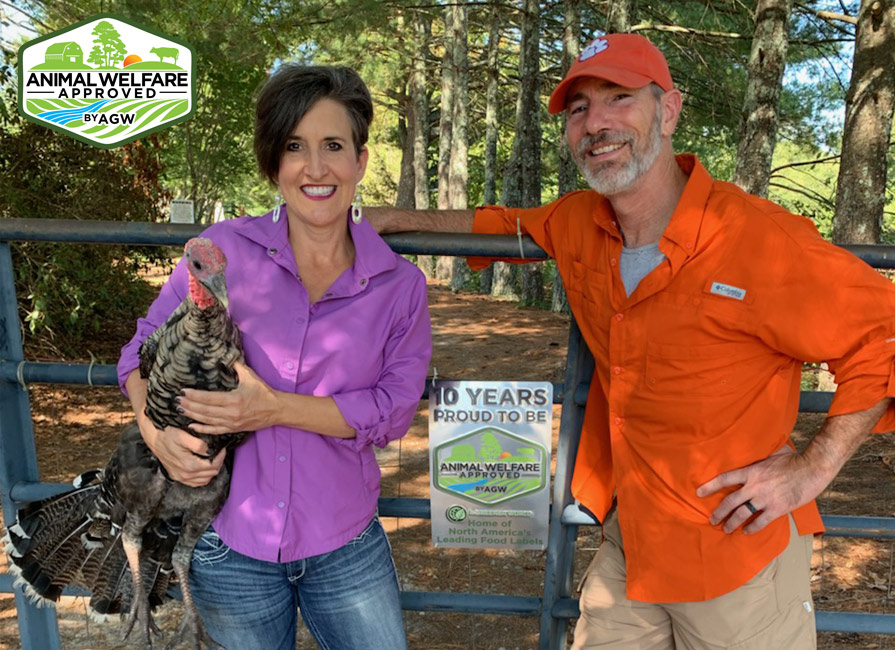 Patient Wait Farms – Piedmont, SC
Gail Cooley, with the help of her husband, Mike, raises Certified Animal Welfare Approved by A Greener World (AGW) traditional breed turkeys, laying hens, laying ducks and dairy goats at Patient Wait Farms in upstate South Carolina. Set on 20 acres of rolling hills, the farm includes beautiful stands of old oak trees, as well as several different native fruit trees, which all provide food and shade for the turkeys and other livestock.
The goal at Patient Wait Farm is to provide high quality products, animals and service to the community. Being cognizant of the environmental impacts of farming is a fundamental component of the Cooley family's philosophy: "We are 100% pasture based," says Gail. "We only bring our animals in at night for predator protection. The benefit of pasture-based management is that it is kinder to the land, kinder to the animals and kinder to the planet."
The Cooley's interest in farming is a recent development. "We are not from farming families–I'm a Jersey Girl!" Gail explains. "We just feel a calling to farm and we are passionate about sustainability. We started with horses but were inspired to pursue farming as a family business. We introduced traditional turkeys to our operation in 2009 and have been evolving ever since."
Gail and Mike select their poultry breeds for very specific reasons: "We chose Narragansett turkeys because they are docile, and because they are great foragers," says Gail. "For our layers, we decided on Australorp, Easter Egger hens because of their dependable egg production."
In addition to their poultry, Gail and Mike also raise Certified Animal Welfare Approved by AGW Nigerian Dwarf dairy goats. The Nigerian Dwarf is a breed that originated in west Africa and is popular among family farmers because of its high butterfat milk—a key ingredient to Patient Wait Farm's goat milk soap! Their gentle demeanor and suitability for pasture-based systems is another reason the Cooleys chose to raise the breed.
Gail explains that receiving AGW certification for their livestock has helped the Cooleys set their products apart in the marketplace: "The Certified Animal Welfare Approved by AGW certification and label gives our customers confidence in how we farm." She also feels the technical expertise provided by AGW has been instrumental in helping the family to create a successful, working farm system.
In the next five years, Gail and Mike plan to open a sustainable farming camp and retreat center to teach adults and children about sustainability. Gail says, "We want to teach people about taking an active role in their food, whether they are producers or consumers." AGW products from Patient Wait Farms are available directly from the farm. Check the AGW directory for details. For more information, visit www.patientwait.com and the farm's Facebook page or contact Gail Cooley at info@patientwait.com or 864-947-8881.