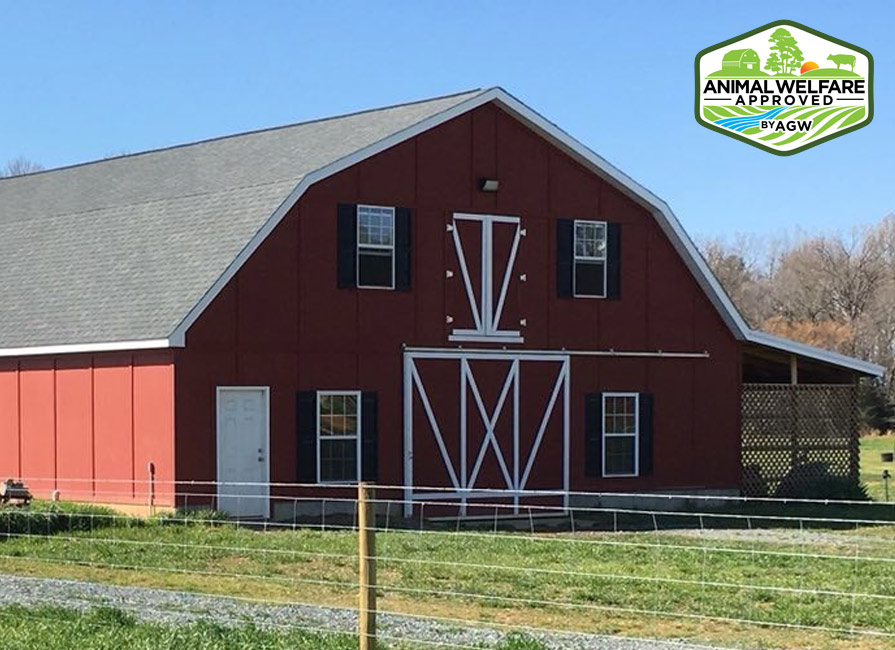 Rocky River Farms – Monroe, NC
Originally from Michigan, Greg Stephens grew up with relatives who were dairy farmers. "I used to go to the farm and visit, and it was so much fun as a kid," says Greg. That feeling stuck with him his whole life and, upon retirement, Greg and his wife, a Nebraska native whose family raised beef cattle, decided to start raising pasture-based beef cattle in North Carolina. In 2015, Greg sold his business, purchased land and began farming. Today, Greg raises Certified Animal Welfare Approved by A Greener World (AGW) laying hens, laying ducks and beef cattle at Rocky River Farms in Monroe, about 18 miles southeast of Charlotte.
Rocky River Farms was previously a chicken farm that stood vacant for 10 years. Greg has worked diligently to rebuild the infrastructure and the soil. "The farm consists of 30 acres," says Greg, "and after we purchased it, we took bulldozers and cleared everything." Greg built the current barn on the foundation of the previous chicken house, built a new farmhouse and undertook an extensive fencing project. "Now I have three main pastures so that I can rotate grazing for the cattle," says Greg. "We prepared the land for the right grasses, clover and rye among others, focusing on species that would help build the soil."
Greg manages a herd of approximately 20 Certified Animal Welfare Approved by AGW Black Angus-Gelbvieh mix beef cattle. "Black Angus is a good meat processing breed," he explains. "We mix in the Gelbvieh because they have traits of easy calving, as they're a bit smaller. With crosses of the two, we don't have calving issues, but still produce great beef." The cattle are rotationally managed, grazing one section of pasture before being moved to fresh fields. This type of management allows grass to recover before cows return to graze again; it also keeps the soil properly fertilized and minimizes the build-up of internal parasites, thereby avoiding reliance on chemical treatments.
In addition to the Certified Animal Welfare Approved by AGW beef cattle, Greg also manages flocks of Certified Animal Welfare Approved by AGW Khaki Campbell laying ducks and Rhode Island Red and Black Star laying hens. "The Khaki Campbells are good layers and we usually get 7-10 eggs per day from the 10 ducks," says Greg. "The ducks are raised outdoors on pasture and have access to water, which is important for their natural behaviors. We also raise our laying hens on pasture, where they can dust bathe and scratch for seeds and insect grubs. You can really taste the difference in the eggs." Pasture-based management not only provides the highest welfare conditions for the hens, but also produces healthier eggs containing three times as much vitamin E, seven times more beta-carotene, and twice the omega-3 fatty acids as industrial eggs. "We were looking for a large, uniform egg of high-quality," says Greg, "and we're pleased with the performance of the Rhode Island Red and Black Star breeds in our pasture-based management system."
For Greg, making sure animals are healthy and growing is the most important part of his animal husbandry practices. "I strive to take excellent care of the animals. We don't use things like routine subtherapeutic antibiotics, and I want to make sure all things that we do promote the natural health of the animals."
Greg chose to pursue Certified Animal Welfare Approved by AGW certification because his management practices aligned with the standards and vision of the program. "My practices were already in line with what AGW stands for," says Greg. "Our Certified Animal Welfare Approved by AGW certification is a great advantage because people can see a verified label that represents sustainable farming systems that care for the animals from birth through slaughter. That resonates big with the public. It's just a great fit!"
Certified Animal Welfare Approved by AGW beef, chicken eggs and duck eggs from Rocky River Farms are available direct from the farm on Saturday mornings from 10 a.m. – 12 p.m. (and by appointment) and at the Cotswold Farmers' Market in Charlotte. Check the AGW directory for details. Customers can also order online for farm and area pick-up by visiting rockyriverfarmsnc.com. Stay in touch with the farm's Facebook page and Instagram account for updates. For more information about Rocky River Farms, contact Greg Stephens at gregorywstephens@gmail.com.