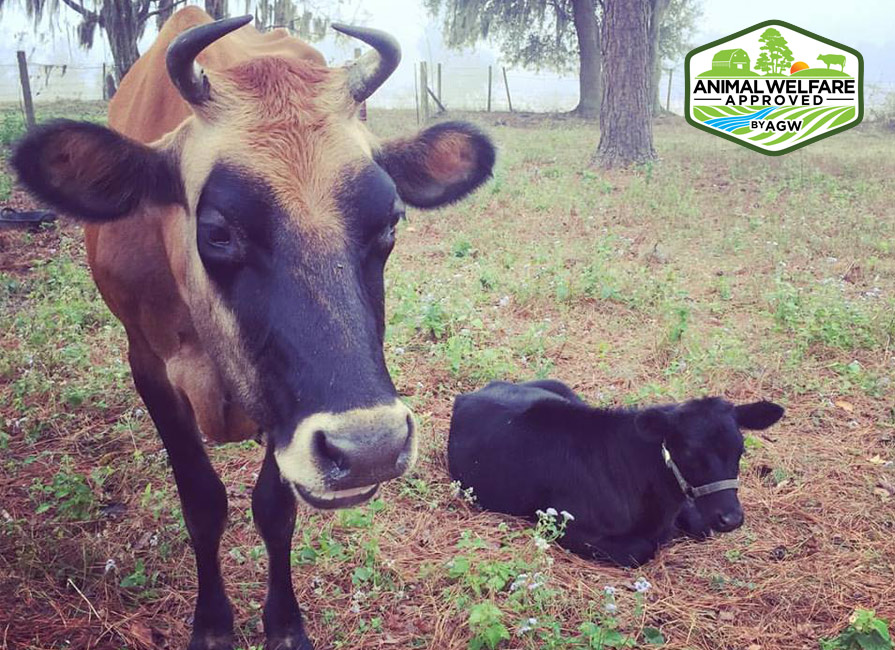 Swallowtail Farm – Alachua, FL
Owners Rick and Jane Nesbit and Noah Shitama, working with Mariana Riehm and livestock manager, Joelle Jaskiel, raise Certified Animal Welfare Approved by A Greener World (AGW) laying hens and dairy cattle at Swallowtail Farm in Alachua, Florida.
Joelle got her start in farming growing vegetables when she lived on a small island in the Bahamas. "A friend of mine flew me in some chickens and I was hooked!" she says. "Eventually, I made my way back to the states and volunteered at various farms. I started at Swallowtail Farm as an apprentice and stayed on as a full-time staff member. This next season will be my fourth year on the farm."
Joelle and the team at Swallowtail Farm manage approximately 30 acres of land, just outside of Gainesville. They grow fruits, vegetables and flowers on around 6 acres of land for CSA members and local markets, running cattle and chickens on well-managed pasture. "Developing and maintaining a close connection with the local community is important to us," Joelle explains, "and we host farm to table dinners throughout the season. We also have a fall and spring festival with workshops, food, demonstrations and music."
Joelle currently manages a herd of 12 Certified Animal Welfare Approved by AGW Jersey and Dexter dairy cattle, breeds that are efficient at turning forage into high-quality, flavorful and nutritious milk. "We raise our cattle outdoors on pasture and practice milk sharing with the calves and their mamas. This means that we keep the calves with their moms for at least the first four months before we wean them and return them back to the herd once enough time has passed. This minimizes stress and maximizes calf health, and helps maintain social groups"
In addition to the dairy cattle, Swallowtail Farm is also home to a flock of around 240 Certified Animal Welfare Approved by AGW laying hens. The hens are raised outdoors on pasture where they can perform natural behaviors like running, dust bathing, pecking and scratching for grubs and seeds. "We have a mix of breeds to create a beautiful palette of eggs. They are pasture kept and supplemented with non-GMO grain," says Joelle. Pasture-based management not only provides the highest welfare conditions for the hens, but also produces healthier eggs containing three times as much vitamin E, seven times more beta-carotene, and twice the omega-3 fatty acids as industrial eggs.
For Swallowtail Farm, rotational grazing is a foundational component of their pasture-based management. The livestock are rotationally managed, grazing one section of pasture before being moved to fresh fields. This type of management allows grass to recover before animals return to graze again; it also keeps the soil properly fertilized and minimizes the build-up of internal parasites, thereby avoiding reliance on chemical treatments. "We keep all our animals moving," says Joelle. "They are all rotated on a schedule to ensure they always have fresh, nutritious forage and clean ground. We think pasture-based management is beneficial because it helps keep our animals healthy while providing enrichment for the soil."
Joelle and the Swallowtail Farm team chose to pursue AGW certification because of the independent verification and guidance it provides their customers: "We believe the AWA label is a useful marketing tool to help our customers learn more about their food, as well as what we are doing on the farm to provide for our animals," Joelle explains. The team at Swallowtail Farm has plans to continue their work to develop sustainable practices on the farm and to help educate their community about high-welfare, healthy food choices.
Swallowtail Farm's Certified Animal Welfare Approved by AGW chicken eggs and dairy products are available directly from the farm and at various farmers' markets in the Gainesville area. Check the AGW directory for details about the farm's egg CSA. For more information about Swallowtail Farm, visit swallowtailcsa.com and follow the farm's Facebook and Instagram pages. Contact livestock manager, Joelle Jaskiel, at swallowtailcsa@gmail.com.