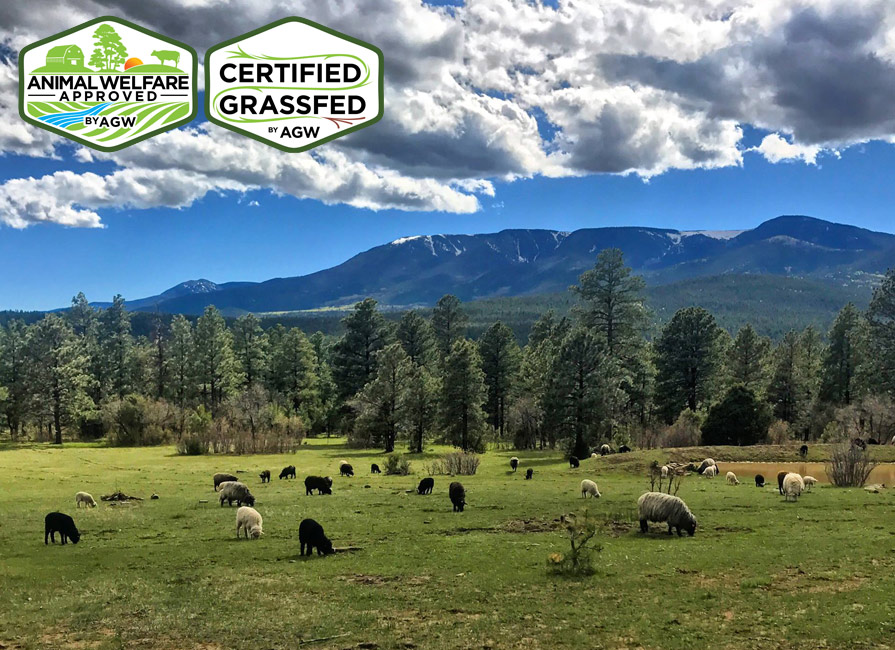 Los Vallecitos LLC – Mora, NM
Sitting at almost 9,000 feet, with beautiful views across the Mora Valley in New Mexico, Los Vallecitos is comprised of 335 acres of managed pasture and range. Carla Gomez raises Certified Animal Welfare Approved by A Greener World (AGW) laying hens and Certified Grassfed by AGW meat sheep and beef cattle at Los Vallecitos, where New Mexicans have produced food for centuries.
The Mora Valley is irrigated utilizing the Acequia system which was used in the Middle East for over 10,000 years. The Moors brought these techniques into southern Spain during their 800-year occupation; in turn, the Spanish brought this system into the New World. Because of the Acequia, which were dug in the early 1800s, Los Vallecitos is a rich valley with water flowing through the fields.
Carla grew up in Santa Fe and came to the Mora Valley as a young woman, where she raised her three children. Before working full time on her ranch, Carla ran the Mora Valley Spinning Mill, where they spun and wove locally-produced wool from other farms. Using her experience, Carla is now experimenting with various breeds of sheep that are well suited for pasture- and range-based management for both wool and meat production. Her 50 Churro-Lincoln cross sheep produce a course, high-luster wool, so she is now breeding them with colored Corriedale sheep for the development of a softer wool. Carla explains that she used to blend wools from different sheep breeds on the mill floor, allowing her to choose different attributes she desired in the final product. "But now I mix them in the field!" she laughs.
In the high mountain climate of the ranch, the primarily Black Angus and Hereford cattle have developed and evolved with the land over the many generations in Los Vallecitos.
The farm's flock of 100 laying hens is also a mix of various breeds that do well ranging freely on pasture, including Brahma, Araucana, Rhode Island Red and Cochin. The animals benefit from the presence of their Great Pyrenees guard dogs, which has eliminated predation of the livestock.
The Certified Animal Welfare Approved by AGW and Certified Grassfed by AGW logos verify that Los Vallecitos' meats and eggs come from animals raised according to the highest welfare standards, outdoors on pasture and range. Carla pursued certification because she knew that it would reflect the high quality of her products: "I knew that all of our products were really clean and pure," explains Carla. "All of our animals graze freely on beautiful, lush pastures and the only thing our cattle and sheep eat aside from what they forage is hay grown on our ranch and adjoining properties."
Carla is passionate about changing the way we farm and feed ourselves: "I have two great commitments: I want to shift money away from industrial agriculture back to our local community and I want to help people reconnect to the source of their food." One of the ways she is achieving this is through membership with Los de Mora Local Growers' Cooperative, Inc., a producer-owned cooperative made up of 35 small family farms and ranches. Participation in the cooperative offers farmers in Mora opportunities for community building and education, as well as the chance to aggregate and coordinate supply and secure larger market opportunities for individual family farm members that would be impossible to achieve on their own.
Certified Animal Welfare Approved by AGW chicken eggs and Certified Grassfed by AGW beef and lamb from Los Vallecitos are available from the Traveler's Café in Las Vegas, NM, owned by Carla's daughter. For more information or availability, contact Carla at carlagomez1639@gmail.com or 505-429-1639. Follow them on Instagram and Facebook.