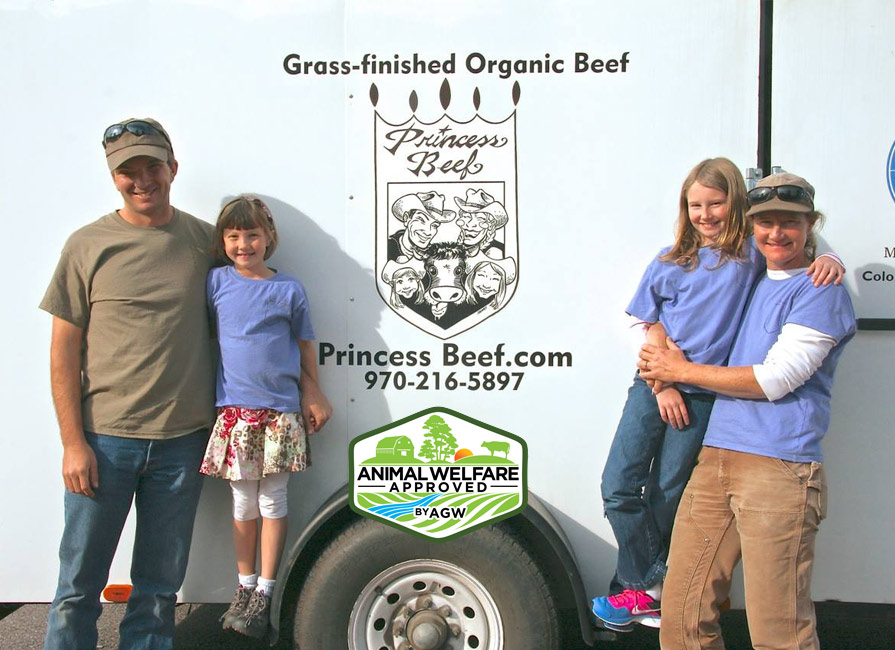 Princess Beef – Hotchkiss, CO
Cynthia and Ira Houseweart have deep roots in Colorado cattle ranching. Cynthia's great-grandfather, Edward Ulysses Butterfield, and his brother, Charles, were successful ranchers in the late 19th and early 20th century in Phillips County, and controlled many sections of the Colorado prairie. In 1913, Ira's great-grandparents, Oran Charles and Mable Houseweart, acquired land to farm on Rogers Mesa in Delta County. Cynthia and Ira and their two daughters, Izzi and CeCe, live on the Houseweart Ranch as do Ira's parents, Bill and Betty, and his brother, Cody, and his family. Izzi and CeCe are the fifth generation of Houseweart cattle ranchers.
Despite her own family history, Cynthia might have ended up in some other profession if it weren't for her participation in a two-day cattle drive on a friend's family ranch in Crawford, Colorado in 1993, just after she graduated from college with a degree in art history. Cynthia immediately fell in love with the Allen Ranch and made a lifelong connection with Steve and Rachel Allen. She became their full-time ranch hand for the next twelve years. In 2003, Cynthia married Ira, who had already begun his own business as a blacksmith on his family ranch. The couple lived at the Allen Ranch until 2005 when they moved to the Houseweart Ranch with their first child, Izzi.
The Princess Beef herd started in 1999 with a cow named Princess that Steve and Rachel Allen gave Cynthia. It was Princess and her calves that gave Cynthia and Ira the idea of selling homegrown, grass-finished beef. Today the herd has grown to 100-head of Angus-Simmental cattle grazing year-round at the Allen Ranch, which also produces most of the winter hay.
Cynthia and Ira decided to pursue Certified Animal Welfare Approved by A Greener World (AGW) certification for the Princess Beef herd because it was consistent with their philosophy about animal welfare. "It was everything we believed in and did, so it was an easy decision to choose certification. Although we encourage visitors, not everyone can come out to the ranch to see it for themselves, so we feel like that it's one more way to tell people we're doing what we say we do," says Cynthia. While Princess Beef has a strong and dedicated customer base, Cynthia sees competition growing among grass-finished beef producers. "Having the Certified Animal Welfare Approved by AGW logo on our products is one more way to stay ahead of the competition," she explains.
Princess Beef wouldn't be what it is without the community of people that Ira and Cynthia have surrounding their family ranch. "There's quite a team behind us," says Cynthia. "Steve and Rachel are the out-of-the-box thinkers who got me started. Bill and Betty, Ira's parents, have also been a huge support. My father-in-law is a veterinarian, and that's been a total asset. And of course, our kids, Izzi and CeCe, are a big help. They wake up early on delivery days because they're so excited, help sort cows, write down cow numbers, and take milk to bottle-fed babies. We have no idea whether the girls will live on the family place when they reach adulthood, but their childhood is filled with the extraordinary history and lore of four generations before them and this may entice them to stay when they grow up." While the couple is planning to grow the business sustainably over the coming years, Cynthia wants Princess Beef to always remain "a family operation."
The Housewearts sell Certified Animal Welfare Approved by AGW beef from the Princess Beef herd direct to consumers in wholes, halves and quarters, or ground by the pound. Customers must order ahead of time and can pick up their beef in the fall at locations between Grand Junction and Colorado Springs, or at the Houseweart's home ranch, where customers are served cookies and cider and can buy t-shirts and cookbooks.
To learn more about Princess Beef, visit princessbeef.com. Contact Cynthia at princessbeef@gmail.com and 970-872-2144. Follow them on Facebook and Instagram.