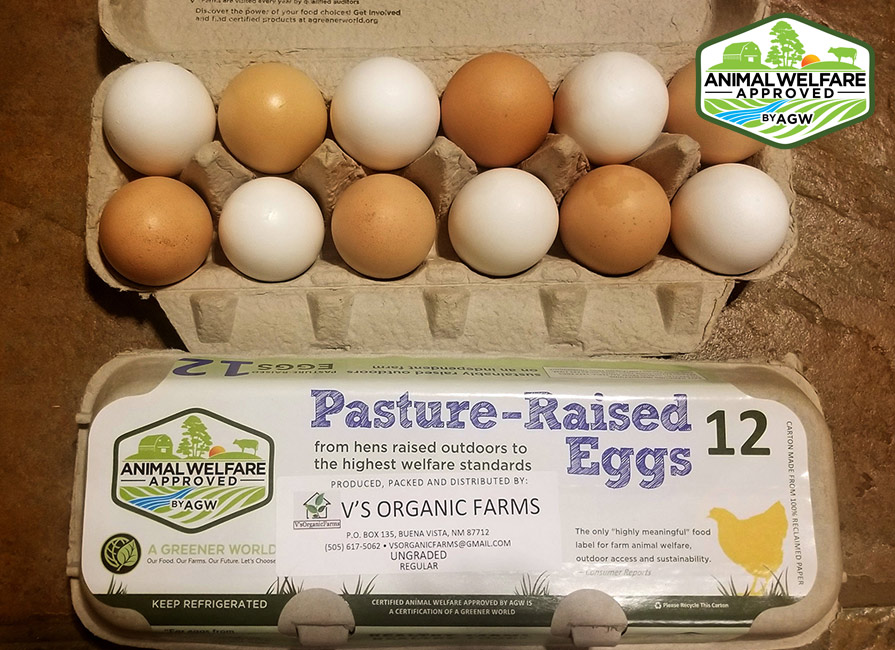 V's Organic Farms, LLC – Buena Vista, NM
Veronica comes from a long line of farmers in Buena Vista, New Mexico. About 60 years ago, factors began pulling the family away from the farm and forcing them to sell off the larger pieces of their land. After moving around the country for several decades, her parents had the opportunity to return to their roots and rebuild.
Today, Veronica is part of a growing local food movement in New Mexico. She, along with her husband, Michael, and their two sons, Miguel and Julio, farm almost 40 acres of her family's original landholding. "I have always had a passion for this type of life but never had the time to dedicate to it," she explains. After 25 years working for Luna Community College, about 30 miles from the family's farm, Veronica (in 2010) and her husband (in 2014) were able to retire and commit full-time to producing organically grown vegetables and tending their animals—including a flock of Certified Animal Welfare Approved by A Greener World (AGW) laying hens and small herd of Certified Grassfed by AGW beef cattle.
Much of the 40 acres at V's Organic Farms is irrigated by an "acequia"—a community-operated watercourse or ditch used for grazing and hay production, many of which are hundreds of years old. One well on the property is used solely for crop irrigation and as a backup water source for their livestock. Careful management of water is as important as any other farming practices in the arid landscape of northern New Mexico, which has been made more extreme by recent drought conditions.
Veronica pursued Certified Animal Welfare Approved by AGW certification for the farm's 120 laying hens and 20 mother cows because, she says, "We truly believe in the mission and purpose of the Certified Animal Welfare Approved by AGW program." Veronica feels that raising chickens and cattle on pasture is good for her animals, good for the earth and good for her customers—for example, research shows that pasture-raised eggs are higher in vitamin E, beta-carotene and omega 3 fatty acids than commercial eggs.
"Pasture-based management maximizes the quality and quantity of forage growth," Veronica explains. "Resting grazed lands allows the vegetation to renew energy reserves, rebuild shoot systems and deepen root systems, with the result being long-term, maximum biomass production. This type of pasture management is especially effective because foragers like hens do better on the more tender younger plant stems. Good rotational grazing management also leaves parasites behind to die off, minimizing the need for de-wormers."
Having a year-round supply of quality grass and forage is particularly important for the beef cattle at V's Organic Farm, which are Certified Grassfed by AGW, the first—and only—food label in the U.S. and Canada that guarantees food products come from animals fed a 100 percent grass and forage diet, and raised entirely outdoors on pasture or range.
Veronica hopes that having the Certified Animal Welfare Approved by AGW logo on her egg cartons and the Certified Grassfed by AGW logo on her beef will encourage other farmers in the area to consider high-welfare farming techniques: "I hope that with publicity we can encourage more people to follow these practices, or at least appreciate what this way of life has to offer and how it can benefit them with better quality food and a healthier life and environment."
The Sernas started off as a part of a larger resurgence of farming in the area and were active members of the Los de Mora Local Growers' Cooperative, Inc., a producer-owned cooperative made up of 35 small family farms and ranches. The demand for the Serna's products spread beyond the area, therefore Veronica started participating in farmers markets throughout the northeastern part of the state to get their products to another group of consumers who have become loyal customers. Thanks to Los de Mora Local Growers' Cooperative, Inc. which helped introduce their products to a broader consumer base, the Sernas have now included value-added products as the demand increases.
For more information about the farm, or to purchase their Certified Animal Welfare Approved by AGW pasture-raised chicken eggs and Certified Grassfed by AGW beef, contact Veronica at vsorganicfarms@gmail.com and 505-617-5062 and follow them on Facebook.