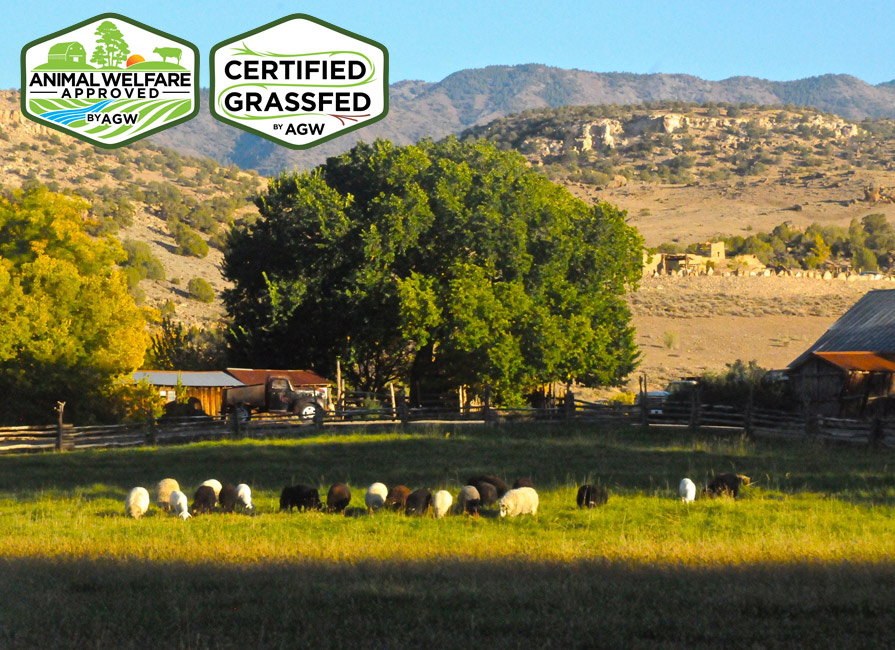 Canyon of the Ancients Guest Ranch – Cortez, CO
In 2006, Garry and Ming Adams bought the 2,000-acre property they call Canyon of the Ancients Guest Ranch. Their plan was to create a unique location where guests could stay and explore the McElmo Canyon in southwest Colorado, where the ranch is situated. They began by renovating the historic buildings on the property to preserve and highlight the rich legacy and beautiful landscape. It wasn't until later that Garry and Ming decided to raise Certified Grassfed by A Greener World (AGW) beef cattle and sheep on pasture and range. Their aim was not only to provide fresh, high-welfare and sustainable food for their guests, but also to supply restaurants and retail outlets in the area.
With the support of their neighbors, who generously shared knowledge and advice, Garry and Ming gradually learned the skills required to raise animals outdoors on pasture. The cattle and sheep operations currently utilize 65 acres of irrigated pasture, which is managed holistically without the use of pesticides.
Choosing breeds that would thrive in the farm's often challenging environment was important. Ming and Garry decided to cross Angus cattle, known for its meat quality, with the Longhorn breed, which is very hardy and can withstand the harsh weather in southwest Colorado. The cattle and sheep at Canyon of the Ancient's Ranch are Certified Grassfed by AGW, which guarantees the animals have been fed a 100 percent grass and forage diet. Ming and Garry raise Royal White sheep, a hair breed that does not require shearing, and Navajo-Churro sheep, a rare breed suited to extremes of climate and highly resistant to disease.
Ming explains that they employ a rotational grazing strategy, moving the animals regularly across the land to ensure the health of their animals and pastures by minimizing the potential build-up of internal parasites and allowing the grasses to fully recover between grazing. These practices are consistent with Ming and Garry's appreciation for their land, animals and human health and wellbeing. "We have happy livestock," says Ming "and our customers are happy with the quality of our meat."
Ming and Garry chose to apply to the Certified Animal Welfare Approved by AGW and Certified Grassfed by AGW programs because they knew the labels would help establish new market opportunities by communicating how their high-welfare practices were different from conventional farms. They are proud to have gained the two highly regarded farm certifications, and hope that marketing their pastured products will help raise awareness about the importance of animal welfare and farm sustainability.
Canyon of the Ancients Guest Ranch lodging facilities are open for rental throughout the year. Certified Animal Welfare Approved by AGW and Certified Grassfed by AGW beef and lamb from Canyon of the Ancients Guest Ranch are available directly from the farm, as well as at local retailers and restaurants in Cortez. For more information, visit CanyonoftheAncients.com or contact Ming and Garry at canyon_of_the_ancients@yahoo.com and 970-565-4288. You can also follow the farm on Facebook and Instagram.