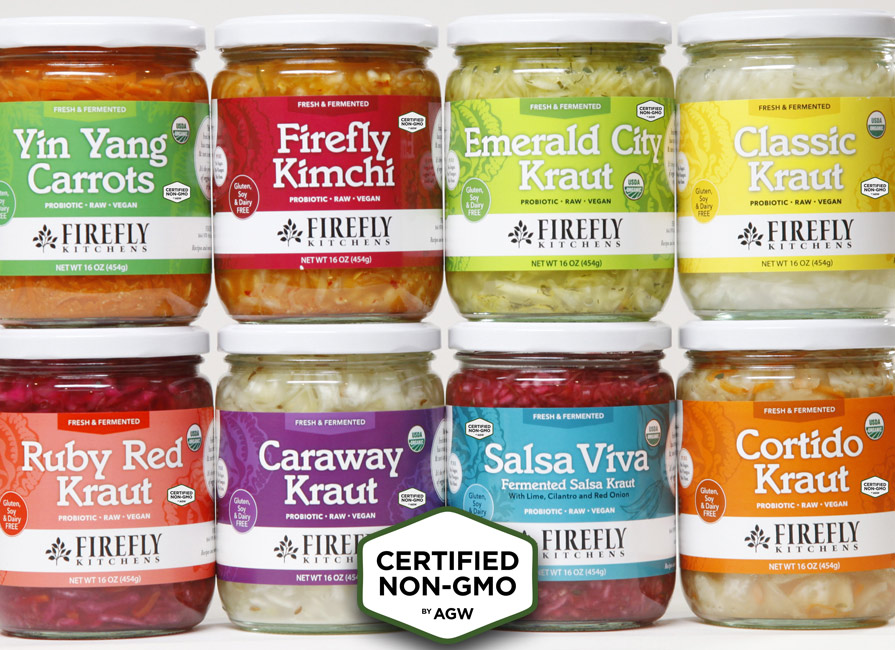 Firefly Kitchens – Seattle, WA
Firefly Kitchens is a Seattle based artisan food manufacturer that produces Certified Non-GMO by A Greener World (AGW) food products including krauts, tonics and salts. Firefly Kitchens uses only Certified Non-GMO by AGW ingredients to make their line of Organic, Vegan, Unpasteurized, and Wild-Fermented products.
Owner of Firefly Kitchens, Julie O' Brien, started the company in 2010 after encountering fermented foods while studying for a nutritional therapy program. An Alaska native, Julie had been passionate about health and whole food nutrition her entire life, but the life-changing discovery of fermented foods led her on a mission to create and produce her own fresh ferments.
Rachel Hynes, COO/CFO at Firefly Kitchens says, "Our fermented food products have many health benefits. The probiotics in fermented foods may help digestion, immune function, nutrient absorption and more!" Firefly Kitchens products are also made with locally sourced ingredients and the company has close relationships with the farmers that they work with. "Our products are really natural, and made with simple ingredients," says Rachel. All products use vegetables, spices and salt, and ferment for six weeks. "We let the microbes do the magic. These are super healthy product that last for a long time and are extremely beneficial for gut health."
Firefly Kitchens pursued Certified Non-GMO by AGW certification because they felt that it was an important part of their story that they wanted to share. "Sustainability is a core piece of Firefly Kitchen's identity. This ethos permeates everything we do, from how we run our kitchen, to how we sample and sell our product, to how we train our staff," says Rachel. "Our customers are also pretty discerning around what they put in their bodies and want foods that are healthy. They typically source organically and from local farms as much and often as they can and avoid supporting big ag. Our customers want to be transparent with their values and are proud of what they are buying and putting into their bodies. Achieving Certified Non-GMO by AGW status for our products assures our customers that we also value transparency and sourcing high-quality ingredients to create products that are truly good for your health."
In addition to certification being important for their customers, Firefly Kitchens was impressed with the attention A Greener World gave throughout the certification process and the company supports the work that AGW is doing for processed foods, as well as with animal husbandry. "Working with A Greener World to certify our products makes us feel like a part of a larger, connected ecosystem. We're proud to represent the AGW program alongside the other producers certified by A Greener World."
Certified Non-GMO by AGW krauts, tonics and salts from Firefly Kitchens can be found at a number of retailers throughout Seattle, as well as online through their website fireflykitchens.com. For more information follow the company on Facebook and Instagram, or email info@fireflykitchens.com.