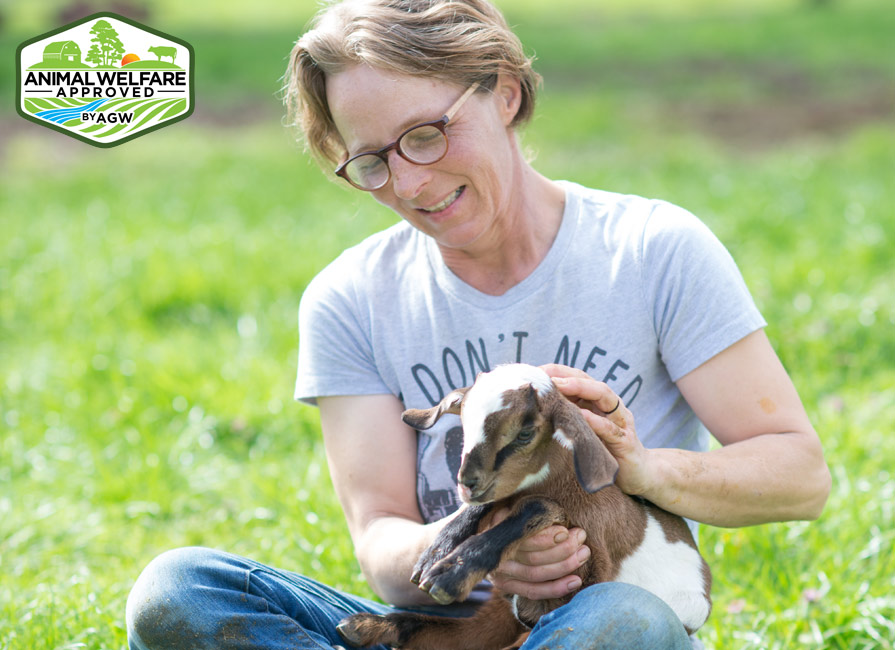 Fraga Farmstead Creamery – Gales Creek, OR
Elisabeth Bueschen-Monahan, Steve Monahan, and their team raise Certified Animal Welfare Approved by A Greener World (AGW) dairy goats at Fraga Farmstead Creamery. The farm is located in Gales Creek Valley, a tributary of the Tualatin River, half an hour west of Portland. Steve Monahan, the Cheesemaker at Fraga Farmstead Creamery, and Elisabeth, the farm's herd manager, took over the herd and operations at Fraga Farmstead Creamery in 2012 and with it the production of the cheeses. As envisioned by the original owners Jan and Larry, and now with Elisabeth and Steve, the farm prioritizes "the nurturing of grass, that nurtures the goats that give milk, which is transformed into cheese that is not only good to eat, but is good all around."
Along with outdoor access, the goats at Fraga Farmstead are also raised with the highest welfare standards available, as verified by their AGW certification. "We are very proud to be a part of the Animal Welfare Approved by A Greener World program. To us there can be no good farming without addressing animal welfare concerns," says Elisabeth.
Fraga Farmstead Creamery makes a full range of goat cheese – from the traditional creamy Chevre to aged raw milk cheese reminiscent of a mature cheddar, as well as "melt in your mouth" goat milk caramels.
Certified Animal Welfare Approved by AGW goat milk products from Fraga Farmstead Creamery are available direct from the farm by appointment only and at local farmers markets. To learn more about Fraga Farmstead Creamery visit fragafarm.com and contact the farm at info@fragafarm.com. You can also follow the farm on Instagram and Facebook.