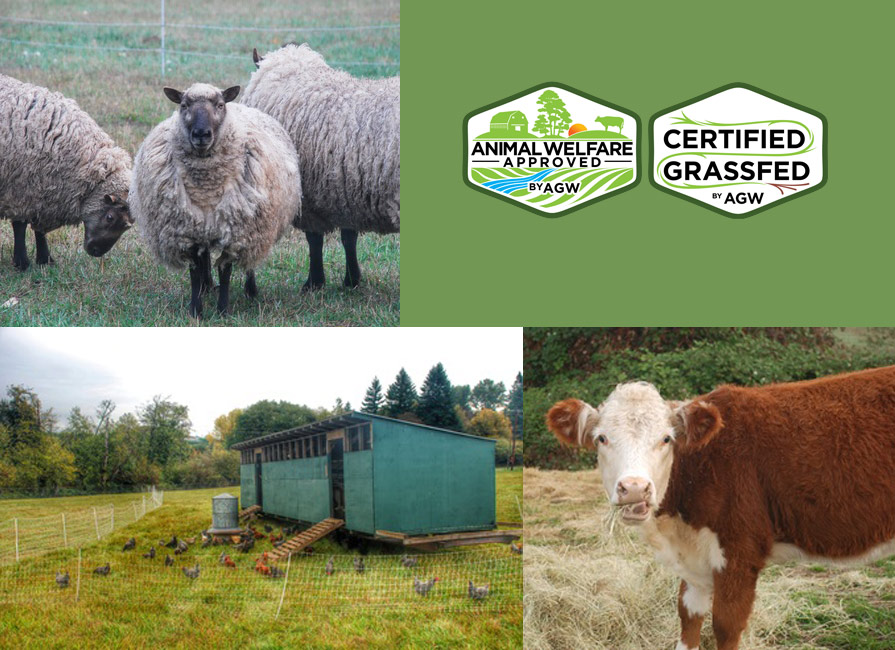 Greene Jungle Farm – Ridgefield, WA
Jim Kunetz and his family raise Certified Animal Welfare Approved by A Greener World (AGW) pigs and laying hens and Certified Grassfed by AGW sheep and beef cattle at Greene Jungle Farm, located in the rolling hills of Ridgefield in southwest Washington.
The Kunetz family began farming in the fall of 2011 when they purchased their first cows, plowed a garden and planned a fruit orchard: "From the beginning, our family chose a system of farm stewardship that created an interactive ecosphere that is free from pesticides, herbicides, hormones, antibiotics and inhumane animal treatment," Jim says.
Jim's wife, Gretchen, and son, Max, also assist in raising the farm's 20 head of Hereford cattle, 100 laying hens, pigs and flock of Clun Forest sheep. The farm's 25-acre property is primarily pasture, which allows for rotational grazing as well as quality summer hay production. Having a year-round supply of quality grass and forage is particularly important for the cattle and sheep at Greene Jungle Farm, both of which are Certified Grassfed by AGW, the first—and only—food label in the U.S. and Canada that guarantees food products come from animals fed a 100 percent grass and forage diet, and raised entirely outdoors on pasture or range. "I think it's very clear that cattle and sheep are genetically designed for eating grasses and not grain," says Jim. "The benefits of grass, and what it can provide that grain does not, leads to a healthier animal and a nutritionally dense food for those that eat the meat."
Jim decided to pursue certification after meeting an AGW staff member at the Oregon Small Farms Conference. Not only did he feel the certification would offer his customers real assurance, but also that the Certified Animal Welfare Approved by AGW standards represented an important learning tool to help him farm to an even higher standard. "I think that people are becoming more food label conscious," says Jim. "If they don't have the ability to visit the farm or talk with the farmer first hand, the assurance of Certified Animal Welfare Approved by AGW third-party certification weighs heavily."
Looking to the future, Greene Jungle Farm aims to grow their business by raising and marketing superior products that provide healthy and nutritious food for their customers: "Ideally, we'd love to expand our operation to supply restaurants or other larger retail customers," Jim says. "We'd be happy to do what it takes to accommodate larger orders."
Certified Animal Welfare Approved by AGW pasture-raised eggs from Greene Jungle Farm are available at the Salmon Creek Farmers' Market every week from May through September, as well as at the Starliner Food Mart in Ridgefield and Aranada Naturals in Vancover. Greene Jungle Farm also runs a CSP (Community Supported Pasture) program, a monthly subscription to their Certified Grassfed by AGW meats for six months. Customers can also order online. For more information, visit greenejunglefarm.com and contact Jim at greenejunglefarm@gmail.com and 360-823-8884. You can also follow the farm on Facebook and Instagram.