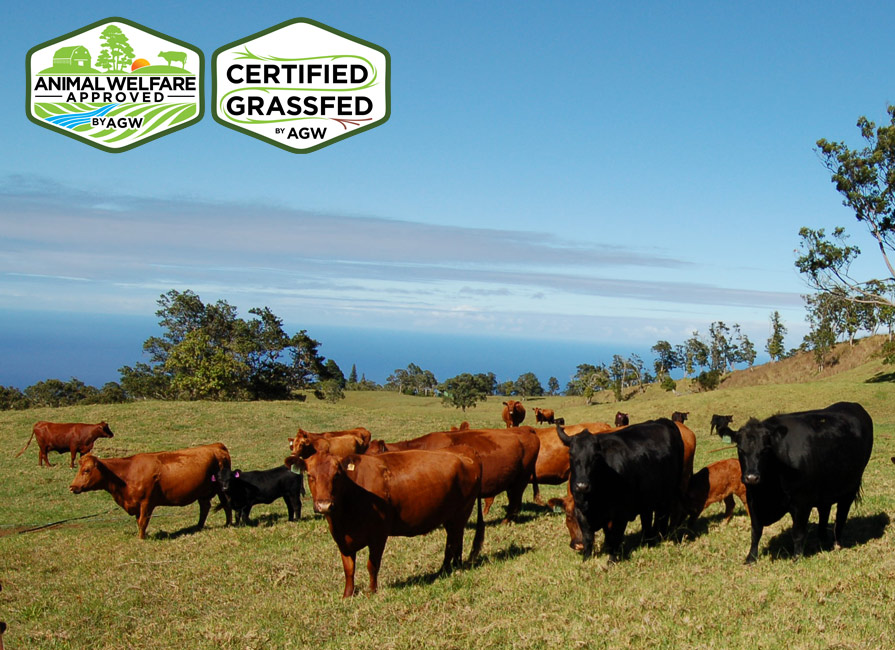 Hawaii Lowline Cattle Co. – Honokaa, HI
Hawaii Lowline Cattle Company is proud to be part of the resurgence in Hawaii of raising and finishing cattle locally, on pasture. The farm was started by Rick and Haleakala Sakata of Ahualoa, Hawaii. Rick saw an opportunity to advance Hawaii's food self-sufficiency by building a herd of Lowline Angus cattle on their ranches.
"Lowlines are Angus beef cattle in a compact, smaller frame size. They originated in Australia, where the beef is known for its excellent taste, texture and tenderness characteristics," Rick explains. "We were looking for two things when establishing our herd: cattle that were docile and well-suited to beef production on grass, meaning more efficient in converting grass to meat than today's larger breeds. Because of their moderate size, two Lowlines can use the pasture space of one of today's larger breeds, providing more beef per acre of grass and making the land more productive. That's very important on an island with limited pasture space."
The Sakatas purchased their first Lowlines at the start of 2008 and brought them to Hawaii from the mainland. They had the cattle flown in instead of shipped so that the journey would be less stressful, even though it was more expensive. "We want to take great care of our cattle and go the extra mile," Rick says. "That's why we decided to become Certified Animal Welfare Approved by A Greener World – it aligned nicely with our beliefs and will give our customers another reason to trust the quality and integrity of our product."
Hawaii Lowline Cattle Company's herd of Lowlines is currently the only registered Lowlines in the state of Hawaii and when the first calf was born in September 2008, it was cause for celebration. "Our first island-born calf," Rick says proudly. "A true Hawaiian."
As pioneers in Hawaiian agriculture, Hawaii Lowline Cattle Co. is the first farming business in Hawaii to become Certified Grassfed by AGW. Cattle that are pasture-raised and treated with high-welfare management practices is very important to the Sakatas, which is why they looked for a grassfed certification that fit with their values. The Certified Grassfed by AGW food label is the only certification that guarantees ruminant animals are fed a 100 percent grass and forage diet, raised entirely outdoors on pasture or range, and managed according to the highest welfare and environmental standards on an independent farm.
Certified Animal Welfare Approved by AGW, Certified Grassfed by AGW beef from Hawaii Lowline Cattle Company is available at local restaurants on the big island of Hawaii. For more information about the ranch, visit hawaiilowlinecattlecompany.com and find them on Facebook and Instagram.