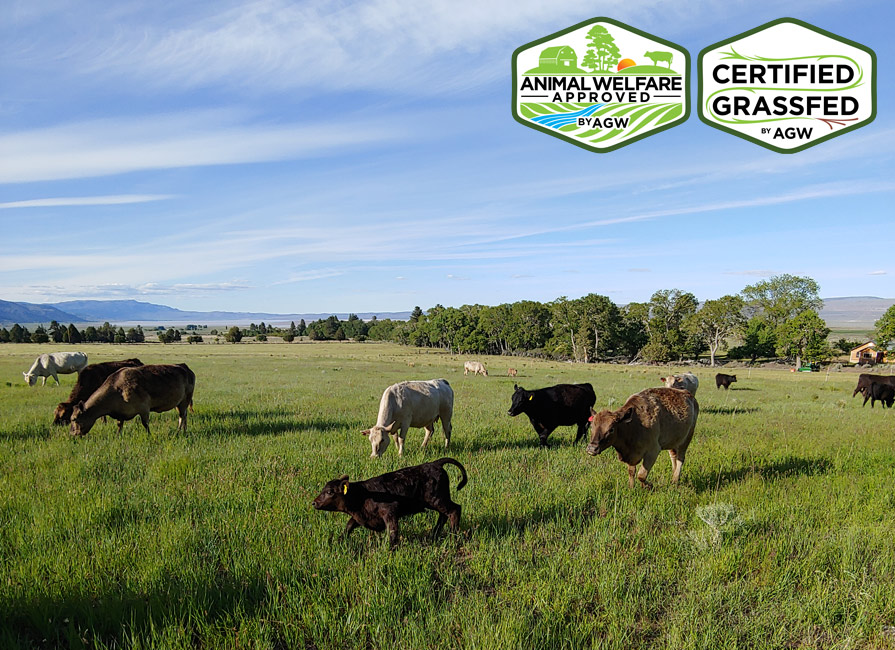 Holding Ranch –Lake City, CA
Hunter Holding has roots in farming, as his family owned a dairy farm in upstate New York. He always longed to raise beef cattle, so in the early 1990s, Hunter and Anne Holding built a small herd of Black Angus cattle, focusing on strong genetics, and sold bulls to commercial operations. "The progeny from our first females went on to become the foundation of our grassfed beef herd," says Hunter.
The Holdings moved to a ranch in Lafayette in 1995 to continue farming, and to develop a non-profit educational organization teaching children about farm life and where their food comes from. During that time, Anne sold pasture-raised eggs to support the work of the non-profit, and Hunter focused on the grassfed beef operation. They started selling their beef at the Walnut Creek farmers market, and soon expanded to markets in San Francisco, San Mateo, Menlo Park and Pleasanton. In 2008, demand for the ranch's beef had increased so much that Hunter and Anne moved to the northern part of the state in order to obtain more acreage. Today, Hunter and Anne Holding raise Certified Animal Welfare Approved by A Greener World (AGW), Certified Grassfed by AGW beef cattle at Holding Ranch in Lake City, California.
The location of Holding Ranch sets it apart. "Holding Ranch is located in Surprise Valley, which contains three major seasonal lakes, Upper Alkali Lake, Middle Alkali Lake, and, in the extreme northeastern corner of the state, Cowhead Dry Lake," says Hunter. "These wetlands are filled after wet winters by water draining off the eastern slopes of the Warner Mountains. Agricultural fields and pastureland cover the valley floor west of the lakes. Lakes and creeks in the area provide groundwater for the ranch's hay fields, and the ranch has excellent soil created by it's unique situation at the base of the Warner Mountains," says Hunter.
The Holdings focus on high-welfare management outdoors on pasture, and the herd of beef cattle at Holding Ranch are rotationally managed, grazing one section of pasture before being moved to fresh fields. This type of management allows grass to recover before cows return to graze again; it also keeps the soil properly fertilized and minimizes the build-up of internal parasites, thereby avoiding reliance on chemical treatments. In addition to being Certified Animal Welfare Approved by AGW, the cattle herd at Holding Ranch is Certified Grassfed by AGW, the first—and only—food label in the U.S. and Canada that guarantees food products come from animals fed a 100% grass and forage diet, and raised entirely outdoors on pasture or range.
Throughout their years of ranching, high-welfare practices have been a foundation to the animal management at Holding Ranch. "Since we began ranching, we have subscribed to the principles of managing our cattle with high-welfare practices," says Hunter. "We believe that this is not only the right way to do things but that it also translates into a better qualify of meat and happier, healthier cows."
Hunter and Anne chose to pursue AGW certification as further verification of the ranch's management practices: "Through all the hard work involved with pasture, irrigation and increased competition, we have maintained our vision for providing the cleanest grass-fed product possible from high-welfare cattle on holistically managed pastures direct to consumers."
For more information about Holding Ranch, visit www.holdingranch.com and contact Hunter and Anne Holding at (925) 997-1072 and holdingranch@gmail.com or follow them on Facebook.