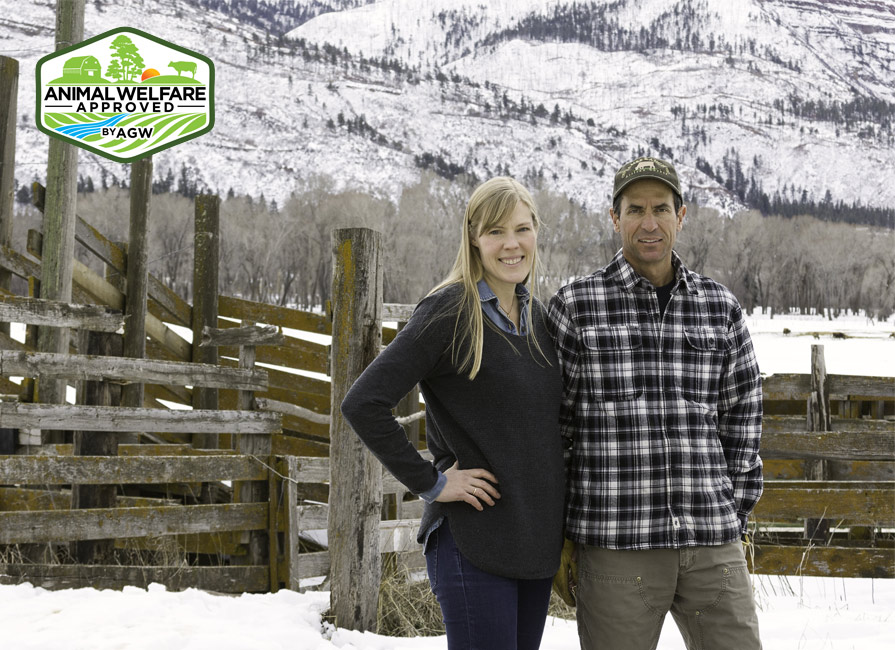 James Ranch Artisan Cheese – Durango, CO
Dan and Becca James raise Certified Animal Welfare Approved by A Greener World (AGW) Jersey-cross dairy cattle at James Ranch, 10 miles north of Durango, Colorado. Dan was raised on his family's ranch and returned with his wife, Becca, over 15 years ago to raise his own children in the rural setting that he'd enjoyed as a child. In addition to their family's other agricultural ventures, Dan and Becca raise their dairy cattle on pasture and produce cow's milk cheese.
Becca and Dan are committed to raising their dairy cattle according to the highest welfare and sustainability standards because they believe it is better for the earth, better for their animals and better for their customers. Their dairy cows are never given subtherapeutic antibiotics or hormones, and their pastures never receive pesticides or synthetic fertilizers. Rotational grazing is an important part of their operation. During the grazing season (from May through November) the cattle are moved twice daily to new pasture to prevent over-grazing and encourage vigorous grass and clover growth, and won't return to the same pasture for around 30 days to give grasses sufficient time to grow before being grazed again. "Using this method," says Dan, "we improve soil health, water quality and the nutritional content of the grass." By feeding their cows only grass and hay, Becca and Dan also eliminate the need for grain, and therefore reduce their consumption of fossil fuels used in the production and transport of grains.
Milking takes place once a day from May through November in the James Ranch open-air milking barn. "The girls meet us at the gate for morning milking and then wander up through the oaks to the milking barn. After morning milking they hustle back down to the pastures where they are given a fresh paddock of cool season grasses and clover. When they are full of grass and have taken a good drink, they lay down to digest in the sun. The eating, drinking, resting, digesting pattern is repeated many times throughout the day," Dan explains. With this natural diet and low-stress lifestyle, Dan and Becca can proudly say that their cows have much longer, healthier lives than dairy cows in conventional systems.
"In our system," Dan says, "production is secondary to milk quality." All of James Ranch cheese is hand-made using milk from the farm's pasture-raised dairy cows. The James Ranch makes three types of cheese—Belford, Andalo and Leyden—which are available at the James Ranch Market, as well as at local farmers' markets and retailers. For more information on James Ranch Artisan Cheese, the James family, and where to buy their products, visit jamesranch.net or contact Dan and Becca at 970-385-9143 or cheese@jamesranch.net. Follow the farm on Facebook and Instagram.