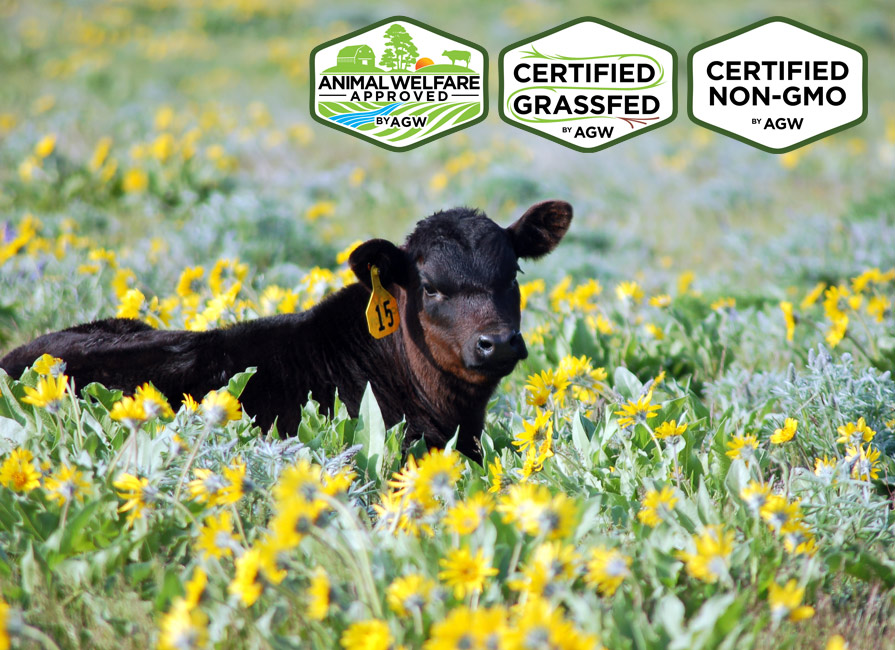 Daniel and Patrick McDougall's ancestors first settled in western Nevada in the 1860s after leaving the South during the Civil War, selling cattle to the Union Army and silver miners at the Comstock Lode—the first major discovery of silver ore in the country. Today, Daniel and Patrick continue their family's ranching tradition as fourth generation cattle ranchers, headquartered in Fallon, Nevada.
For most of Daniel and Patrick's lives, their family raised cattle outdoors on pastures and range, and sold calves to the commercial market for finishing on feedlots. In 2009, after observing the growing market for grassfed beef, the McDougalls decided to keep their calves back and finish them on grass themselves: "We've been practicing the same management techniques for the last 150 years," explains Daniel. "We just decided to change the length of time we held on to them."
Today, the McDougall family business—NFR Beef—raises over 5,000 head of cattle including Angus cows, calves, bulls and replacement heifers on over 200 square miles of native pastures and range managed by the Bureau of Land Management, for which the McDougalls control leasing permits entitling them to graze a certain number of cattle on allotments of public land.
"The harsh climate necessitates the highest levels of land management and animal husbandry," Daniel explains. "In the desert, we have limited resources and limited water. If you aren't the most efficient, and acutely aware of the land's health and your animals' welfare, you'll fail." Daniel considers his cattle to be equally indigenous to the area as the native grasses they rotationally graze on year-round. He says, "Our cattle are born and raised here and know this country. They're like the deer—they know where the grass is good in different seasons because they learned it from their mothers; they know how to thrive on this land."
NFR Beef applied to have their operation Certified Animal Welfare Approved by A Greener World (AGW) because animal welfare and environmental management is absolutely central to their business. "Our family's been here for over 150 years and we have a vested interest in managing responsibly and remaining sustainable," Daniel says. "We chose Certified Animal Welfare Approved by AGW because we agree with its standards and program requirements; they reflect the standards we were raised to follow. What we stand for and what the Certified Animal Welfare Approved by AGW program stands for is simple common sense."
Attaining Certified Grassfed by AGW status was important to NFR Beef because other producers in Nevada claim to raise and sell grassfed cattle, yet no third party verifies their practices. Certified Grassfed by AGW is the only certification and logo in the U.S. and Canada that guarantees food products come from animals fed a 100 percent grass and forage diet, raised outdoors on pastures or range for their entire lives, and are managed according to the highest welfare and environmental standards on an independent farm.
"Serious health concerns exist with commercial beef, and we wanted a third party to verify to the consumer that we really are farming the way we say we are," Daniel states. "Our grassfed beef has no antibiotics, no hormones—it's a completely natural product. Grassfed beef is more flavorful, leaner, higher in beta-carotene, omega-3 fatty acids, and vitamin E. Purchasing grassfed beef is a positive investment in the consumer's and animals' health and welfare, and people really can taste the difference."
In addition to their Certified Animal Welfare Approved by AGW and Certified Grassfed by AGW certifications, the McDougalls decided to take their commitment to sustainable farming practices one step further by also becoming Certified Non-GMO by AGW. They are the first farming business in Nevada to achieve the certification, which is the only certification and logo in the U.S. and Canada that guarantees a food product is produced without the use of genetically modified feed, supplements or ingredients, and comes from animals managed according to the Certified Animal Welfare Approved by AGW leading welfare and environmental standards on an independent farm.
Additionally, the McDougalls would like to expand their operation by introducing more ranches and more head of cattle to the NFR Beef program. Currently, they are expanding their marketing activities in California, Nevada, and the larger region, and increasing the number of restaurants, retailers, and institutions they supply with high-quality grassfed beef. The McDougalls anticipate that their AGW certifications, with the emphasis on high-welfare, pasture-based production, will attract new customers.
Certified Animal Welfare Approved by AGW, Certified Grassfed by AGW and Certified Non-GMO by AGW beef from NFR Beef is available directly from the farm, as well as at various retail locations and restaurants in southern California. For more information—and for sales inquiries—visit nfrbeef.com or contact Daniel McDougall at 775-996-5673 and dan@nfrbeef.com.