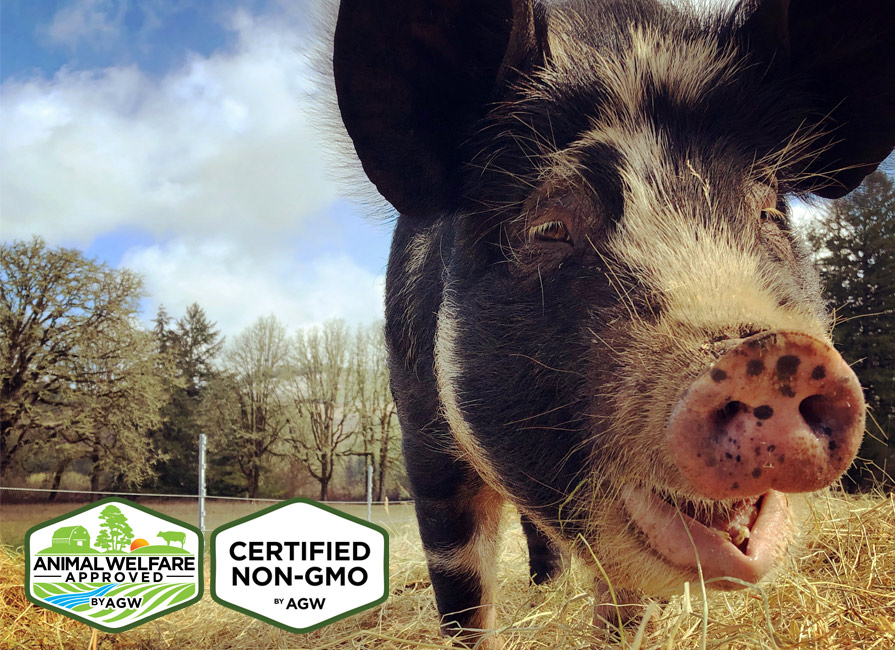 PK Pastures – Sweet Home, OR
Kait Crowley has been working on organic, diversified vegetable farms across the US for the past decade. In 2018, she managed a pastured pork and poultry operation for a female owned and operated biodynamic farm through Oregon's Rogue Farm Corps training program and fell in love with livestock farming. She came away from that year a proud swineherd and now stewards land with her partner Pat Mayfield in Sweet Home, Oregon.
Kait and Pat raise Certified Animal Welfare Approved by A Greener World (AGW), Certified Non-GMO by AGW broiler chickens, hogs, sheep and ducks on six acres of historically neglected hayfield in Oregon's mid-Willamette Valley, near the Calapooya River. "Our animals enjoy the shade of our stand of heritage oak trees, and seasonally receive veggies from our certified organic, open-pollinated seed company neighbors," explains Kait.
"We raise red-feathered 'Freedom Ranger' chickens, a fully feathered bird that emulates the coveted 'Poulet Rouge' birds raised in France," says Kait. "These chickens are heartier and better adapted to life on pasture than the conventional white-feathered 'Cornish Cross' birds developed for rapid production in CAFO's and still typically found on most American farms. Our birds have proportionally more leg and thigh meat than many eaters are used to because they are well equipped to roam and forage under open skies."
The farming practices at PK Pastures are better for the animals and for the wider environment. "We practice multi-species rotational grazing to maintain herd and flock health and improve the forage quality of our pastures," shares Kait. "Our pigs, chickens, sheep and ducks are invaluable allies, and we treat them with love and respect for their natural talents."
Along with outdoor access, the animals at PK Pastures are also raised with the highest welfare standards available, as verified by their AGW certification. "We designed our farm to be in compliance with the Certified Animal Welfare Approved by AGW standards from day one because we recognize it's the most rigorous certification for livestock farmers," says Kait. "As farmers and as eaters, we look for AGW labels."
In addition to their Certified Animal Welfare Approved by AGW certification, Kait and Pat decided to take their commitment to sustainable farming practices one step further by also becoming Certified Non-GMO by AGW. This is the only certification and logo in the U.S. and Canada that guarantees a food product is produced without the use of genetically modified feed, supplements or ingredients, and comes from animals managed according to the Certified Animal Welfare Approved by AGW leading welfare and environmental standards on an independent farm.
Certified Animal Welfare Approved by AGW, Certified Non-GMO by AGW chicken, duck, pork and lamb are available through a collaboration with Moondog's Farm CSA, at local farmers' markets and direct from the farm by appointment only. They also offer whole and half direct pork sales. To learn more about PK Pastures visit pkpastures.com and contact Kait at info@pkpastures.com and 541-666-5868. You can also follow the farm on Instagram.