AGW's Sustainable Farming magazine is the world's leading magazine for sustainable livestock production. Published four times a year, each issue covers a wide range of topics including technical advice, animal husbandry and market developments, as well as thought-provoking articles and opinions.
Sustainable Farming magazine incorporates the former AWA Newsletter.
For advertising inquiries—and to request a media pack—send your contact details to advertise@agreenerworld.org.
LATEST ISSUE:
Previous Issues
Fall 2021 (Volume 6, Issue 2)
News: Egg Plant – A Rare Breed Success Story; Biosecurity, Africa Organic; Regenerative Plan
Opinion: A Silver Lining
Cover feature: Back To The Future
Certification News: Communicating Changes
Technical: Regenerative Planning
Technical: Proof Of Purchase
Technical: Silent Killer
Technical: Proof Of Purchase
Certification News: Breaking News . . .
Meet the Farmer: Canyon of the Ancients Guest Ranch in Cortex, CO
Winter 2021 (Volume 6, Issue 1)
News: Egg Plant – The basics of keeping laying hens; AGW in India; Snakes on Farms; Vaccinations – A vital tool
Opinion: At The Crossroads
Cover feature: Laying Hens 101
Certification News: AGW India
Technical: Staying Safe
Technical: Snakes In The Grass
Certification News: A New Year
Meet the Farmer: Bison Du Nord in Ontario, Canada
Summer 2020 (Volume 5, Issue 2)
News: COVID-19: Fight Or Flight; Cattle: Stay In Control; Regenerative Standards
Opinion: Britain At Breaking Point?
Cover feature: COVID-19 Fight Or Flight
Cover feature: New Standard (Certified Regenerative by AGW)
Technical: A Brave New World
Technical: In Control Of Our Impulses
Technical: New Approaches To Worming
Technical: The Immune System
Technical: Chicken On Grass
Certification News: Desktop Audits
Winter/Spring 2020 (Volume 5 Issue 1)
News: Walk This Way; Non-GMO Opportunities; Understanding Your Birds; Regenerative: What Next?
Opinion: Regenerative Farming- The Next Big Con?
Cover feature: Getting A Handle On The Herd
Technical: Going Non-GMO
Technical: Eat Play Shove
Technical: Bovine Bloat
Technical: Removing Livestock
Meet the Farmer: Archway Farm in Keene, NH
Fall 2019 (Volume 4 Issue 4)
News: Pig Out—Feeding For Health and Welfare
Opinion: Farmers United
Cover feature: Feeding Pigs
Technical: Housing Benefits
Technical: Working With Your Vet
Technical: Kid You Not
Technical: Grassfed Challenges
Meet the Farmer: TLC Grassfed Beef in Enid, OK
---
News: A Bug's Life—Parasites Under The Microscope; Managing Bison; Love Your Label; Methane Research
Opinion: A Change of Heart
Cover feature: A Bug's Life—Parasites Under The Microscope
Technical: Mythane
Technical: Nature's Efficiency
Technical: A Pesky Problem
Technical: Green Diets
Meet the Farmer: Sylvan Farm in Saluda, SC
---
News: Fake Moos!; Eat-Lancet Exposed; Biodiversity Survey; Mind, Body and Welfare
Opinion: A Dangerous Diet?
Cover feature: A Convenient Untruth
Technical: Climate Politics and Vegan Wars
Technical: Great Food Transition or Great Mistake?
Technical: Mind Over Matter
Technical: Pecking Order
Meet the Farmer: Gothberg Farms LLC in Bow, WA
---
News: Cry Fowl; A perspective on pain in animals; Assessing welfare lameness in cattle; AGW in South Africa
Opinion: Perfect Timing
Cover feature: Cry Fowl
Technical: Pain Management
Technical: Assessing Welfare: A New Approach
Technical: Best Hoof Forward
Technical: The Good Shepherd
Meet the Farmer: Blue Pepper Farm in Jay, NY
News: Agroforestry in Action; Castrating Cattle; Launching AGW Europe; Collaborative Marketing
Opinion: Farming Across the Pond
Cover feature: Trees Company Agroforestry in Action
Technical: Castrating Cattle
Technical: The Bigger Picture
Technical: Thinking Pig
Technical: Supply and Demand
Meet the Farmer: M&M Farms in Rudy, Arkansas
---
News: We're Celebrating 10 Years; "Highest Impact" Logo; Getting Social; Alternative Therapies
Opinion: Realistic Solutions
Cover feature: We're Celebrating 10 Years
Technical: Get Social
Technical: More Health, Less Disease
Technical: A Record for Success
Technical: No Kidding
Meet the Farmer: Fouch Farms in Mariposa, CA
---
Winter 2018 (Volume 3 Issue 1)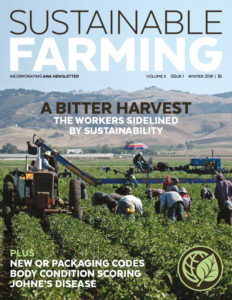 News: 'Fake News' Clouds Sustainable Debate; World Cheese Award; New QR Packing Codes
Opinion: Antibiotic-Free Labeling
Cover feature: A Bitter Harvest The Workers Sidelined by Sustainability
Technical: Fit or Fat? Body Condition Scoring
Technical: The Power of Point of Sale
Technical: Johne's Disease Wipe Off The Map
Technical: A Welcome Boost
Meet the Farmer: Ferme au bonheur des prés in Québec, Canada
---
News: Grassfed beef report to chew over, Top cheese awards, Antibiotic alternatives, New AGW member program
Opinion: Farm marketing sin
Cover feature: The world under our feet—Simple steps for managing soil
Technical: The living soil
Technical: Farming carbon
Technical: The beating heart of sustainable farming
Technical: Love litter
Certification News: No small change
Meet the Farmer: Shepherd's Cross Inc. in Claremore, OK
---
News: Taxing Meat, New AGW Merchandise, Standards Review
Opinion: You've earned it . . . Use it!
Cover feature: Wrong Target – Why a broad meat tax misses the point.
Discussion: Farming can be dangerous work
Technical: Slaughter plants needed
Technical: Pigs in space
Meet the Farmer: Windy N Ranch in Ellensburg, WA
---
News: New AWA logo; AWA Wins Institution of the Year; New Farm Certification Guide…
Opinion: Beware Greenwashing, warns Urvashi Rangan
Cover feature: Pig Breeding: Do you know what you're buying?
Discussion: Beef production: The Bigger Picture
Technical: Lameness In Sheep
Technical: Managing Parasites
Meet the Farmer: Working Cows Dairy in Slocomb, Alabama
---
News: New grassfed dairy label; National cheese award winners; Consumer welfare concerns, confusion
Opinion: The resurgence of family farms?
Discussion: Agricultural apprenticeships: what's involved for a host farm or ranch?
Technical: Best practice advice on food safety for farmers' market stalls
Technical: Planning for a food recall
Technical: External parasites in cattle—prevention and control
Meet the Farmer: The Glos family in New York
… and more!
---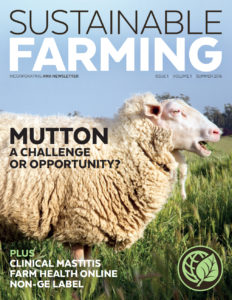 News: Certified Non-GMO by AGW; New Farm Health Online website; TK Ranch award
Opinion: Grazing ruminants will play a vital role in feeding the world
Discussion: Could quality mutton production represent a new opportunity?
Technical: A new approach to antibiotic treatment for mastitis
Technical: Preventing heat stress in pigs
Technical: What are the benefits of Farm Health Plans?
Meet the Farmer: The Lohofs in Montana
… and more