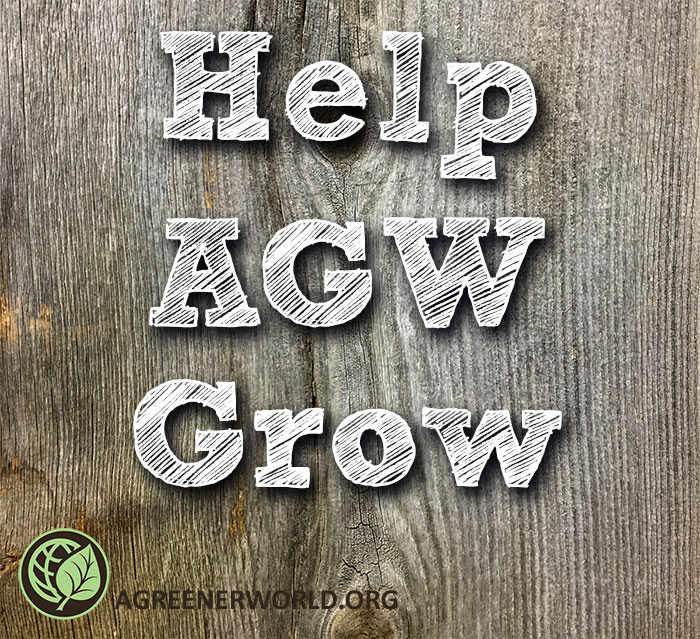 At A Greener World, we're serious about changing the way we farm and feed ourselves. We believe the work we do alongside AGW-certified farmers and ranchers really can transform our food and farming systems—and make this planet a better place.
The rise in misleading label claims and the drive to further industrialize agriculture is raising big questions about the future of sustainable agriculture among farmers the public and policymakers alike. Working directly with pioneering high-welfare, sustainable farmers and ranchers, AGW is uniquely placed to play a leading role in presenting a genuine alternative to industrial farming. At the same time, our family of trusted certifications offer a way for shoppers to know their food purchases are having a positive impact on their health, animal welfare and the environment.
Membership matters
AGW's new membership program is a simple way for these same conscientious shoppers to make an even greater impact on our food and farming system.
AGW membership options are now available for likeminded individuals, businesses and organizations as a way to directly support our work. From our perspective, these ongoing membership contributions allow us to not only continue offering our farm certifications at an affordable rate, but also support the widespread adoption of sustainable farming practices through our technical and marketing services.
Help us help you
While we invite everyone to sign up to AGW membership, we are calling on our AGW-certified farmers and ranchers to help us grow the AGW membership program.
Helping us increase the number of AGW members is ultimately good for us all. Not only do all membership fees and donations go directly towards AGW's free technical and marketing support services (available to certified farmers and those transitioning to sustainable practices), but a successful membership program has the potential to help educate more shoppers, develop further market opportunities and increase promotion (and sales) of AGW-certified products.
What is AGW membership?
The AGW membership program enables supporters to join other likeminded people and become a part of the solution to change food and farming for the better. Monthly member donations help AGW to:
Offer consumers

independent

food labels they can trust—and a reliable way to choose meat, dairy and eggs from environmentally responsible, climate-friendly farms.
Make healthy, sustainably raised meat, eggs and dairy available to all at a fair price.
Improve the lives of millions of farm animals, with access to

pasture

and freedom to roam—no cages, crates or feedlots.
Ensure every farmer gets the technical and marketing support they need to transition to sustainable production—and

thrive

as an independent business.
Send a trained auditor to every certified farm on an ongoing basis to ensure compliance with our animal welfare and environmental standards.
Reach out to consumers, institutions, media and farmers about the importance of our certifications for building transparent and sustainable food production systems.
AGW members receive priority notifications, Sustainable Farming magazine and regular updates about our work and successes.
We need your support
Will you help us grow the movement? There are many ways to help raise awareness about AGW membership among customers and followers. Here are just a few ideas to get you started:
Talk about the benefits of your certification and the work of the AGW program with your customers.
Display information about AGW, including our website and how to sign up to receive our free newsletters.
Set up a link to the AGW website—or even the membership page—on your website.
Share information about AGW—and specifically our membership options—through your social media pages and newsletters.
Encourage your customers and friends in your network to consider supporting us and point them in our direction.
Distribute our AGW membership handout at your market stall, farm store or farm events. We can send you copies to hand out.
Agriculture is at a crossroads
We all know agriculture is at a crossroads. By combining our efforts to help grow AGW membership, we can educate more shoppers about meaningful food labels and attract more people to purchase AGW-certified products and continue to make sure sustainable farmers and ranchers are heard at all levels.
Most importantly, by working together, we can grow a larger base of committed people who act as ambassadors for sustainable food and farming in their local communities; who actively purchase certified products in the marketplace; and who directly support the development of sustainable solutions in agriculture.
If you feel the AGW program has helped your business in some way, we're asking you to return the favor by committing to one or more of the steps above. Your support to help us grow the AGW membership program will make all the difference to the important work we can accomplish in the coming years ahead.
Author Katie Amos is Lead Farmer and Market Outreach Coordinator with A Greener World