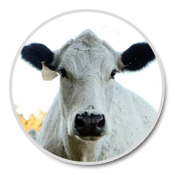 Confused by food labels? Want to know which farming practices are really sustainable? Dear Aggie is ready to answer your food and farming questions! Take a look below at the questions others have asked. To ask your own, click on the mail icon to the right, or email DearAggie@agreenerworld.org, and submit your question to Dear Aggie!
Posted on November 21, 2016
Will cutting meat from my diet help save the world?
Read More
Posted on October 14, 2016
With so many different charities asking for donations, why should I give to AGW?
Read More
Posted on July 25, 2016
Do AGW standards guarantee humane slaughter?
Read More
Posted on July 18, 2016
The growing need and importance of certification programs.
Read More
Posted on July 11, 2016
Another food marketing gimmick? What does the term "family farms" really mean?
Read More
Posted on May 31, 2016
What is the difference between Certified Grassfed by AGW and other grassfed labels?
Read More
Posted on May 24, 2016
Can sustainable farms really supply larger markets and make a difference in our food system?
Read More
For your privacy, contact information will not be published. Please note that similar questions may be combined to best address complex subjects.