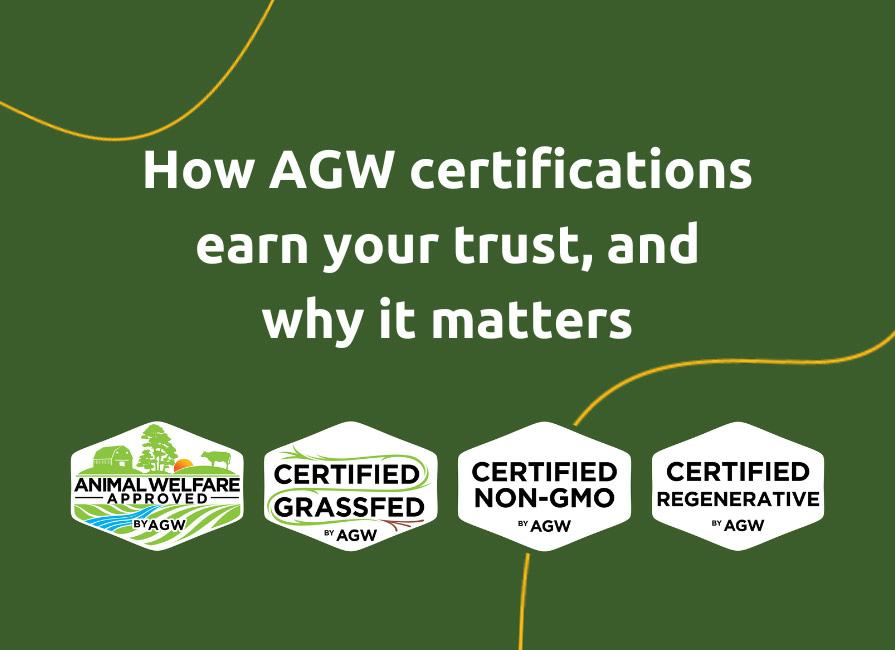 How AGW Certifications Earn Your Trust, and Why it Matters
Next time you're grocery shopping, take a look around and notice the endless sea of label claims. Whether they're promising health, humane treatment, sustainability, value-for-money or something else, all are trying to convince you, the shopper, that your purchase will have an impact. But which labels do you trust? With countless terms and claims, it can be a daunting task to decipher which we can rely on, and which are just meaningless greenwashing. And if you're considering paying a premium—no matter how small—or choosing between two equally priced items with competing claims, you want to be sure you're getting your money's worth.
Even with all the food label confusion out there, there are labels you can trust. To help demystify the biggest differences between label claims, we wanted to share three things we do at A Greener World to earn trust in this confusing space.
#1. We're Actually Going on Farm
Did you know that most label claims aren't verified in any way? A Greener World's growing family of labels, which include Certified Animal Welfare Approved by AGW, Certified Grassfed by AGW, Certified Non-GMO by AGW and Certified Regenerative by AGW, are all third-party certification programs. This means that A Greener World, an independent nonprofit certifier, audits every farm or business according to publicly available standards, providing boots-on-the-ground confirmation of compliance.
#2. We're Internationally Accredited
A Greener World's core certification programs are backed by AGW's ISO/IEC Guide 17065 accreditation. This guarantees consistency, reliability, independence and impartiality in all aspects of our certification process. AGW is the only farm animal welfare certifier in North America backed by the ISO/IEC 17065 International Accreditation, demonstrating excellence in auditing and certifying—and giving farmers, consumers and buyers confidence in the integrity of AGW-labeled products.
#3. We're Consistently Recommended by Independent Consumer Groups
Trusted consumer groups regularly evaluate A Greener World's certifications and confirm their well-earned reputation. The Certified Animal Welfare Approved by AGW program has been acknowledged by Consumer Reports as the only "highly meaningful" food label for farm animal welfare, outdoor access and sustainability. SPINS, the leading information and service provider for the natural and specialty products industry, has noted the program as one of the nation's top 5 fastest-growing certifications and label claims. According to The Hartman Group, the Certified Animal Welfare Approved by AGW certification has the single highest impact on consumer purchasing of any food label. These same animal welfare standards are incorporated into all other AGW certifications.
While every food label is different, the qualities above are good signs—and indicators of transparency and accountability. Our goal as a certifier is to help cut through confusion by providing trustworthy, reliable food labels that mean what they say. We do what we do so that farmers, ranchers and food businesses have trusted labels that help to convey their management practices, and so shoppers have labels they can trust to find products that match their values. Learn more about our certifications, find AGW-certified products, or let us know how we can be a resource.